When it comes to iconic watches, there's nothing sweeter than getting to know a little bit of their history. That's why I'd like to talk about the iconic Patek Philippe Nautilus. Although this watch is an original design, it is linked closely to another iconic watch, the Audemars Piguet Royal Oak. Note that the latter set the standard for luxury wristwatches made of stainless steel which at that time was comprised mostly of precious metals.
Thanks to the success of the Audemars Piguet Royal Oak, Patek Philippe was inspired to also create an exclusive sports watch in the same category if not made to the highest quality. This is now the Patek Philippe Nautilus. As usual, this has also something to do with the brand's marketing strategy, or business as usual since it refreshes Patek Philippe's brand image whilst respecting its tradition. This is quite successful because they've achieved a dynamic business model that lasted for many generations.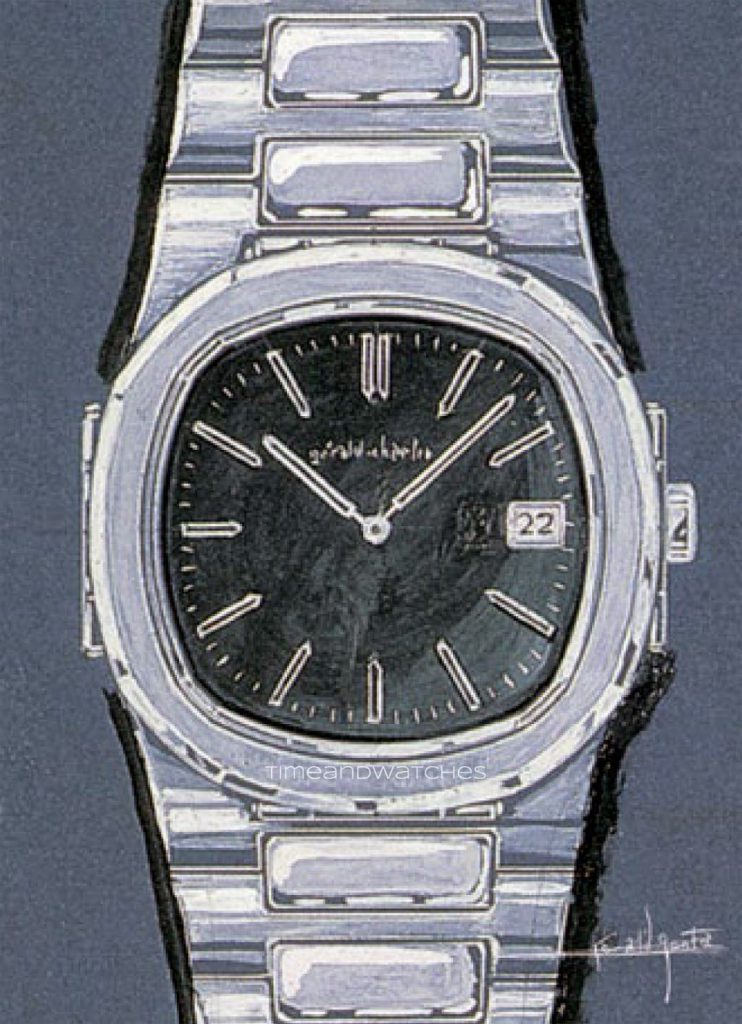 Now since we mentioned the Royal Oak, of course, someone from that iconic watch is involved with the Nautilus which is no other than Gerald Genta, its designer. Genta designed the Nautilus during the Basel Trade Fair whilst observing the Patek Philippe people having their meal and he did it in just 15 minutes, call that intuitive design that Patek Philippe truly appreciated.
Nautilus 5711 "Exploded"
The original idea from that fateful day, as Genta remembers is the watch sporting a shape of a porthole common at that time with transatlantic liners. The case design had a solid back case/middle case monobloc and its octagonal bezel is secured by four lateral screws for improved water resistance. Each side of the octagonal bezel was curved to form a perfect arc of a circle which has become a Patek Philippe tradition so far. It's a timely design and a darn good one at that.
Original Patek Philippe Nautilus reference 3700/1 – 1976
The original Nautilus also featured a black dial with fantastic horizontal embossed bars. It looked classic with a subtle glimpse of the future because it remains to this day very relevant for the Nautilus. The dial also sported applied luminous white gold baton hour markers, luminous hands, and the date window at 3 o'clock.
What I also like about the original Nautilus design is its use of a fully integrated bracelet with folding clasp. It looks sporty yet very classy with this look.
Another interesting fact about the Nautilus is its name which is a literal take of the classic Jules Verne's "Twenty Thousand Leagues Under the Sea" book. In the story, Nautilus is the submarine used by Captain Nemo. I like this book a lot.
Note that the Nautilus is not really a professional divers watch even though it offers water resistance of 120 metres thanks to its particular case design that makes possible the combination of the wide lugs with the lateral ears to provide uniform compression on a rubber gasket that gives the watch more water resistance.
Moreover, the original 1976 Nautilus (reference 3700/1) was made of stainless steel which was nicknamed "Jumbo" because of its hefty size. At that time 42 mm was considered large. However, the watch was also very thin at a mere 7.60 mm. A nice contrast, though.
Nautilus Vintage Advertisement
Nautilus' power comes from Patek Philippe's automatic calibre 28–255 C based on Jaeger-LeCoultre's caliber 920. This movement was also used in the original Royal Oak reference 5402 and in the Vacheron Constantin 222.
A Nautilus with a ribbed white dial was manufactured in 1978 by the Stern Freres dial factory which in 2015 sold for a staggering Swiss Francs 250,000 confirming the collector's interest for the iconic Nautilus. Although in 2012, Patek Philippe added white dial Nautilus versions to its catalogue.
The Nautilus for Ladies sporting a smaller 37.5 mm diameter was introduced in 1980 but it initially got a tepid response from the horology crowd.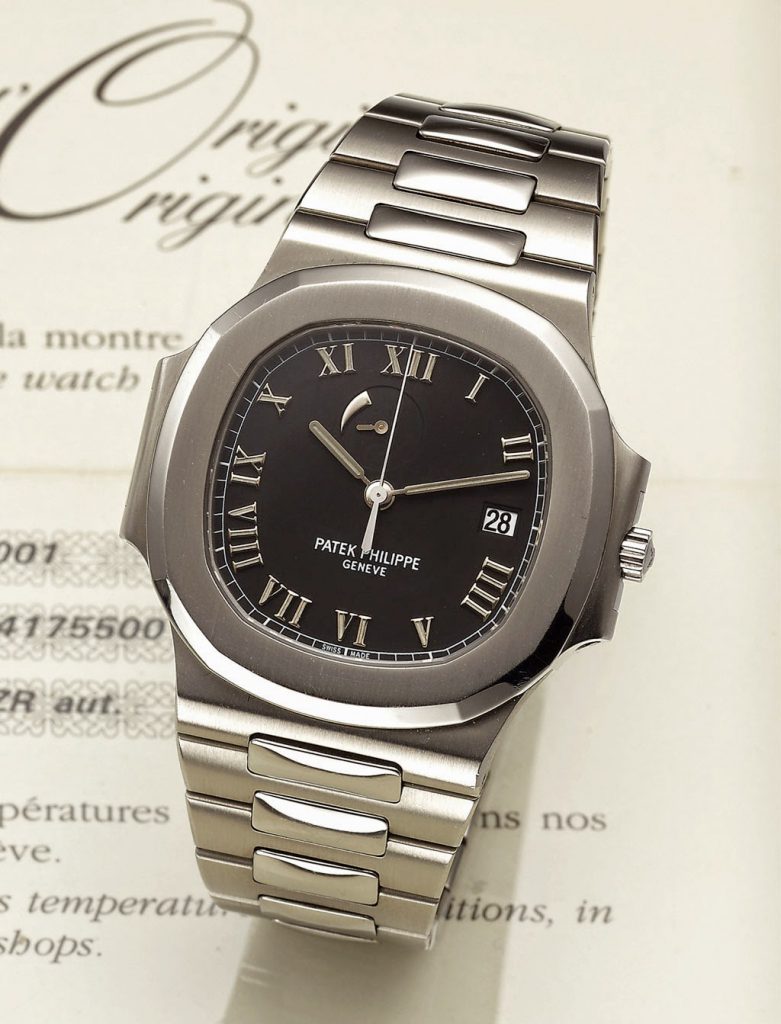 Reference 3710 with power reserve indication and Roman numerals – 1998
Another interesting addition to the Nautilus was introduced in 1998 with the reference 3710/1A. This watch featured a black dial without the bars, used applied Roman numerals, and added a power reserve indicator at 12 o'clock. It used a calibre 330 SC in a 42 mm x 8 mm case.
The rare reference 3712 was produced for just one year – 2005
In 2005, another milestone for the Nautilus was introduced with the triple complication model – ref. 3712. It featured a power reserve indicator, analog date and moon phases. Although this model didn't last long which overjoyed PP collectors for its rarity.
Nautilus reference 5711/1A – 2006
In 2006, Patek Philippe presented the successor to the 3712, the reference 5712. The same year, the Nautilus Chronograph ref. 5980 made its debut with a new automatic chronograph movement housed in a 44 mm case.
Nautilus Chronograph ref. 5980/1A – 2006
The 30th Anniversary Nautilus lineup also featured the reference 5800 sporting a narrower version of the Nautilus with a 38.4 mm case.
Nautilus Travel Time Chronograph reference 5990/1A – 2014
Recently at BaselWorld 2014, the new Nautilus Travel Time Chronograph 5990/1A was introduced sporting a dual time function added to a column-wheel flyback chronograph.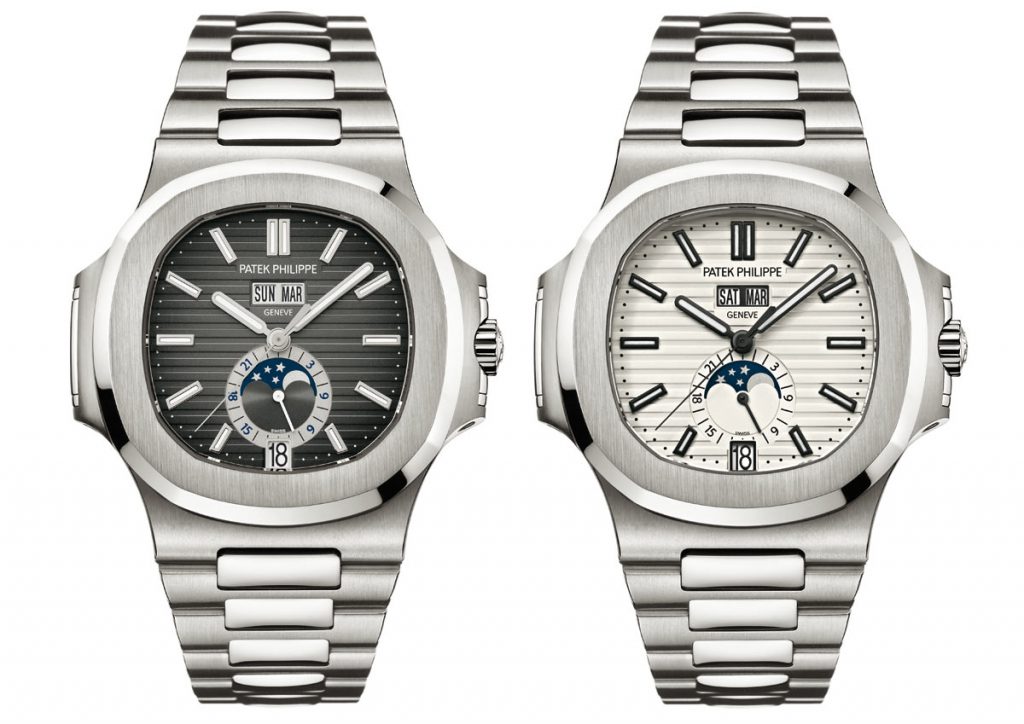 Reference 5726 with black dial – 2010 and white dial – 2012
There's no doubt that the Nautilus remains a prestigious watch particularly the reference 5711. This year, 2016 marks the 40th Anniversary of the Nautilus and I'm fairly certain that Patek Philippe will refresh this iconic timepiece. For more info, please visit patek.com