Watch collectors and connoisseurs of the world are very familiar the watch company Cartier. This company started in 1904, when Louis Cartier created the Santos watch as a tribute to his friend Albert Santos Dumont. In 2004, 100 years later, was created to mark its century point. The Ballon Bleu watch was introduced in 2007 as a slight variation of the Santos.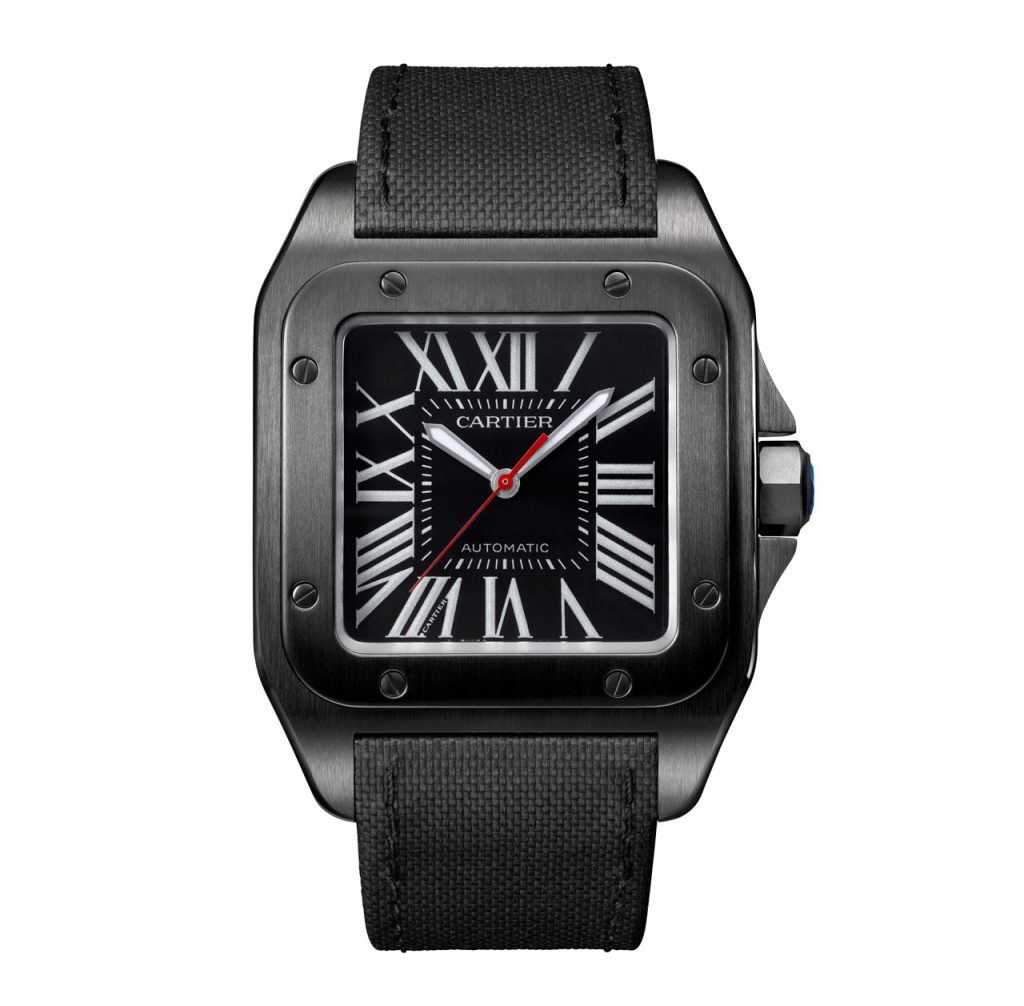 Santos 100 Carbon
Both of these watches are now available in a brand new steel, black ADCL coating. Both are coated with Amorphous diamond-like Carbon coating, giving each piece not only a beautiful, metallic finish, but also providing both watches with a very fine protection from wear and tear. The finish has a very deep charcoal color which really brings out the white writing and hands on the face of each piece. With the size of each piece, the wearer has a very clear, visibility of everything written on the face of the watch. It offers the wearer a very rugged yet stylish look to the original variety of each piece. The finish even provides the wearer with a very nice writ piece to wear out with dress attire. The hands of both of these models are treated with luminescent material to provide them with a very nice, lasting glow.
This ADCL coating on the piece is one of the most durable watches that you can find on the market. Cartier claims that the ADCL material is much stronger than the PVD coating of many durable watches out on the market. Not only that, but the surface is supposed to be scratch-resistant and increased shock resistant. This is not a normal attribute to most Cartier watches and offers the buyers many options, such as even taking their timepiece to the gym and not having to worry about scratching or breaking the piece.
Ballon Bleu Carbon
The Santos 100 Carbon and Ballon Bleu Carbon are automatically powered by 1847 MC Manufacture movement. Each watch works at a 4 Hz frequency. The power reserve on each piece is up to 42 hours. The Santos 100 is 51.1mm x 41.3mm and has a very large, rectangular shape that can't be missed. This watch is water resistant up to 100 meters (330 feet). The Ballon Bleu has a slightly smaller but still large diameter of 42mm and had a circular shape to it. This watch is water resistant up to 30 meters (100 feet). The crown on the Ballon Bleu Carbon has a blue synthetic spinel cabochon, while the crown on the Santos 100 Carbon is a blue faceted synthetic spinel. The Ballon Bleu Carbon offers the user with the date at 3'o clock position, which blends very nicely with the elegant style of the rest of the piece.
Both watches are available now. The Santos 100 Carbon is 7,300 Euro (U.S. $7,600), while the Ballon Bleu Carbon is Euro 6,500 (U.S. $6,600). Buy them both while you still can, as they will only be available for a limited time. For more info, please visit cartier.com