The Straps
• 20mm Hulk
• 24mm Carys
• 24mm Blau Vintage
Let me just say before I get into specifics that these are by far the best quality straps I have ever seen or owned. Celdy does an insanely good job at constantly making new designs and then executing them to the highest standards. The leather is thick yet pliable, soft, excellently dyed, hand stitched, have great quality buckles, enough sizing holes for any wrist, and keepers that don't quadruple the thickness of the strap (I'm looking at you, Pulchers Leather). The colors are vibrant and are just what I expected. All of my requests were taken care of with no problems at all and the employees are some of the nicest people I've ever talked to. I cannot recommend these enough because there are other custom luxury strap suppliers with interesting designs at similar prices…but these win out every single time. I've tried those other companies and I could hardly get rid of them for free (they were that bad). On top of that…their customer service was awful. Skip all of that and go straight to Celdy for all of your custom strap needs. They take care of customers there and ensure perfection. I'm a huge fan of Celdy Straps!
20mm Hulk
Design:
Green? Why not! This is a standout strap because green isn't a common strap color at all…even with nylon straps. I figured, why not, and it turned out fantastically! I would prefer for there to be less of a black to green fade near the spring bars so that the green is a little more visible at the front due to my tiny wrist…but I also think this was a good call. A slow fade to the dark green makes it a little less obnoxious for those of you who want to keep it fun on Saturdays and neutral for those weekday meetings. I went with white stitching to make it pop just a little more and it worked great because it allows for an easy switch to a white faced watch.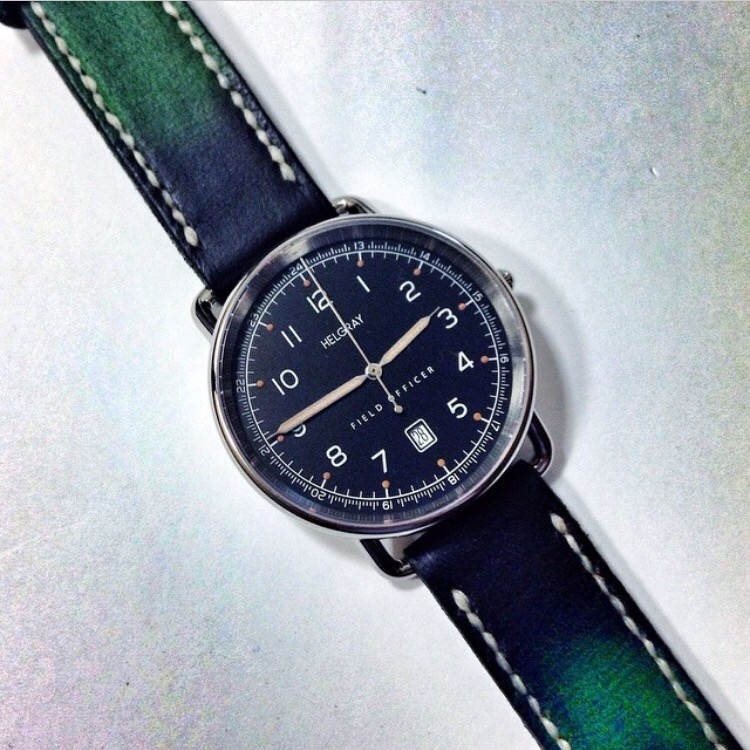 This strap is about 3-4mm thick across the board, which seemed huge in writing but it's perfect in real life. There's plenty of room to fit this strap into a lugless case design like the new Zelos Chroma so no worries there. If you plan on slapping this bad boy onto a watch with lugs it definitely won't be a problem (which was one of my initial worries). The silver buckle is appropriately sized (thank goodness) and stays in place with some extra stitching between it and the stationary keeper, which only adds 1mm to the thickness of the strap.
The Verdict
Overall thin strap construction held together by pure white stitches, a quality silver buckle, and keepers that do their job and keep it thin while doing it. I would prefer a quicker black to green fade near the spring bars so it's easier to see the color while being worn.
24mm Carys
Design:
This is probably my favorite strap from the three that I got. The dark red is gorgeous especially with the occasional blackish burned look and black stitching. I went with 24mm because I thought it would look excellent on the white and/or black MVMT watch faces and I was right! It looks fantastic on these two as well as my white/red Noble Timepiece, which is a lugless design. While situated in the lugless design I think it rubbed a little bit and it lost some of the red color on the end. I don't mind the added character, but you might so you may want to stick with the lug case designs in this case (no pun intended).
The thickness of this strap ranges from about 5mm on the short side (which is a little big) to 3mm on the long side (which is just fine). After wearing it for awhile it breaks in extremely well and the thickness hardly matters especially being on the short side of the strap. Everything is the same for this one as far as the excellent stitching, buckle, and keepers…which are the details that really matter. The only difference is that the buckle is black because that makes way more sense than silver for this color.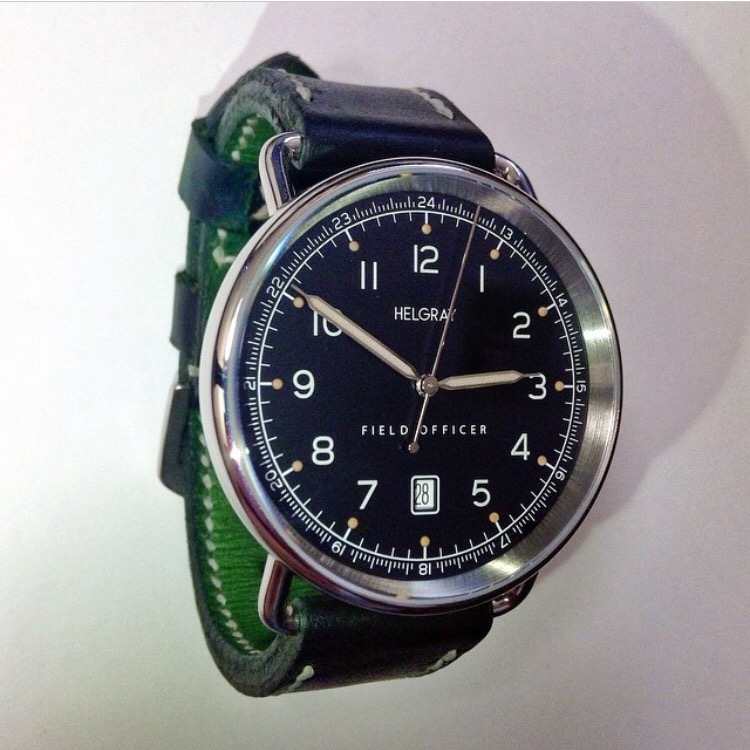 The Verdict
Amazing dark red/black 24mm strap that breaks in very well and gets the details right. The short side is pretty thick, but it gets much better after wearing it a few times.
24mm Blau Vintage
Design:
This strap is a little more neutral because it's a navy blue 24mm strap, which I also got with the intention of using on MVMT watches. If I hadn't requested white stitching I think it would look much more black than it does blue, so keep that in mind if you want to buy this strap.
I'm very satisfied with the way it looks on my watches! It is about the same thickness as the Hulk on both sides and therefore breaks in excellently. The white stitching looks great and I highly recommend it with your white watch faces. There isn't too much left to say because every positive thing I said about the other two are true in this case as well.
The Verdict
Much more neutral color is made interesting with pure white stitching. Just like the two before…the details are where the excellence comes in! That I don't have more than 3 straps. Time to get my hands on some more…these things rule! For more info, please visit celdystraps.blogspot.com
More photos:
Mark Wisdom Phillips – Contributing Writer
Mark largely collects practical watches, but never hesitates if he can snag a deal good enough to call it an economical decision. He loves taking photos of his collection and participating in the tight knit watch community on Instagram. You can see his photos and follow him here. He is highly opinionated and expects nothing but the best and at the cheapest price possible. In his eyes, a watch needs to have superb and bold design to be worthy of anybody's wrist. To him, organization creates valuable time and so you should expect it from him in his reviews. Wisdom is his middle name and he is here to share it with you. Read his articles here.