Did you know we're celebrating something very special to us this year? In March of 2011, Jovan Krstevski founded a little blog called WatchGeek. It would become quite popular, and in 2013 it would change its name to become WristReview. That's right, this month we're celebrating our tenth birthday.
To celebrate this milestone, and thank all of our loyal readers over the years, we're running another giveaway contest. Our last one saw one lucky follower win themselves a Louis Erard Excellence Petite Seconde watch. We liked that watch, but we noted that it wasn't to everyone's tastes.
This time, we've gone for something a little more well-known in the watch community. For this giveaway, the prize is a robust Seiko Prospex SPB149 1965 Diver's Modern Re-Interpretation that's worth $1350. The watch is made of stainless steel and measures 43mm x 13.2mm. There's a blue sunray dial to remind you of the big blue oceans, and inside the beefy case is a self-winding 6R35 calibre movement that will run for a full 46 hours. The water-resistance of this watch is 200m, plenty for whatever sporting activities you have in mind. It's also a limited edition watch, one of only 5500 produced by Seiko.
To be in with a chance of winning the Seiko watch, you'll need to be a subscriber to our newsletter. If you're already a subscriber, then you're automatically in our draw. If not, you'll need to sign up! When subscribing to our newsletter, you'll get weekly emails from us with all the latest on watches. We don't share our newsletter subscribers' details with anyone else, and we never plan to. You can opt-out of our newsletter at any time, but if you do this before the competition closes, you will forfeit your entry.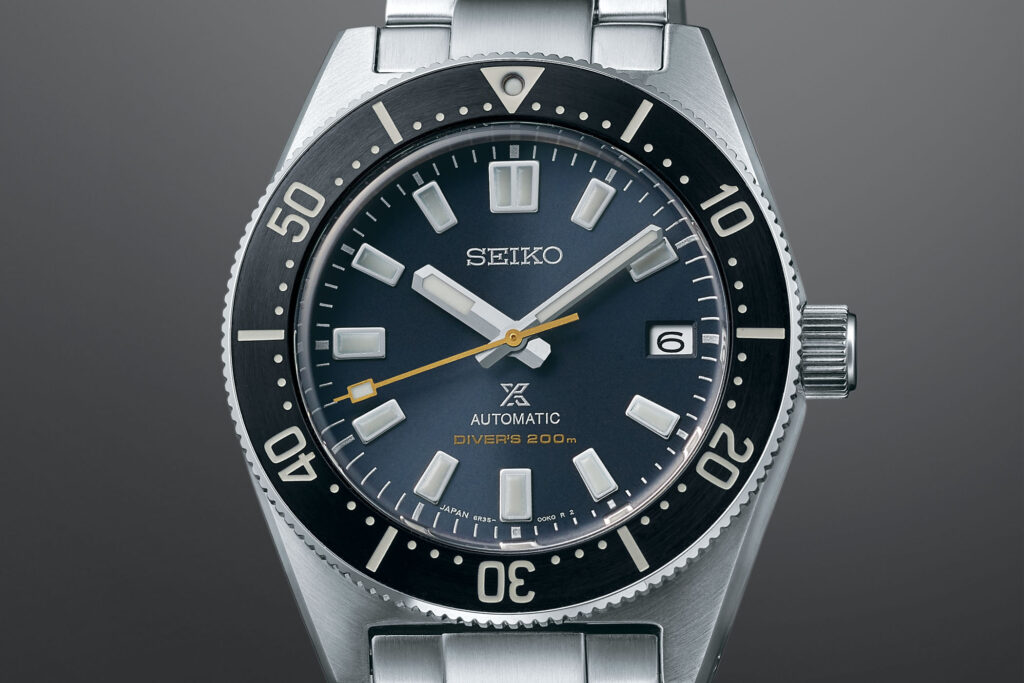 Our giveaway of the Seiko SPBV149 1965 Diver's Modern Re-Interpretation closes on the 31st of March 2021 at 00:00 GMT.
By subscribing to our newsletter and updates you give us your consent to store personal data.
TERMS AND CONDITIONS OF THE GIVEAWAY
ENTERING THE GIVEAWAY
The giveaway can only be entered once you have subscribed to our newsletter.
Please enter a valid email address for the giveaway; otherwise, we won't be able to contact you if you win.
Only ONE entry per person, multiple attempted entries will void your chance to win a watch.
You must be of legal age (minimum 18 years old).
All entries after the closing time (Midnight, Greenwich Mean Time) on the 31st of March will not be considered.
Entering your email address means you'll see emails from us once per week containing links to our latest articles. You are free to unsubscribe from our newsletter at any time; however, if you do so before the 31st of March 2021, your entry into the giveaway will be withdrawn.
We collect information on how many subscribers to our newsletter we have and use it for our media kit, which we send to potential advertisers. This is purely to give them a good idea of whether we are suitable for their ad campaign.
Your email address will not be shared with any third parties, ever.
2. HOW THE WINNER IS CHOSEN
Each email address submitted is allocated a number, which is then entered into a database
After the closing date, the 31st of March 2021 (00:00 GMT), the numbers are entered into an independent web-based random number generator.
After the closing time, winners will have their name published to the website.
3. WHAT HAPPENS NEXT
There is only one (1) prize available.
WristReview will only contact you if you are the winner.
If you are selected, you will receive a confirmation of this from WristReview to the email address you submitted.
You have twenty-four (24) hours to respond to the confirmation email; otherwise, another winner will be selected at random.
You must include your name, shipping address, country, including the Postal/Zip code in your response to the confirmation email.
Shipping costs are included and paid for by WristReview; however, the winner is liable to pay any taxes or customs charges that may occur during delivery.
If you have any queries or concerns please email info (@) wristreview.com, we will try to respond as quickly as possible.