I'll admit Chopard has drawn me in from afar, but when I got closer to some of their products I just never really felt the zing, the passion that I do for companies such as Breguet or A. Lange & Söhne, and this was really unfair of me as finding L.U.Chopard watches in the UK is a relative chore compared to their 'non L.U.C.' siblings. An invite up there in person was a real surprise when it came through the office, so, of course, we were delighted to accept. I'm delighted to say that the day was fantastic, but if you want to read more about the event itself and how things played out, there is already an article about it on the site.
The L.U.C collection has been an interesting story to follow and has, in my mind at least, finally found the fruition it deserved with the new models. They now make super high standard wristwatches with all types of complications inside that sing just as loudly on the outer too. Gone is the stigma associated with the finer collections in a company's portfolio, this perhaps mainly due to L.U.Chopard's relatively short existence compared to the others, so in this sense, they are really free to go ahead and make their own traditions and forge their own paths with no regrets about models that shouldn't have been. As we all know, a fresh start in life is a rare gift indeed, so it's grand to see they're making the most of it.
As per the GMT One collection, what you should know is that you need to take a few minutes to appreciate this one, particularly if you are in the market for a traveller's companion without the associated costs of a world timer. In finance it's common knowledge that the value of a group of loans is worth more than each loan individually, and I feel we can translate this to the GMT One collection. While this may sound strange, what I am trying to say is that no one feature on the GMT One specifically stands tall over the others, but put together they make a sight that's pretty rewarding to behold. To really understand what I mean I should perhaps point out that this is on the list of watches I'm likely to own within the next three to five years, and that's a big step for someone who only found out about them a week ago.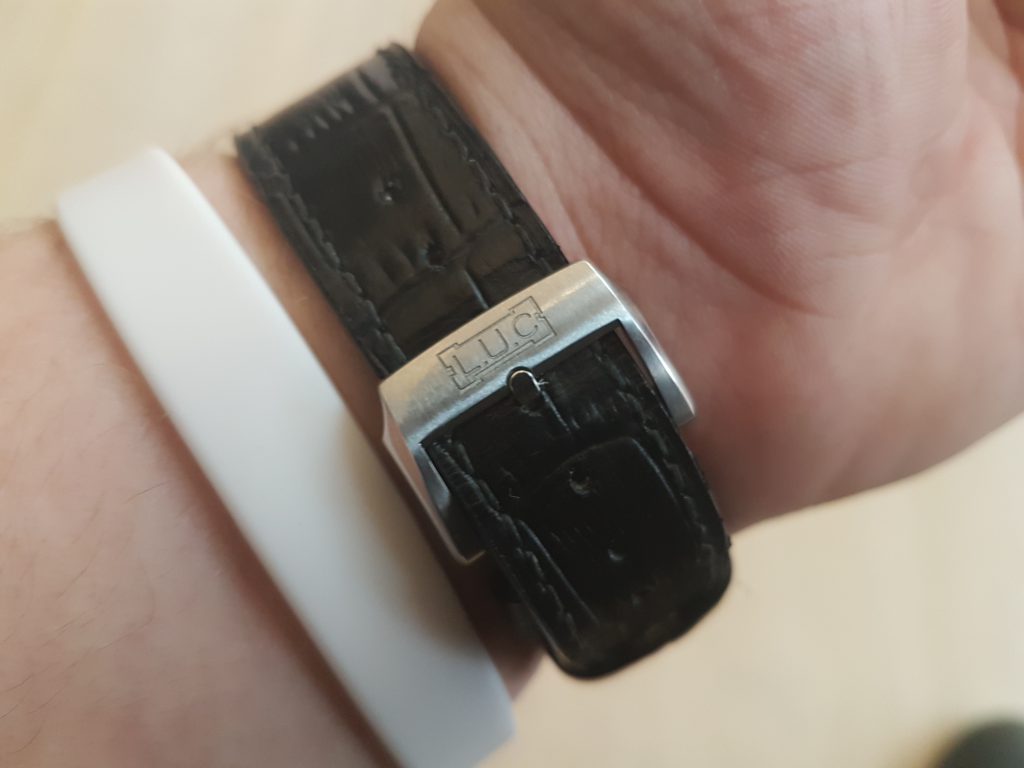 The feel on the wrist is, for me at least, stunning. These watches are quite heavy, though not as heavy as some might expect. In gold it's obviously heavier, but not so as to be ungainly, which is offset by the comfort of that leather strap, the alligator is on both sides rather than having calf leather coming into contact with the skin making a superbly supple wearing experience. The watches are also slim at 11.71mm, I feel this could perhaps become a dress watch of sorts for those who have yet to invest a lot in the watch collecting hobby, pro tip: it'll quickly become an obsession, which is great.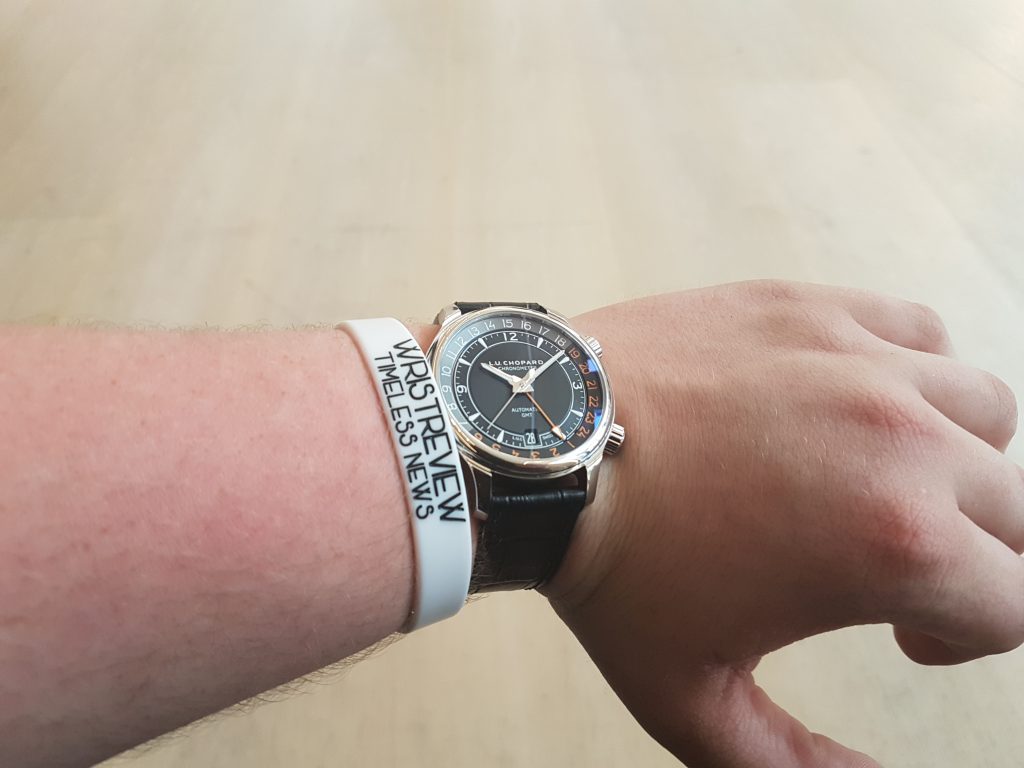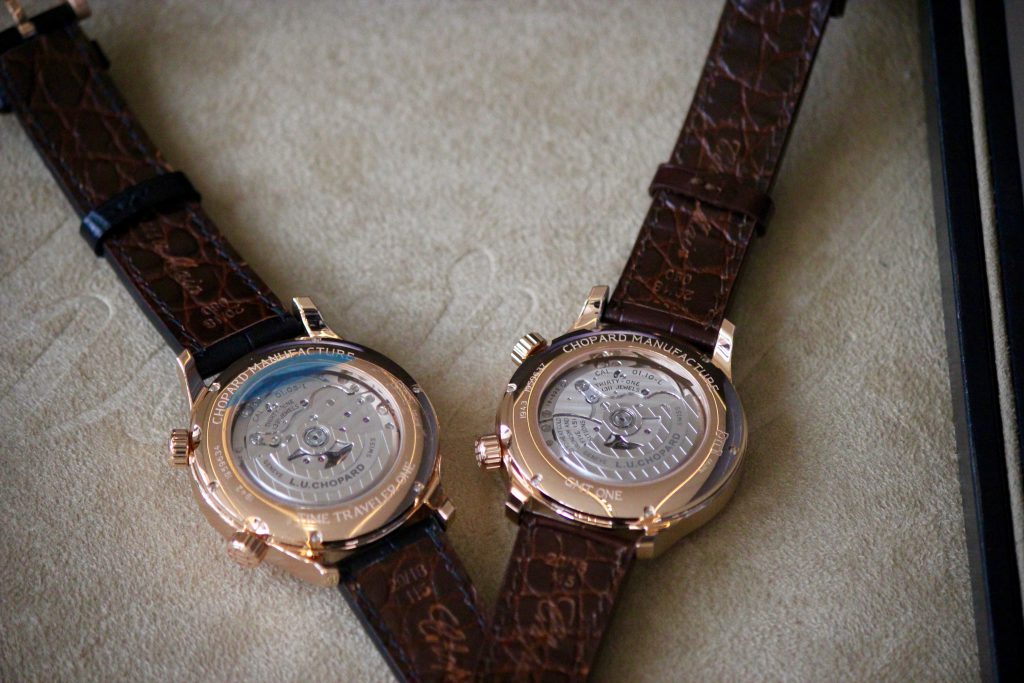 My personal favourite is in steel with the black dial and part orange part silver GMT ring which, by the way, is sealed inside the watch and adjusted via second crown, but of course, you knew that already. The L.U.C. 01.10-L movement inside is decorated well, some would say plain but I'd prefer to describe it as conservative. Yet despite this, the bridges are chamfered and the Côtes-de-Genève finishing works well, it's a casual watch with a hint of seriousness that could make a German nervous. In case you're wondering about the credentials of the movement, all operations that go into the construction are controlled by Chopard in-house in Switzerland. From smelting the gold components the start to quality controlling the watches at the end, each step is carefully overseen. This allows the watch to gain COSC certified status and has a water resistance of 50 meters.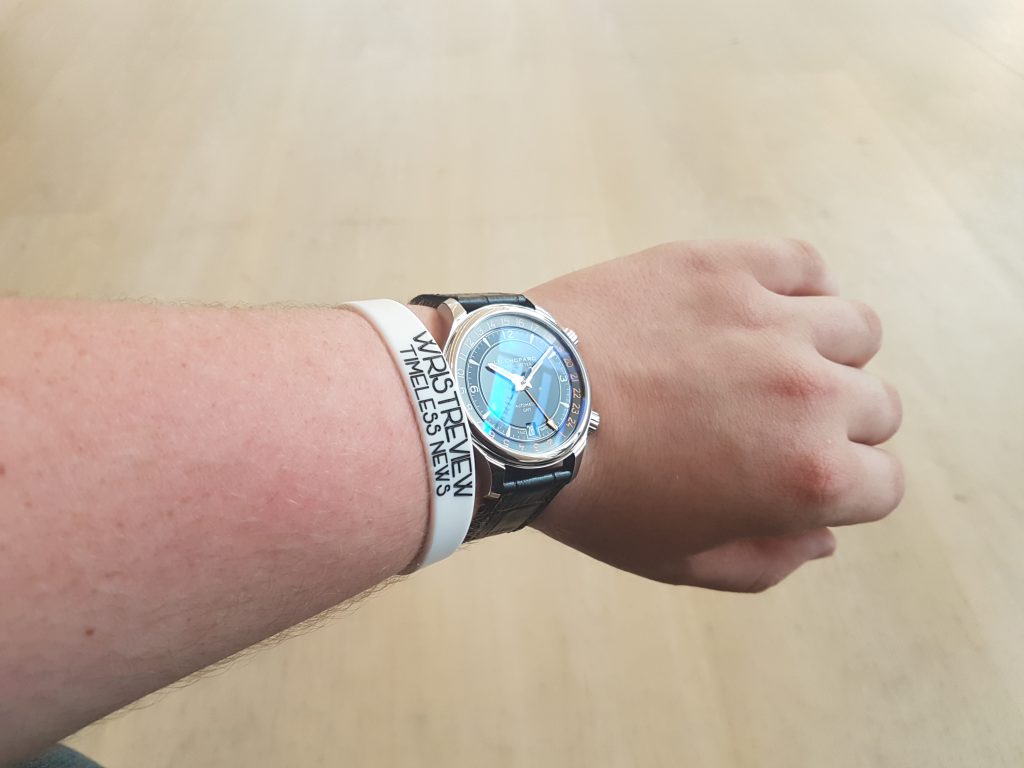 Each click of that GMT crown is crisp with a slight spring to it, each date sits perfectly within its window and the movement ticks for a solid 60 hours plus without missing a beat (my puns are out of control now). My only gripe about meeting this collection in person? I didn't get to keep one. For more info, please visit chopard.com