Well, where to start with this one? I suppose it would be best to explain the situation first. I went on a little trip to my home country's capital city, London. Now we've got that out of the way, I'd previously organised a visit to Chopard's boutique on New Bond Street, near London's world famous West End. However, this was currently under renovations as they had bought the store next to them and were in the process of making one huge boutique. In the meantime, they have a small boutique set up just around the corner about two minutes away from the big one (stay tuned, we will be back to show you around once it has opened!). I actually got to see quite a few watches, so it's always a trouble deciding where to start with them all, in the end it was the Superfast Chronograph Porsche 919 Edition watch which caught my eye, so that's where we are going first.
The Superfast Chronograph Porsche 919 Edition (let's just stick to Superfast) watch is hefty, and that's something you'll notice right off the bat. When the lovely Kim, the Co-ordinator for public relations at the boutique brought it out on the tray alongside some of the other watches it immediately stood out. This is where Chopard's well known idiosyncrasies in its watch designs play to its strengths, as they all come together to make a product that looks slightly odd at first glance, at least in comparison to a more traditionally styled sports watch, and yet it never looks awkward or out of place. Take the sides of the case for example, they have grooves cut out of them to evoke a ventilation duct of some sort on the 919 racing car, now try and imagine this watch with just a brushed case flank, it looks weird doesn't it?
The oddities continue onto the dial as well, where the dial itself has been segmented to look similar to the rear diffuser of the 919, you can say what you like about Chopard but they put the detail in where it counts to make good looking effects. The dial plating itself is horizontally brushed in finish with the subdials having a circular guilloché to them, like the spaces in-between each dial plate, the subdials are also white. Now I seem to recall an article or possibly a forum thread devoted entirely to the size of the running seconds subdial on chronograph watches, to an outsider that doesn't seem like an issue worth fussing over yet for us watchaholics it means a hell of a lot. On this one, the running seconds subdial is smaller than the chronograph subdials, supposedly taking their styling cues from the dial cluster on a sports car. I don't mind it, it makes no difference to me, but I know there are some who don't like the subdials being labelled, this is something Chopard does regularly so you're kinda stuck on that one, once again it makes very little difference to my eye.
All the important numbers are written in a racing style italic font to make it look like it's moving quickly when it's not moving at all. There's also the big 12 numeral on the dial as well, I have no idea what could go in that spot instead, maybe an up/down power reserve mimicking a fuel gauge or something, but it's not an empty spot so credit to them for that at least. All the parts associated with the flyback chronograph are finished in red on this watch, along with the big '919' symbol on the hours subdial, which is obviously taken from the Porsche 919car. The only dial part I feel is unnecessary is the date window, now, I don't mind a date window, I don't even mind a date window at half past 4, but on this it looks out of place. Chopard could easily remove the date for this one watch and it would look a lot cleaner, more focused on the drive or some marketing spiel like that.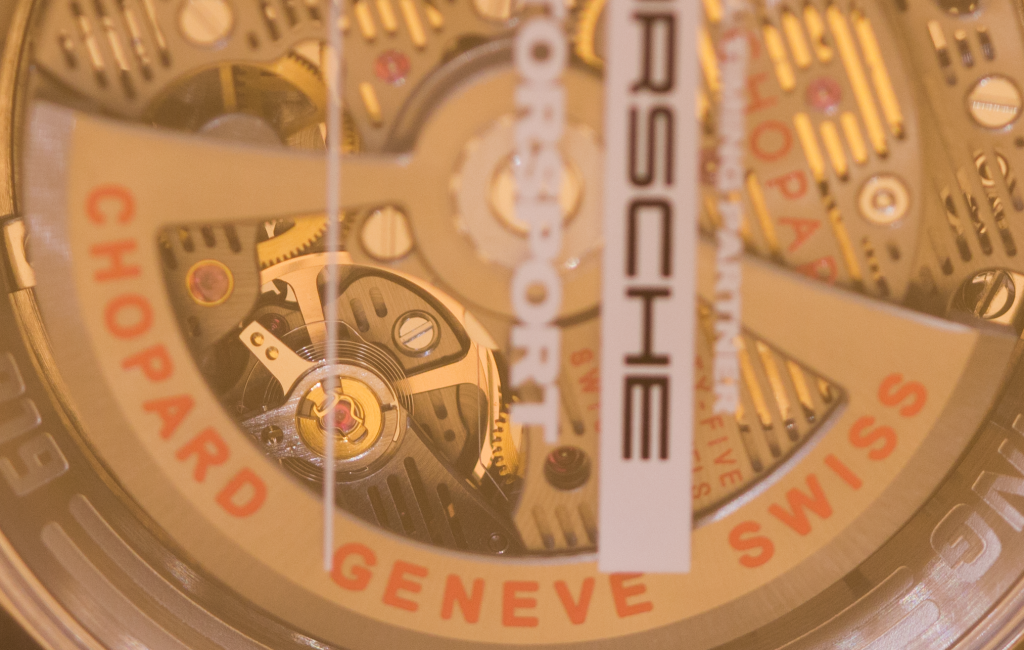 In a car you need a propulsion system, usually in the form of an internal combustion engine. Given its obvious tie ins to the motoring industry, calling its movements 'engines' is something Chopard does regularly. A comforting fact here for you is that the movement inside the Chopard is designed and built in house, although Chopard doesn't have the ability to make its own hairsprings at the current time we have been informed that it may well be a possibility in the future. This means that the movement isn't entirely completely in house (very few actually are), it's not far off. Given that Chopard is known for using ETA movements in a few of its non-L.U.C. lines we have high hopes for future watches, they've also acquired and rebuilt Fleurier Ebauches S.A. which we would hope mean that they will move away from ETA altogether and make use of this new movement manufacture to take its place. I'm getting sidetracked again.
The movement is well finished and the components that you can actually make out in there behind the engine heat-sink style plates, automatic winding rotor with the centre cut out and the Porsche writing on the crystal, do look good. Sure, it's not finished up like a Romain Jerome or something, but this is a higher production no nonsense sports watch which can take a beating. The Chopard 03.05-M calibre inside the watch is COSC chronometer rated thanks to 45 jewels and has a modest power reserve of 60 hours without the chronograph running, something most modern manufactures are capable of doing but nonetheless a good length of time. The finishing on the plates themselves is pretty good with the brushed finish keeping low profile, it's something you have to focus your eyes on to admire, which is hard considering all the holes cut in it. Now, the movement itself is only 28.8mm in diameter, but Chopard counters this and the potential disappointment one would get if they find the caseback to their watch showed the tiny movement in it. They made the crystal larger in diameter so as to extend outwards over the movement and then added in an inner bezel to lead towards the movement, making it not only stand out but seem larger, this little design trick is something they do very well indeed. My biggest gripe though is the Porsche info printed onto the crystal itself, sure the automatic rotor has a hole in it but there's still plenty of space where they could have omitted some of the normal technical stuff around the edge of the caseback and put it there instead, now I can't see the movement so well.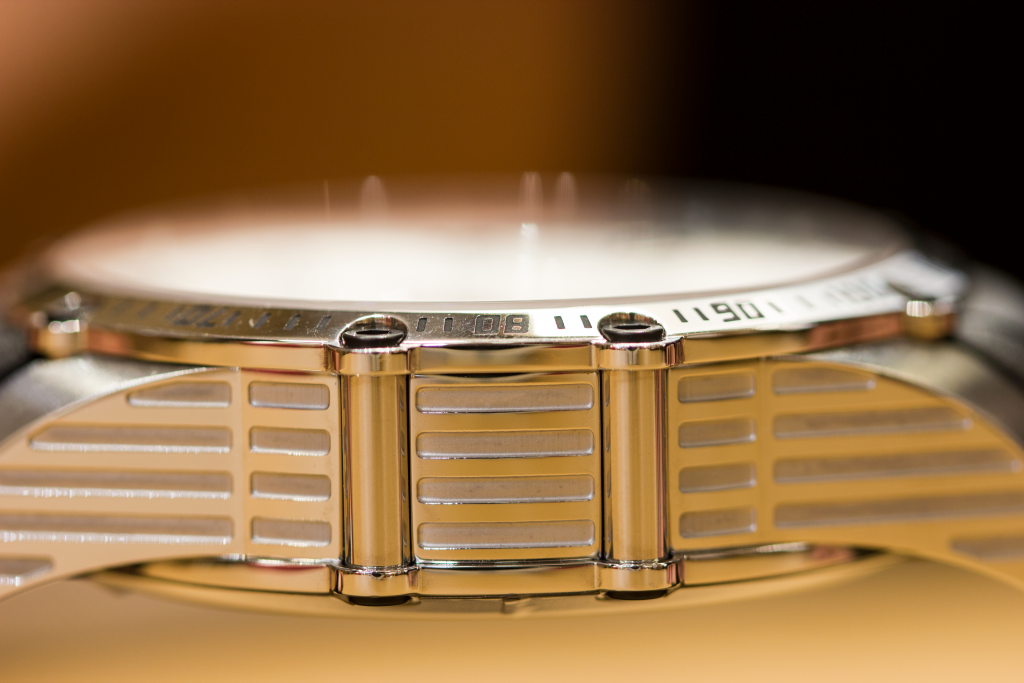 The chronograph in this watch is of the flyback variety, that means you can reset the chrono while it is still running without damaging internal components. It's an uncommon feature even in today's world with high tech mechanical production methods, a flyback is a flyback and should therefore be respected. This one was most likely designed for use around the track, although you should bear in mind it is not a split seconds chronograph so it cannot record one time while continuously timing another event. The chronograph pushers seem to be a little of an oversight, at least until you get used to their placement. While being put right next to the crown is not a problem, they do not protrude very far and you could easily mistake them for being ornamental shoulder guards. When you press them, there is very little travel at all, surprisingly little in fact, as is a common trait with Chopard watches. This is pretty useful actually, meaning you don't need to push down hard to activate the chronograph, in fact it's easier to use these chronograph pushers than it is to type on my keyboard. If you're a watch person but you suffer from arthritis, this could be a game changer for you.
Before I wrap up this review I'd like to give a special mention to the unsung hero of the watch world, the buckle, or in this case the clasp. Without it our watches would fall off or be easy to steal. Chopard does a nice job of its straps and clasps as well, with nearly all of them being a butterfly or 'double deployant' type, meaning that rather than one big folding swing-arm action that could pinch skin and is generally less elegant, the clasp folds and secures with two smaller motions. It's also secured by two pushers, meaning that this rather large watch will happily sit on the wrist until you purposefully interact with it, the details are fine too with even the gap in the centre part of the butterfly which is usually covered being given the perlage treatment.
There are still a few examples of this watch still around, we got to see number 757 out of 919 total examples. The watch is priced fairly reasonably at only £9,430 Sterling or $11,680 USD, though the people at Chopard are very friendly and I'm sure if you asked nicely they might knock a little of that off for good measure. For that you get a cool and unique looking sports watch with a tie-in to a well known sports car manufacturer that's presented on a comfy and smooth rubber strap. What's not to like? For more info, please visit chopard.com