WristReview returns now with another of it's well known Top 5 watches. In this segment we will take 5 watches if a certain category of our choosing and make a list ranked from 5 to 1 of our choices. Once copied, never beaten. In this article we will look at five watches that are completely ridiculous, they can be quite silly to wear, look at or use whether that be because of the dial or case sizing or whatever. These are just five of the watches we think you will get a giggle out of if you put them on for an afternoon if you are lucky enough to own one. Let's get right into it.
5. Omega Seamaster PloProf
Sure, when it was created it was all business and deeps diving, now though the PloProf is a little more relaxed about it. Considering there are watches from the likes of Rolex and even some lesser known companies that outdo the PloProf when it comes to pure statistics. But, the PloProf is still the craziest and most badass looking sports watch to ever be created, from the likes of its crown and guards which are immense and positioned on the left hand side, to the unique way the bezel is unlocked and turned. Plus the new titanium models even gain a transparent sapphire crystal caseback while retaining their 1200m water resistance. It's still a 55mm x 48mm brick made of either steel or titanium, but it's the best looking brick I've ever seen.
[button color="black" size="big" alignment="center" rel="follow" openin="newwindow" url="https://www.exquisitetimepieces.com/watch-brands/omega-watches.html"]BUY YOUR OMEGA HERE[/button]
4. Konstantin Chaykin Joker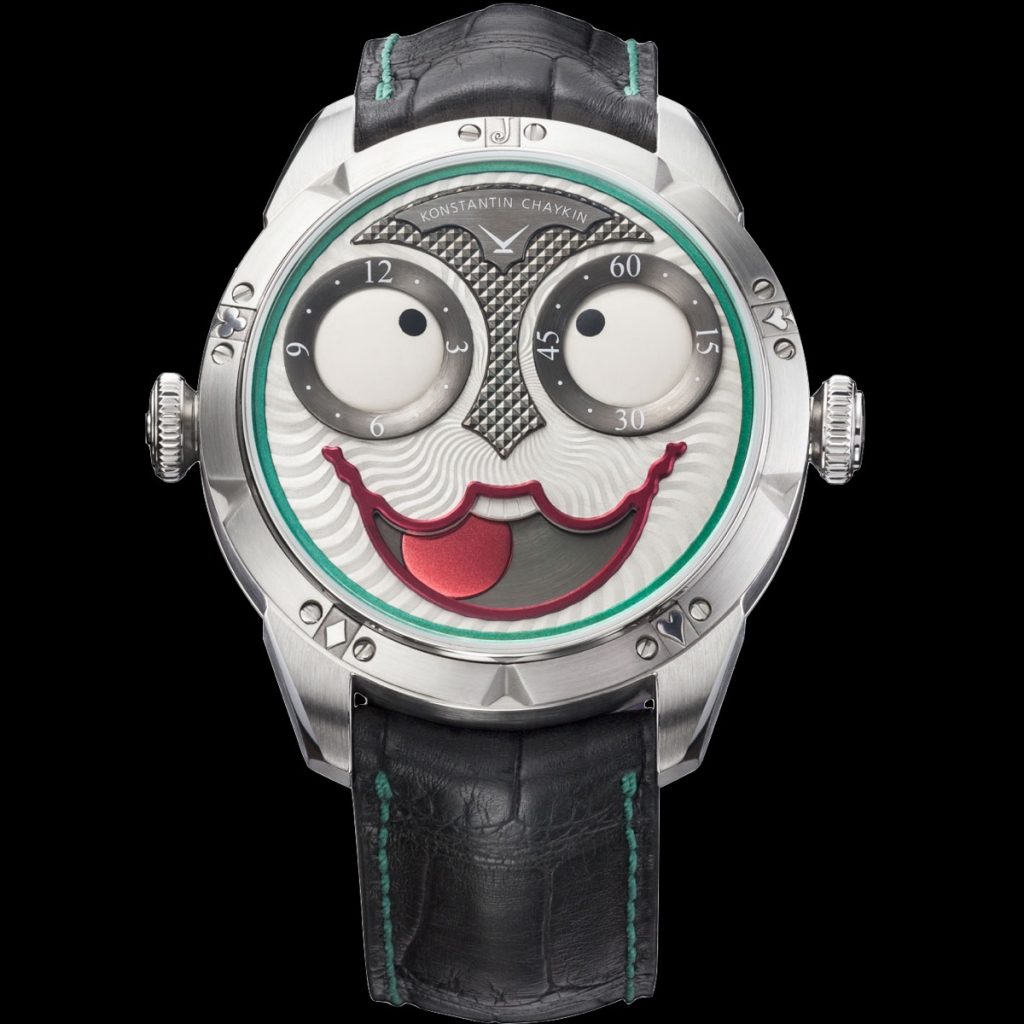 Have you ever looked at something and wondered just what the hell the designer was smoking when they thought of it? Yeah, me too, and in this case I looked at the Konstantin Chaykin Joker watch. It's actually pretty unnerving, considering I don't exactly like clowns or pretty much anything to do with them, this one takes that to a whole other level of weird though. The eyes are used to tell the time. Yep, that means that one eye is moving around faster than the other, it's like this watch found a little baggie of something special and just decided to do it all at once. Now I should probably mention that the Joker in this case is the Joker from a deck of playing cards and not the Joker from the Batman franchise as referenced from the symbols on the bezel, but at the end of the day I doubt that will make a difference, this is just too odd for me.
3. Richard Mille RM-032
I really like this watch, like, seriously really like it. This one makes it to the list because of not only how large it is in general, but how much emphasis has been placed on certain parts of the watch that don't traditionally have it. In this case I'm referring to the enormous bezel and crown, which stand out from a mile away. The bezel follows ISO 6425 regulations, meaning it only turns in one direction, but it's so chunky as well! Not to mention the watch is actually 50mm in diameter which is why it looked right at home on Sylvester Stallone's wrist in The Expendables 3 (that was in the gold configuration). The crown, while huge, still serves a purpose. It's locked down so in order to manipulate the chronograph or change the time for example the crown needs to be purposefully unlocked by the user, much in the same way JLC's diving watches do with their huge crowns, only this one looks cooler. You just can't get over the fact this watch is 50mm in diameter and 17.8mm thick, it's huge.
2. Panerai L'Egiziano PAM00341
Yeah this one is basically just on this list because of how huge it is. Sure, there are a few low level companies that make big watches, but measuring in at 60mm in diameter this one is in a league all of its own. Basically, if you aren't Arnold Schwarzenegger or Sylvester Stallone there is little chance that you will be able to pull this watch off without it looking like a dinner plate on your wrist, but there's always the dream, right? The watch isn't bad looking in any way, far from it, we like the clean and plain dial that Officine Panerai is well known for, and we like that even though this watch is so huge they insisted on having their trademark locking system for the crown, which just makes this watch seem even larger. It's powered by the P.2002 calibre as well, a hand winding movement with a stark and clean finish (that's hidden under a solid caseback in this case). Still, we think it's too massive for pretty much everyone.
1. Hautlence Playground Labyrinth
That's right, the watch that I myself dubbed to be the "World's Most Useless Wristwatch" has come first place in our Top 5 list of ridiculous watches. It all makes sense once you think about it. It doesn't tell the time, it doesn't record any events or tell you the day. It doesn't even count your steps, so it's basically useless and to top all that off it still costs 12,000 Swiss Fancs. I mean, the best thing about it is that you can play around with it for as long as you like and there is little risk that it will wear out given it's just a ball bearing made of either platinum or rose gold inside a maze. There's only 18 examples with the rose gold maze and 18 examples in platinum, I don't like it or its followups, but that's just me.