Bradford Watch Company "was founded on simplicity, excellence, and durability". They said it themselves that they are not horologists, or for the better understanding, the term used to refer to the guys with hundreds of years of experience in the watchmaking industry. Horology is not all about the money or marketing, it is the passion for mechanical excellence that mirrors pretty much everything from the fine engineering to the production techniques. All things considered, Bradford is a horologist, a humble one to be precise. Their watches are impressive at such a low low price. It's true that the market is flooded with really inexpensive watches with goals of just earning quick bucks quickly so it's seldom to see passionate watchmakers with affordable quality watches in production.
Taylor
On a side note, Bradford's unisex "Taylor" style watch was a success so the brand is expecting the same success for their new mens collection of "Claypool" watches that was just launched June of 2017. It's too early to tell but basing on peoples' experiences with the watch, we see lots of positive outcome for the company here. Success is defined by trust between consumers and producers so if you built a superb product, chances are you've already made it past the biggest hurdle of watchmaking, which is profitability.
The Claypool watch is a quartz watch which is in line with the watches in this price point like Timex, Daniel Wellington and the likes. What differentiates Bradford is the design. The brushed stainless steel case looks modern. The lean lugs are trendy and the style is consistent down to the crown and bezel. The profile is thin and at 44 mm by 7 mm, this watch is designed to fit with any dress code. While the mineral glass is the obvious choice for the crystal at this price point, careful maintenance of the said material provides really good value for this watch in the long run.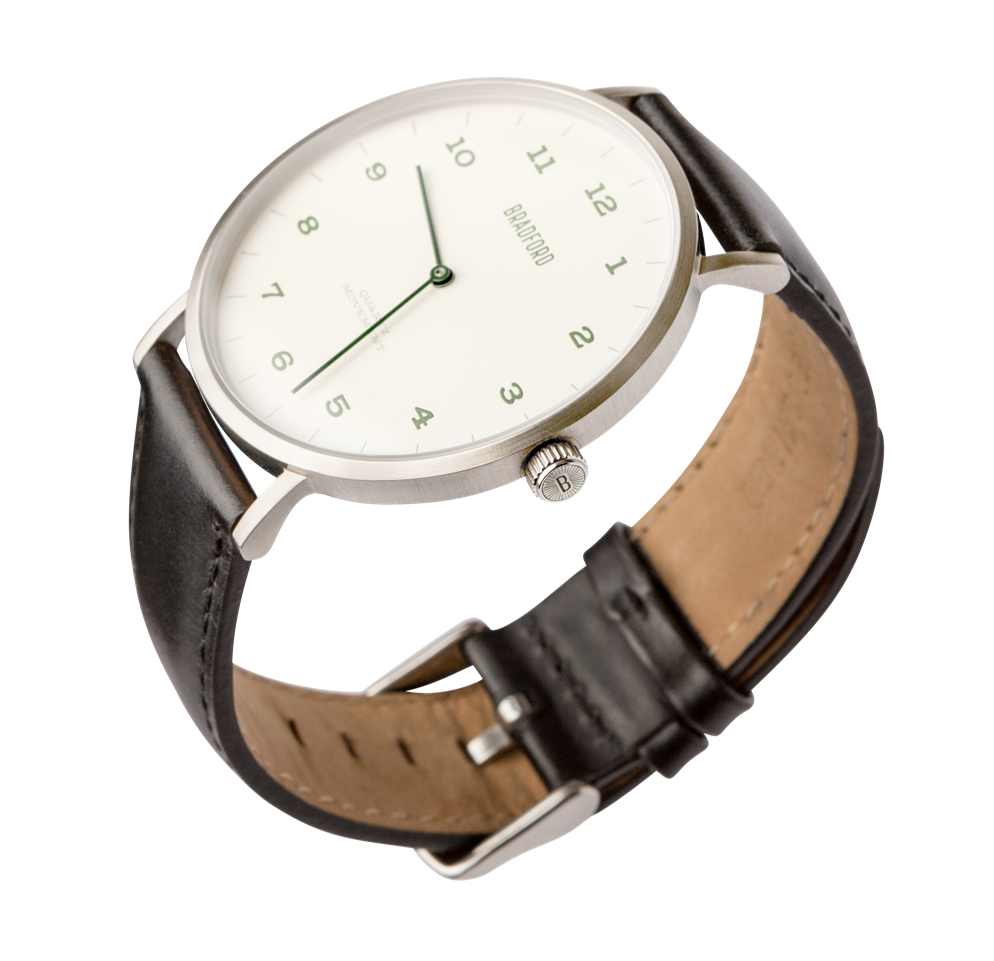 On the watch face, the selling point is the design. It's a cute watch. The large display is complemented by lighter tones seen on the hour markers and the hands. The Claypool is available in brushed steel or cool brushed rose gold finishes. The dial is decorated with Arabic numerals and light indices. The rose gold version looks classic and is a good choice for those looking for high-end style.
Underneath the case is a trusted Japanese Quartz movement sporting 3 years of uninterrupted power supply. The brand is serious when they said that you can take this watch anywhere as it boasts of 3 ATM water resistance rating. The design may look subtle and classic but its build is tough and the brand is confident enough to provide 3 years of warranty for the product.
The Claypool also comes with a highly comfortable genuine oil-tanned leather quick-release strap that looks better and better as you wear it. In our opinion, the Claypool watch is indeed a perfect grab suitable for any Lifestyle. For more info, please visit bradfordwatchco.com