Trending or not, I find myself into retro designs these days. By retro I mean designs that existed back in the 1960's. Most brands have dabbled into this trend already. And now Christopher Ward also jumps into the bandwagon with its latest addition to the C65 family, the Trident Diver that deliberately brings back retro goodies and more specifically the retro 60's appeal of one James Bond. There it is, the James Bond appeal right to its coolest and perhaps greatest time of all.
The watch is a master presentation of an elegant masculine diver that goes beyond retro looks inspired by the 60's. The designers are bold enough to infuse this retro look with modern day technology to complement its classic character. In general, the watch is designed to be a vintage-style diver, chunky and robust to look at but at the same time very capable when tucked under a jacket sleeve and remain subtle all throughout, and there is the James Bond line again.
While the watch does not pay homage to any specific watch it does however showcase similar characteristics of some of the greatest divers of the 1960's with its thin bezel, bubble crystal, unprotected crown and gentle lume application. This really complete the retro looks and if you are a fan of the past, you will certainly love this watch.
Water resistance is mediocre at best but its 150 meter capability is more than enough to tackle a leisure dive here and there. The 41 mm watch gets power from a Swiss-made Selitta SW210 hand-winding movement with a 42 hour power reserve. The movement's slim profile is important for the case design that tries to offer a compromise between the smaller diameters of vintage watches and the larger bulkier diver watches at present.
Moreover, the steel case is a standard 316L stainless steel offering a robust quality for the watch. Design-wise, the retro appeal is complete particularly the nice unidirectional aluminum bezel which is obviously a modern take camouflaged by classic serrated edges for better grip. The glass box sapphire crystal is witty and pretty much a lovely approach to this retro trend.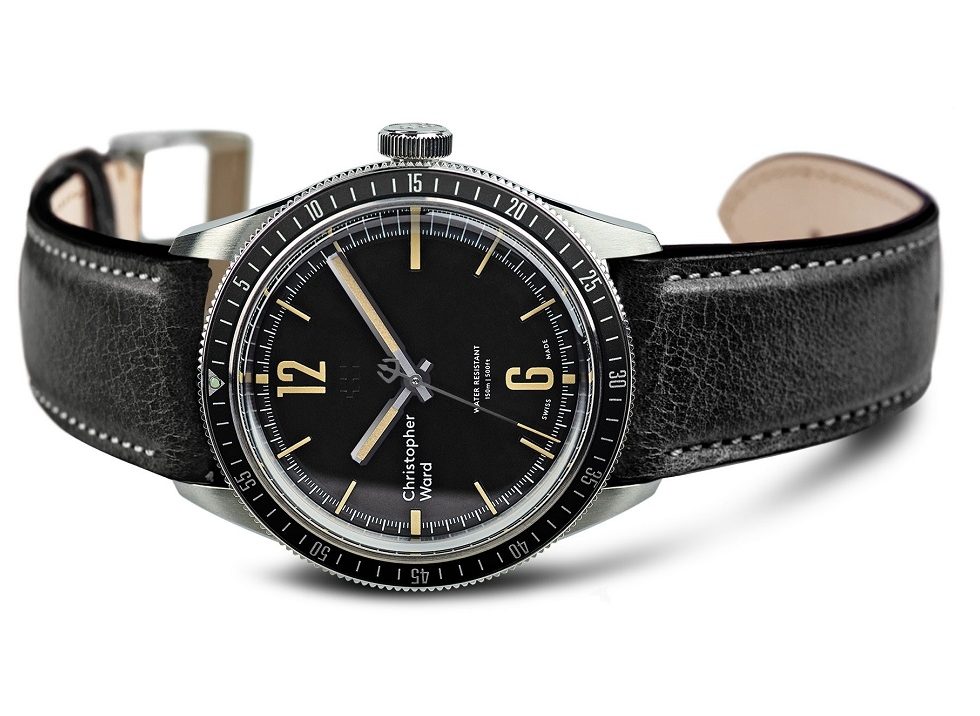 Zooming in, we find two choices for the dial which are a black and blue dial. The C65 Trident also features a matte dial complemented by Old Radium-coated indexes, hands and numerals that offer a stark contrast against the dark or blue background. If we look at 12 o'clock, we will also find a twin flag motif that offers a hint of modern finesse.
Finally, each of the dial or bezel colors can be matched with either a brown or black leather strap, or even a rubber dive strap and the asking price is $795.
My take on the C65 Trident is that it is a very capable retro diver watch. It also remains a dressy watch for me at 41 mm size which as mentioned above is a compromise of both past and present designs. Visit Christopher Ward here.