It may seem like a bit of a cliché when we explain what we mean by the term 'smart casual sports watch'. By this, we mean a sportier watch which has a dressy side, so it's lacking an external bezel and keeps complications to a functional minimum. The reason it could be misconstrued as a cliché is simple: modern society is more accepting of big sporting watches such as Submariners being worn with dressy attire, such as an evening suit or full-on black tie. However, this may not always go down so well with the most uptight of colleagues whom simply cannot believe you'd wear something with a moveable bezel to a dinner party. Never fear, we at WristReview have your back, we understand that you may be too young to sport something in precious metal on a leather strap, or it may simply cost too much. Whatever the reason, we've compiled a list of the watches we think would be suitable to wear to classy events, but still, have an air of practicality to them.
The Honourable Mentions
10. Oris BC3 Advanced Day-Date Ref. 01 735 7641 4164-07 8 22 03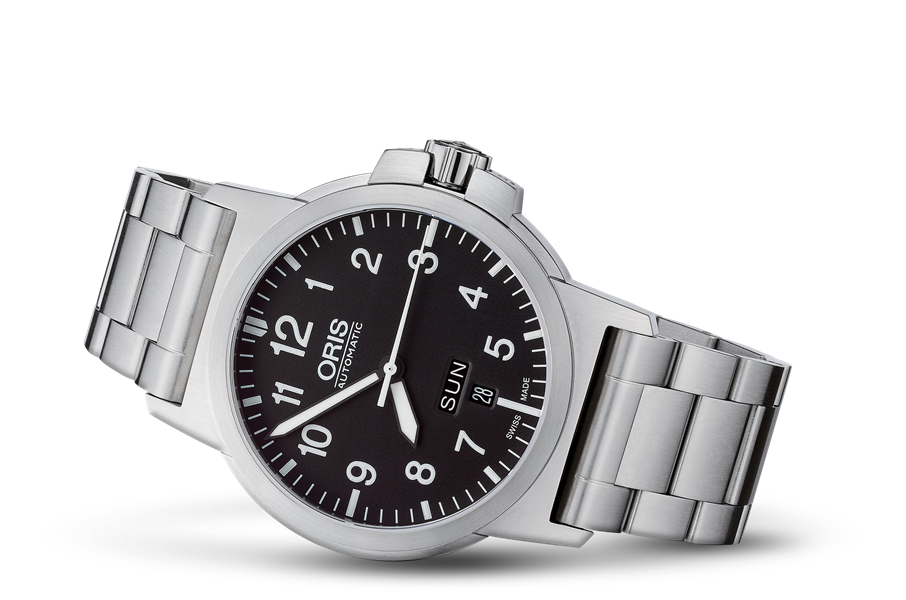 Kicking off the list in the 10th spot is the Oris BC3, which claims itself to be a pilot's watch for doing pilot-y stuff with. Undoubtedly, this is more sporty watch than dressy watch, which is why it made it to the tenth spot only, because it's a good quality affordable watch which you could pull off unless you're at a black tie event. Anything less than that, though, and you should have no trouble from this one. The two features that people would most likely find offensive are the enormous shoulders surrounding that crown and the big white hands and numerals on the dial which contrast well with the black dial.
Believe it or not, it's quite the challenge to find an Oris watch that isn't wholly dedicated to one particular task. There isn't, for example, some refined version of its diving watches, it only makes professional-grade diving watches which wouldn't make the list. It does indeed make dress watches, but they are just that, dress watches, so they come on leather straps and whatnot which make it impractical for us. This, I believe, is the closest to true refined sporty dress that you'll get from Oris. The movement is based on the Sellita SW-220-1 movement, too, so it will be rugged and durable, but great at keeping repair expenses down, as let's be frank, it's not exactly a complicated movement, even with a day-date going on.
9. Piaget Polo S Ref. G0A41003
Piaget's Polo S was a bit controversial when the new redesign was first unveiled. Many people complained that it lacked imagination and looked too similar to Patek Philippe's Nautilus. There's an exciting array of shapes on this watch. The case is round, though looking at it you'd think it's square instead. Further, the dial and crystal are square, but with big bulbous sides that stretch outwards. The dial is clean with small markers and elegant hands. The date window is adorned with a silvery surround, a neat little trick to add extra flair to the dial. That's a necessity on this watch, too, as the dial engraving itself was somewhat problematic for some. I can't help but mention the fact that this does look similar to the horizontal lines found on the Nautilus. I don't mind that they are there, and they sure look better than some sunburst design, but it will always be compared to the Patek mentioned above because of this.
Still, the movement is of high quality. The calibre 1110P gets its architecture from the Cartier calibre 1904-PS, but it gets a high grade of finishing and a cool black rotor as well. The reason we particularly like the Polo S is because it's so different and left-field in comparison to most of the other watches. It teeters on the verge of being a dress watch but is just saved by the sporty bracelet with a bit of polishing and 100m of water resistance. We're due to have one of these for a Fortnight Review soon, so keep an eye out for our full rundown of this watch!
8. Glashütte Original Seventies Panorama Date Ref. 2-39-47-12-12-14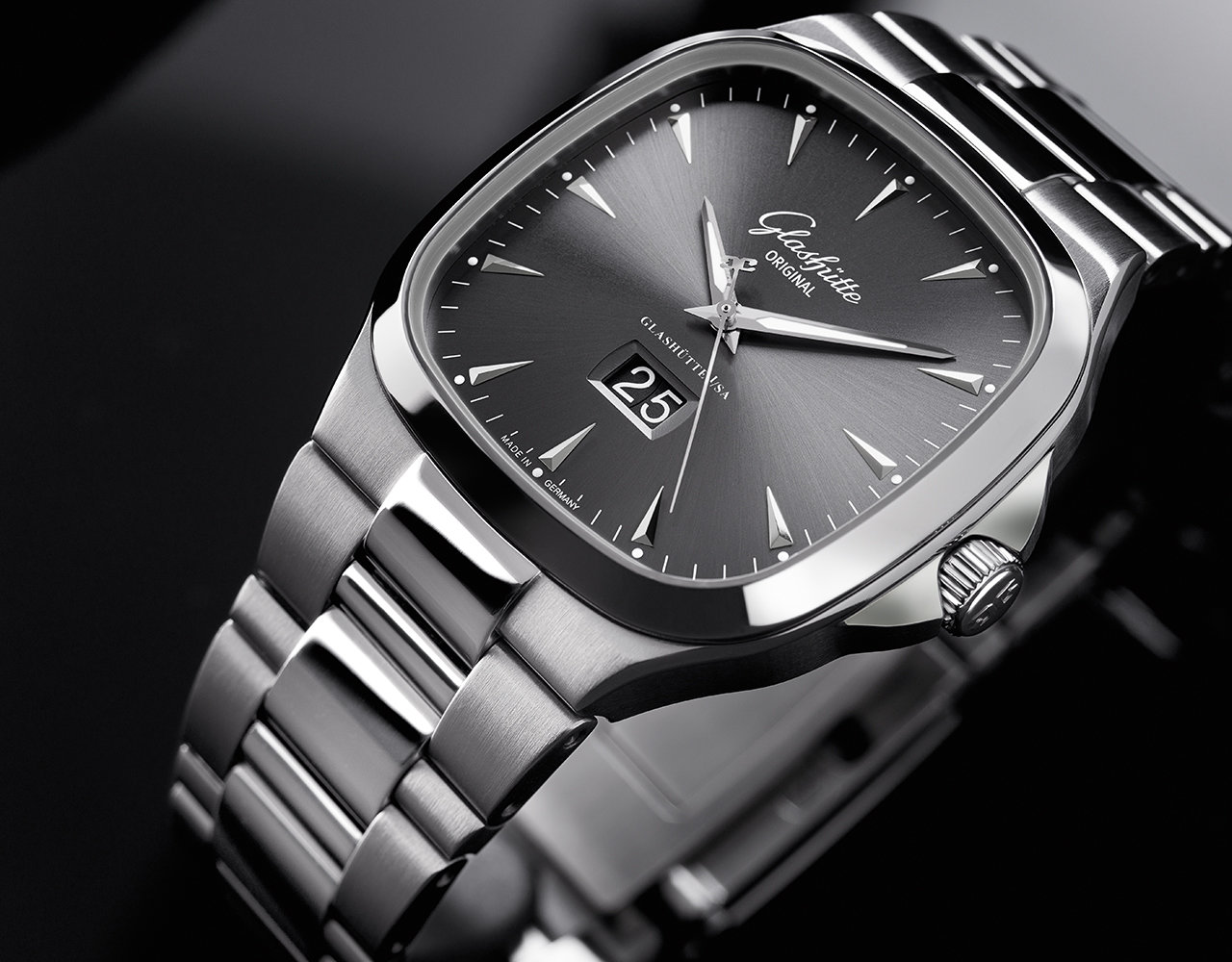 This has got to be one of the coolest square watches we've seen in a while, and I mean properly square not that sort of octagonal-square type design the Patek Nautilus is. It's also a rare beastie, too, the Seventies Panorama Date has buckets of charm and appeal coming from it. The reason we chose this particular reference is that it's still got that squared design which we all love, but it also has a modern dial and colouration. Personally, I'm all for a bit of vintage, but gold hands on a white dial in a steel case are not my cup of tea, no matter how sexy the case is. One of Glashütte Original's specialities is the Panorama Date feature, we've seen this in countless other watches from them before, but it stays the same with each incarnation. Like the Outsize Date from neighbours A. Lange & Söhne, the Panorama Date is comprised of two date wheels arranged with one inside the other. Each wheel has the numbers 0 to 9 printed on it, and they change forwards independently of each other. This adds a level of complication to the otherwise quite simple date as well. Unlike Lange, Glashütte can set the two discs correctly, so that there is no difference in height between them, this is due to the arrangement of the date discs. The calibre 39-47 inside the case is excellent, too. Well finished and with fine adjustments coming from a Swan's neck regulator, it's clear to see why this is a prime candidate for a spot on our list. It's also water resistant to 100m too.
7. Vacheron Constantin Overseas Ref. 4500V/110A-B483
Vacheron Constantin's Overseas misses the Top 5 this time, but it was indeed a close call for us. We like the quick change strap system on this watch; it's a feature the others in the Top 5 miss out on. Also, if you've never worn one of these new ones with their new style bracelets, go and try one on because they are so supple it's unbelievable, but unlike Patek bracelets, they are able to retain their mass and subsequently avoid any feelings of daintiness. We must talk about the fabulous looking automatic calibre 5100 inside it, with an elegantly engraved 22K gold rotor and finishing which earns the title of Poinçon de Genève, or Geneva Seal.
However, it's not all hunky-dory for this watch. It's the most expensive watch on this list, with Vacheron Constantin's website quoting me £17,000, while I found the retailer Bucherer selling the AP in number 4 spot for £15,000, and Patek you'll see a bit later on costing £16,760. Further to this, the Vacheron will depreciate the most of the three, too, whereas we'd expect a simple Royal Oak to hold its value well, and the Aquanaut will most likely increase in value. The final blow for the Overseas was that although it has Geneva Seal finishing, it's not like there aren't any other highly decorated watches here. The Aquanaut has the Seal of Patek Philippe, which is said to be more stringent than the Geneva Seal, and we all know AP can decorate its watches superbly, but it cannot qualify for the Geneva Seal as it's not based there. A price that's too high, coupled with depreciation and healthy competition is what pushes the Overseas into 7th place.
6. Zenith Defy Classic Ref. 95.9000.670/51.M9000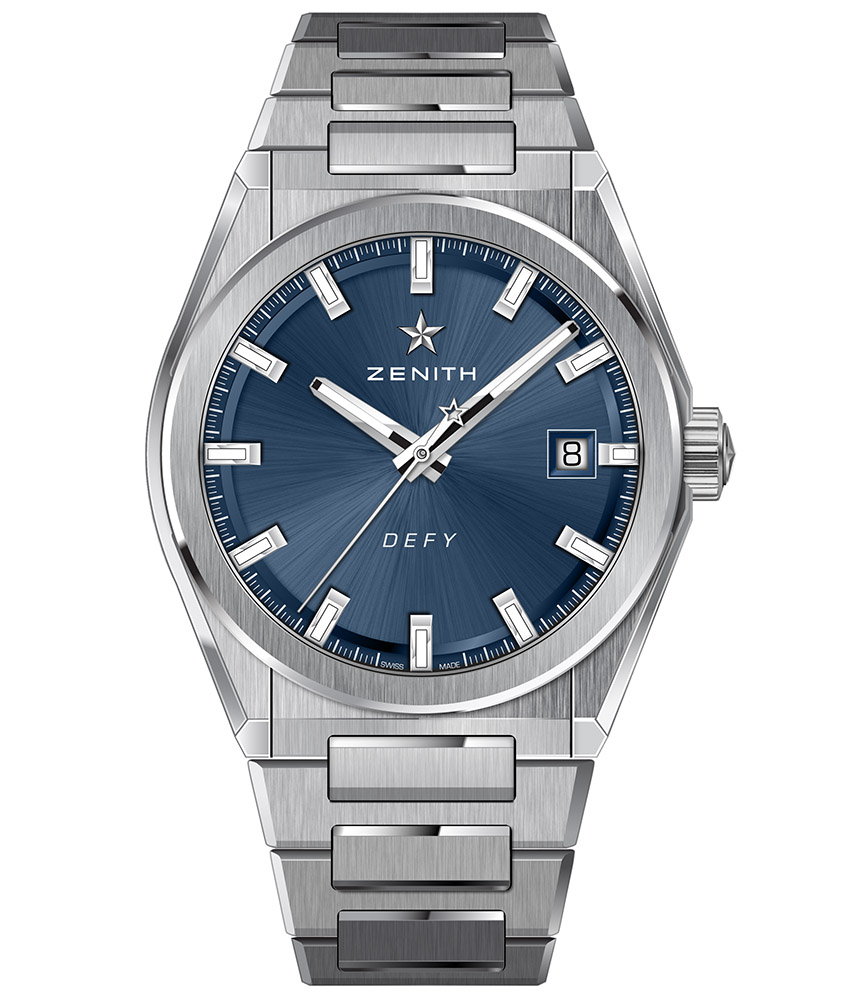 I feel like this was just on a list somewhere… Anyway, here it is again, Zenith's new Defy Classic range harkens back to the Defy of old, with subtle but eye-catching case designs coupling with modern, high-tech movements to make something rather extraordinary. Our favourite features of this watch are the angles of the case, which make it look modern and crisp. However, they remain brushed, so while it misses out a bit on playing with the light, it also doesn't attract so much attention, unless you are looking straight at it. Interestingly, this is the only watch on this list to have a case and bracelet made entirely of titanium, which while undetectable unless you're handling it, adds a level of ruggedness. Given that this watch isn't exactly a scratch magnet, either, and you can see how this leans more to the casual sporty side of smart casual dress. However, take into consideration that ultra clean dial, with just enough sunburst type polishing to allow for some light play, and the smart dress side comes back into play. The date window is, in my opinion, one of the best parts. It's small, non-magnified and is there purely to add practicality. There's no song and dance about it, it just gets on with the job. That's basically the entire theme of this watch. The Elite 670 SK calibre has all the modern bells and whistles, with silicon parts, a 4Hz beat rate and a 48-hour power reserve. The main downside to this watch? There's no black dial option.
The Top 5
5. Tudor Heritage Ranger Ref. M79910-0001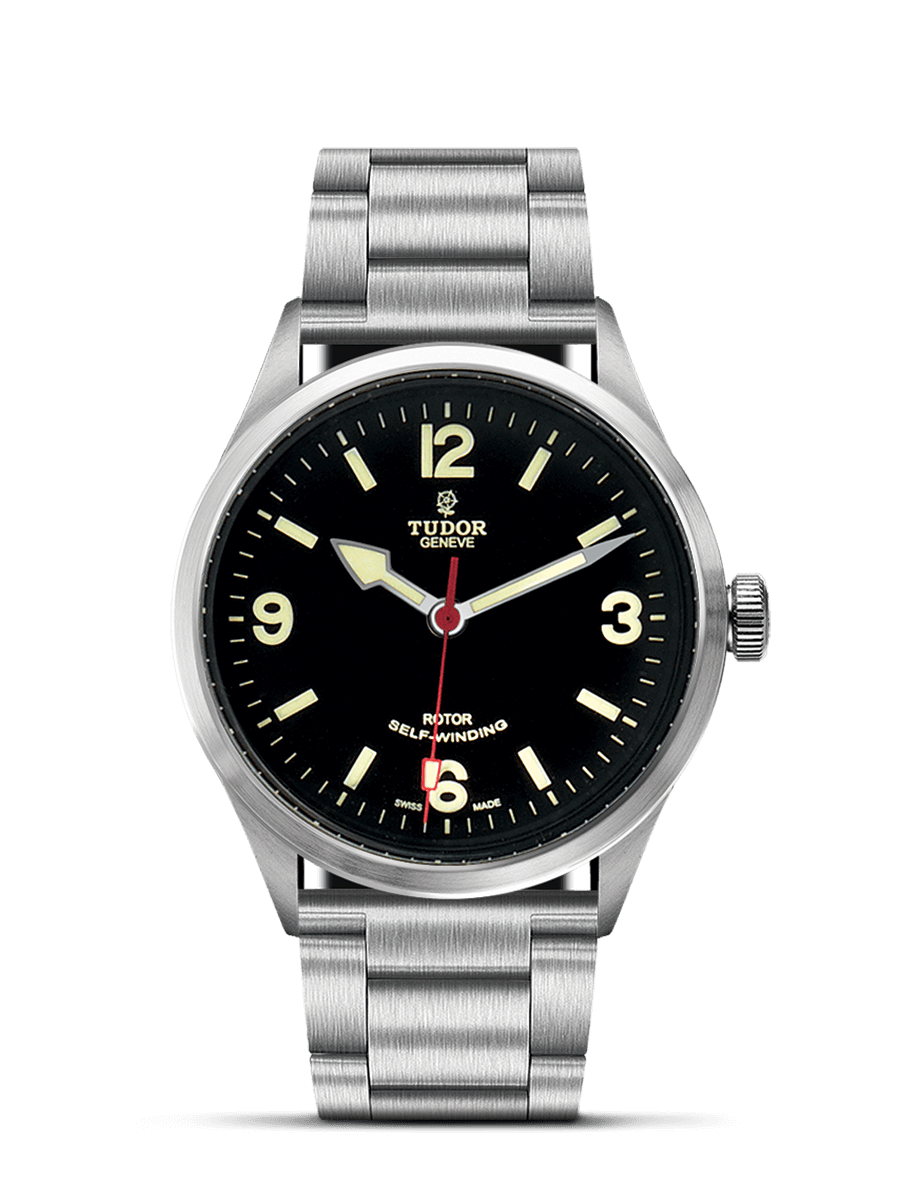 This is the closest to the sporting end we'll adventure on this list. The Heritage Ranger is a cool and subtle watch which you could pass of with a suit, though black tie might be a bit of a stretch given that this watch has no high polishing at all. It is, however, sporting a clean black dial with minimal writing or distractions on it, it doesn't even have a date. I feel that the large numerals work so well on this because the rest of the dial is sparse, though like the red seconds hand I don't feel like I'd miss it if it weren't included. My favourite feature of this Tudor, though, is the little old-style Tudor rose logo on the dial, which is quite unusual in the world of logos, and also serves as a reminder that this takes after the design of a vintage watch.
It's probably the most practical of the lot, too, the calibre 2824 is based on an ETA ebauche, so while lacking in horological merit a little in comparison to the others, rough and tumble readiness is a given and servicing costs should be good too. It also ties with the number 1 spot as the most water resistant of the bunch, too, with 150 meters of water resistance meaning that should you tumble overboard after imbibing one too many drinks, you watch will be ticking away happily like nothing happened.
4. Audemars Piguet Royal Oak Ref. 15400ST.OO.1220ST.01
The Royal Oak from Audemars Piguet earns itself a respectable fourth place on this list. We love the design of the Royal Oak; it's so classic that it's pretty much the first thing one thinks of when you envision an upmarket sports watch. The steel case is nearly all brushed, and the bracelet has a great feel to it, very solid and sturdy despite the Haute Horlogerie background of the company. We all know and love the design, but the movement is very nice as well with its solid 22k gold engraved rotor, a 60-hour power reserve and a convenient stop seconds mechanism when the crown is pulled out. The watch's background and design mean that it deserves to be on our list, but there are a couple of reasons why it couldn't progress any higher. First and foremost, this is the least water resistant watch on the list, with just 50m of water resistance rated. Yes, this is not a Top 5 Most Water Resistant watches list, but this is still a list ranking sports watches, so it needs to be able to survive more than just a splash from the tap when washing the hands. Further, these can be notoriously brittle and susceptible to shocks, especially in the movement, and the service costs are enormously high as well, limiting it from getting the top spots.
3. Patek Philippe Aquanaut Ref. 5167/1A
Waaah he didn't go with the Nautilus! Yeah, well actually the Aquanaut is a cool watch, it's less popular too meaning the prices are lower, it says more about its owner, and also the waiting list isn't so long that your next of kin will be picking up the watch you ordered. I chose the Aquanaut on the bracelet, bit of a no-brainer as the rubber isn't smart enough for the smart casual look. You still get a lot of high polishing on that bracelet, though, and there's no shortage of exciting things to look at. I like the pricing of this watch, which is under £17,000 for the bracelet version. That gets you a solid sporty looking watch with Patek's calibre 324 S C with a solid 22K gold rotor, Gryomax balance with Spiromax balance spring and the Seal of Patek Philippe as well, for good measure. Aquanauts are somewhat rare in the forums, even more so are the bracelet offerings which means there's the cool rarity factor. Mind you, the design is not to everyone's tastes. You might find as well that Nautilus owners look down on you, despite having the same calibre in it, assuming you opt for the three-hander I suggested. I can't help but wonder about the shock resistance on this watch, either, it is water resistant though, to 120m in fact.
2. Rolex DateJust 41 Oystersteel & white gold Ref. 126334
It was a pinch between this and number one, but the DateJust earns itself a hearty second place on our list of the Top 5 Smart Casual sports watches. You can tell that no expense was spared when it came to designing the DateJust line, and that's evident with the Rolex fans too who bought it like it was going out of fashion. The 41mm case, at least in my opinion, represents the best size for the modern gentleman, it's just large enough to catch the eye and will span the wrists of most collectors comfortably indeed. You also get a significant amount of variability when it comes to these, and Rolex will quite happily sell you one with all manner of weird design features should you want it. In fact, the only way one could go wrong with these, at least in my books, is to opt for the smooth bezel. While it makes the watch less of a wrist-mounted glitterball, it also takes away some of the visual appeals, too. I don't even mind the Oyster bracelet option as well; it makes this watch just that little bit sporty.
Inside the watch is the Cal. 3235, which as we all know is excellent, chronometer rated and can take a hell of a beating. The watch is also 110m water resistant (Rolex claims 100m, but we all know they add an extra 10% safety margin).
1. Omega Seamaster Aqua Terra Co-Axial Master Chronometer Ref. 220.10.41.21.01.001
You can fetch this watch in many variants indeed, but our top pick for this list is Omega's Seamaster Aqua Terra in stainless steel on a steel bracelet with black dial. This watch is, perhaps more than any of the others on the list, the summation of the lifestyle we'd all like to lead. Imagine it, the yacht floating near Cala Ventroso on Capri, swimming in the ocean which is as clear as gin under the warm Mediterranean sunshine. On your wrist, the 150m water resistant Seamaster Aqua Terra, with its solid steel bracelet glinting. You needn't worry about taking it off your wrist, simply wash the salt water off and go to dinner on the island.
This watch not only gives you lifestyle versatility, but it's also got that robust calibre 8900 Master Chronometer inside it. It's super accurate, reliable and anti-magnetic too, so no worrying about it wherever you go. It's also got a bit of machine finishing on it, too, while no different to anything Omega's done previously, it's a clean look and quite attractive for the money you pay. Sure, the Omega doesn't quite have the brand pull of a watch wearing Rolex' coronet or Patek Philippe's Calatrava Cross, but the Omega is definitely the one to beat when it comes to smart casual.