Ask any normal person (aka, someone who isn't a watchaholic like I am) what comes to mind when they think of Switzerland, and they will tell you chocolate. Other answers they might give are cheese with holes in it (Emmental, or Swiss Cheese for all you Americans reading this), lakes, that really really long horn thing (called an Alpenhorn) & yodelling. At some point, they will likely mention watches, but the reality is that Switzerland is probably more known for its chocolate than its high-end timepieces. Chronoswiss' Open Gear ReSec Chocolate watch combines the two. No, it's not edible. Sorry.
The case is coloured a dark brown, similar to a bar of rich and dark chocolate, it looks to me to be about 80% to 85% cocoa chocolate, but I could be wrong. The case is 44mm in diameter with the brand's signature bezel and onion crown designs. The case is stainless steel and given a PVD coating which is matte all over, giving the dark chocolate watch a stealthy appearance.
What isn't so subtle is the red dial, which I'd imagine is coloured red to emulate the colour of chillies. This somewhat unorthodox pairing is surprisingly delicious, unlocking new flavours in both ingredients. The dial is built on two levels, on top of the dial plate sit a set of gears which connect the Trigono-shaped hands together. In classic Chronoswiss tradition, the hour and minute hands have been split up to create what's known as a regulator watch. This prioritises the minutes by giving them a big hand at the centre of the dial and means you can read them easily. The hours are indicated at the top in a subdial of their own, while below the centre of the dial is the retrograde seconds hand which counts to 30 before resetting to zero and going once more. I think it adds a unique flair to the watch.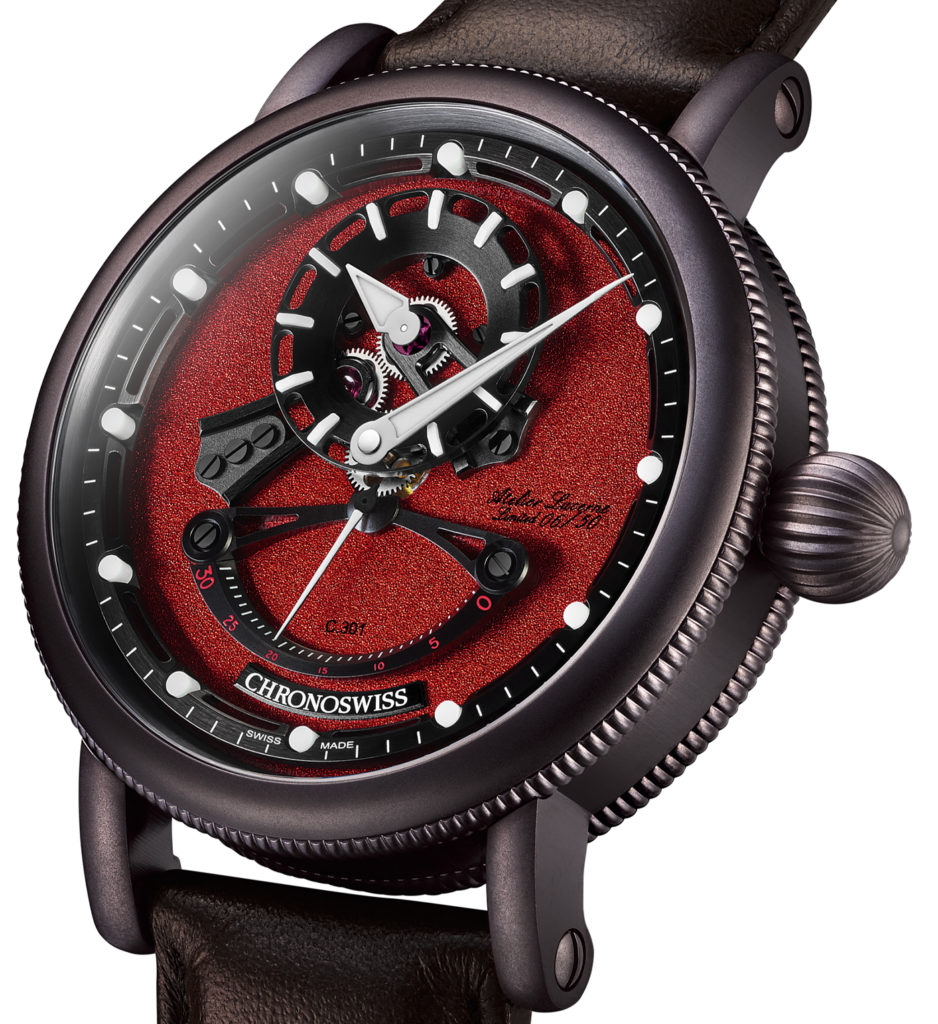 Inside the watch is the calibre C.301, an automatic movement with a 42-hour power reserve, a 4Hz beat rate and 33 jewels. It also features a Nivarox balance spring. The watch is presented on a brown leather strap. The best part, though, is that buying this watch entitles the owner to a one year supply of handmade Swiss chocolate, which is delivered every quarter. Once the owners signs up for the 3-year international warranty program, they'll get handmade chocolates from Max Chocolatier in Lucerne delivered straight to them. Pretty impressive (and tasty) if you ask me.
What's not so impressive is the price, it's $9,900.