When it comes to timekeeping, accuracy is the holy grail for all watchmakers. And as time passes by, all our beloved mechanical wristwatches or pocket watches ultimately lose their accuracy mainly because of the daily wear and tear. However, we can somehow alleviate this by doing regular services to our wristwatches to keep them functioning at their best. Yes, folks, watch monitors have always been steeply priced and for those of us with no time to spare also, we tend to regularly visit the better-equipped watch repair store. This is great but it is not very personal especially when you have a collection of amazing wristwatches that you do not want others to fiddle about.
So here comes the relatively cheap Frederique Constant Analytics Device. When it comes to watch monitoring, €99 is considered cheap however, it does the job of other more expensive devices so yes, this is a winner at least for me. Be forewarned though that this device only works with traditional timepieces so if you happen to have fancier wristwatches that sport unusual escapement the likes of Omega's Co-Axial escapement, for example, then you better spend your money on some fancier watch monitor too. The reason for this is that the Frederique Constant Analytics Device relies on the technology of traditional Witschi machines. There is a microphone that records the tick-tock sound of a movement and analyses that audio to determine the rate and accuracy of the movement inside using specialized software. Plus you need a smartphone that runs iOS or Android to install the Frederique Constant's SwissConnect Analytics App to make use of the device. Geeky and at the same tricky but this is actually great since nowadays, you can not do anything without a sort of a smart device anyways.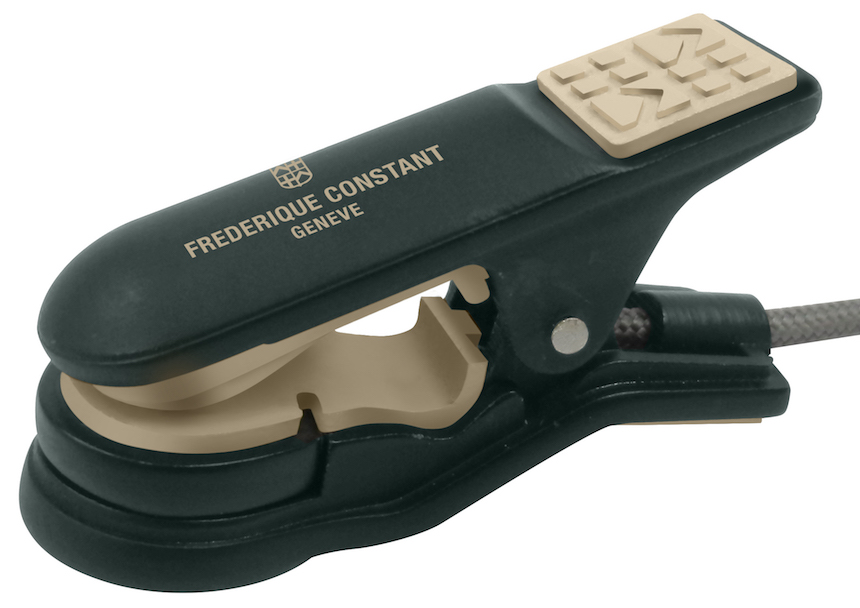 Moreover, let us take a closer look at the Frederique Constant Analytics Device. It is relatively small and you can easily lug it around. It works like a clamp so this is a no brainer. According to its manual, you just need to place your watch between the padded claws of the clamp which of course protects your wristwatch from unwanted scratches then it begins doing its job within seconds. Well hold it right there, there are actually more steps to follow if you want to fully enjoy this watch monitor.
The device really requires an app that you have to install on your smartphone for it to work. So if you are running the latest versions of iOS or Android, you are good to go but better check the manufacturer's website just to make sure you have the specs to fully run the app. Then after several steps that involves registering for a SwissConnect Analytics account, you are good to go.
What I like about this device is that it measures the accuracy of a mechanical watch with an accuracy of at least ±0.2s per day, this is incredibly accurate already. Plus the app's amazing goodies such as an oscilloscope that shows an audio waveform in real time that is then plotted in a chart can really be useful for reference. It can measure up to 12 hours which is good for monitoring the long-time performance of a watch. Throw in the growing Knowledge Base of Frederique Constant about mechanical watch accuracy, and you can certainly keep your beloved timepiece at its best. For more info, please visit frederiqueconstant.com