Being avid supporters of many charities across the globe, it is no surprise to see Frederique Constant step in to support the Only Watch Charity Auction being held in Geneva this December. For their part, Frederique Constant has decided to create a one-of-a-kind Smartwatch, which was released earlier this year at Baselworld as part of the proceedings.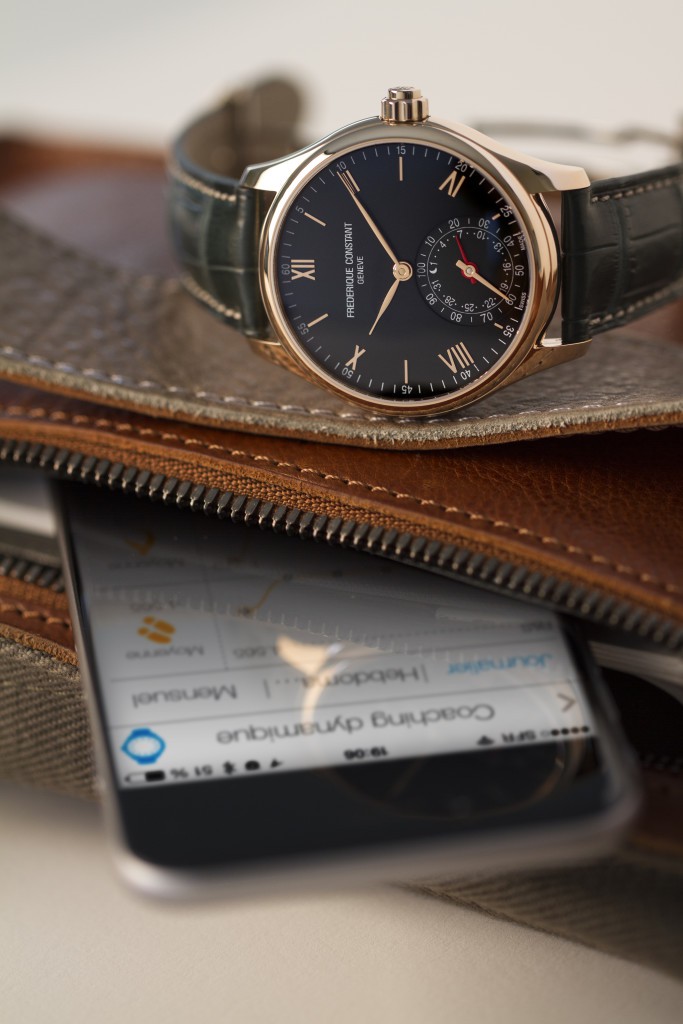 The Frederique Constant Horological Smartwatch has been researched and developed over 3 years with the end result being what we see today. It is the first true horological smartwatch to be finished and available right now to consumers. This was done in collaboration with the esteemed technological powerhouse Fullpower Technologies Inc. from Silicon Valley. The end result is what has been called the MotionX-375 end-to-end solution, that powers the watch and works via a smartphone app to track all its various functions.
What is most striking, however, is that all this technological goodness is held within a beautiful classic watch, that still has the same elegance and luxury styling as you would expect from any mechanical watch manufacture. It resembles nothing like what we have come to expect from anything else in its class and it makes this piece unique in its own right for the time being. it comes cased in a beautiful 18k rose gold case, combined with a unique dark green dial and engraving on the caseback.
The Frederique Constant Horological Smartwatch Only Watch 2015 displays time like a traditional watch, with central hours and minutes. The only big difference is that located at 6 o'clock where you would normally find the small seconds indicator, is a crafty smart counter. The smart counter is used to keep track of the wearer's sleeping patterns and daily activity, which for many has become an integral part of life. As you wear the watch, the data is accumulated in the watch and synced to the app on your smartphone device to help keep track of everything much better and right at your fingertips during the day.
For the Only Watch 2015 unique piece, Frederique Constant delivers this beauty in a unique one-of-a-kind luxury gift box, together with an Apple iPhone 6 to sync with and enjoy right out of the box. For a value for money proposition, this is an amazing investment and is sure to fetch a decent price at the Only Watch Charity Auction.
For more info, please visit frederiqueconstant.com
OSHEEN ARAKELIAN – CONTRIBUTING EDITOR
Osheen is a long time collector and passionate watch aficionado. He is the Founder and Chief Editor of the Sydney Watch Guide based out of Australia. Alongside Sydney Watch Guide, he has also expanded and started OSHEEN's House of Horology, an online shop that specialises in vintage, pre-owned and niche watches from around the world. He is also a contributor to a number of Australian Men's Lifestyle magazines and is fast becoming the go-to destination in Sydney for anything watch related. Read his articles here