At some point, we'll run out of new IWCs to write about, I know it, but until then, we have these: two variants of the Portugieser model range that get a nautical theme. The Portugieser (does anyone remember when these were called the Portuguese or was that just a figment of my imagination?) is one of IWC's most popular model ranges, and it's easy to see why. The watches of this range look good, are practical and are nice to wear on your wrist. While they lack the artful intricacies of some of their competitors, their minimalist design is straightforward and inspired without losing the idiosyncracies of a mechanical wristwatch.
To be clear, IWC isn't re-inventing the wheel or introducing any new in-house calibre with these watches (because they've already got them). They are, instead, adding blue to the dials, which might seem a little strange considering that green seems to be the next dial colour craze. Still, the azure waters of the Mediterranean sea, which undoubtedly inspired these watches work well here.
Before I started writing this article, I finished off James May's Our Man in Italy series on Amazon Prime, I know I'm late, but there we are. The final episode made a stop in the world-famous city of Venice and the much less famous islands of Murano and had many panoramic shots of the blue oceans surrounding the place. These watches seem to reflect those azure waters. Both models have subdials coloured in blue, matching the hands, markers and straps to make 'blue panda' dialled watches. If anyone sees Jack Black wearing one of these, we can call him Kung Blue Panda… I'll see myself out.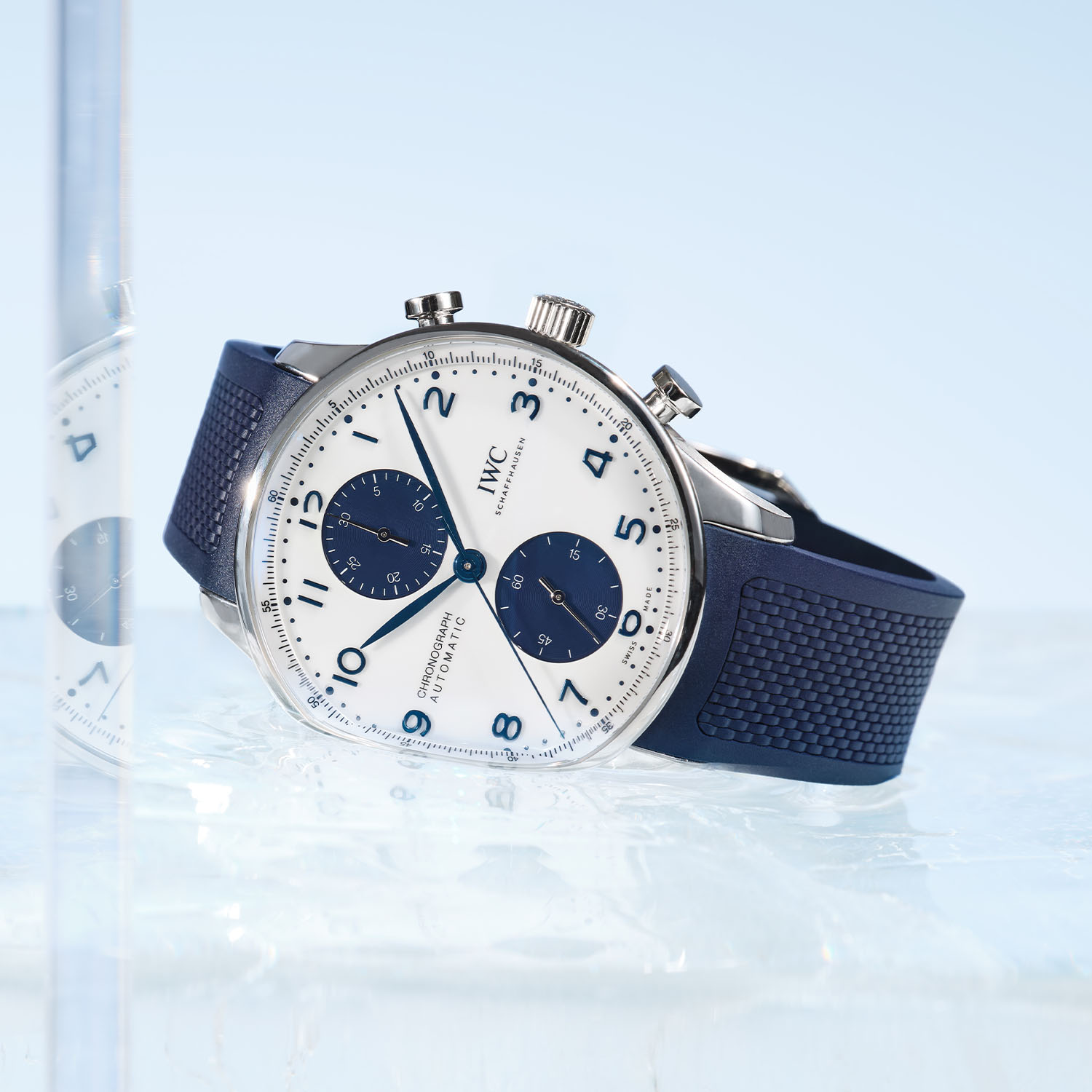 The first model is the Portugieser Chronograph Blue Panda ref. IW371620. It measures 41mm x 13.1mm and comes with a stainless steel case that's 30m water resistant. It also has a rubber strap with a fabric pattern for great effect.
Inside the watch is the calibre 69355 made for IWC by ValFleurier (owned by Richemont), which has a 46-hour power reserve, 4Hz beat rate and integrated chronograph with a column wheel. It also has the signature 12-6 chronograph layout on the dial which times up to 30 minutes. The price is €8950.
The second model is simpler but makes up for that simplicity in other ways. The Portugieser Automatic Blue Panda IW500715 is larger than the previous watch at 42.3mm x 14.1mm (the water resistance is the same at 30m). This sizing comes from the self-winding calibre 52010, which takes up the entirety of the watch's case. Seriously, the caseback shot has the balance wheel under the rim of the caseback, it doesn't seem like IWC needed any movement spacers at all.
The party piece of this in-house movement is its power reserve which is a mighty seven days. That comes thanks to two barrels storing the energy required, while the automatic part keeps it going should you decide you want to pick it up a few days later. There's also a date window, which is nice. Presented on an alligator strap, these cost €13,300 each.
Visit IWC here.