Today we present the new collection "ICONIC SIXTIES" from Glashütte Original.
Here's a little background story: Introduced in 1964, the Spezimatic is one of the most famous creations of the German watchmaking house. This series of automatic watches had many versions and they become true emblems of the style at that time.
Today, Glashütte Original celebrates this important episode in its history with a special collection "ICONIC SIXTIES" inspired by the design these models.
These new Glashütte Original Sixties are made with a 39mm x 9.4 mm case in stainless steel with a classy round shape and elegant and short lugs. The watches have come sapphire crystals on the front and back and what is really cool with this open caseback is that it gives you the chance to see the skeletonised 21-karat gold oscillating weight. The manufacture caliber 39-52 is an automatic movement with 40 hours power reserve that has the typical signature double G shape on the rotor found on other Glashütte watches.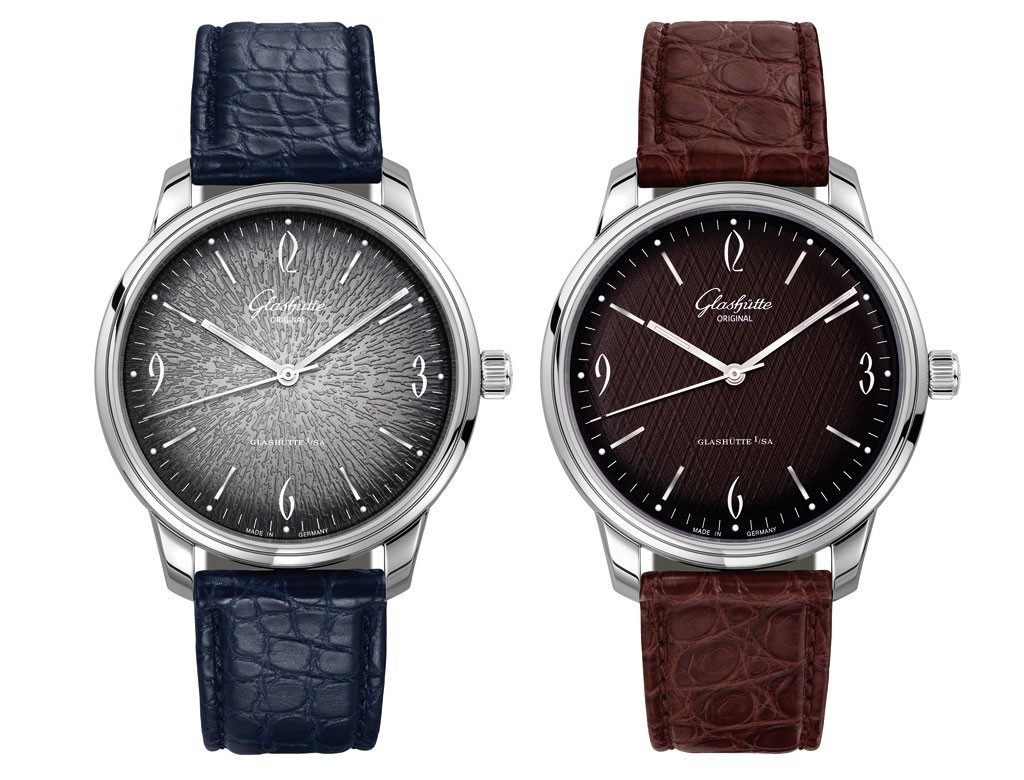 On the front, we find five different dial colours that show a really unusual dégradé effect. To understand how they have done this, you have to know that the dials are first galvanised and then layers of lacquer are added by hand. The final step gives the dégradé/fumé effect, by applying a further colour using a special spray gun and also applied by hand. This effect will give every watch a unique appearance but also depending on the angle, an individual colour gradient that gives a really nice effect.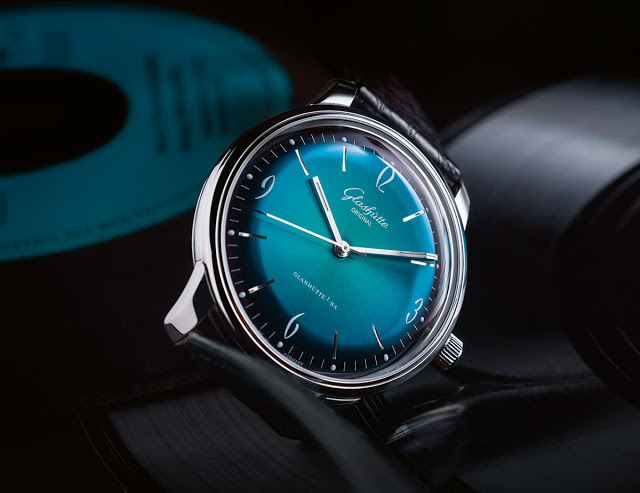 I must say that they are all really nice and appealing but my favourites are the "Aqua" with its bright turquoise and black dial, the Sixties "brown" that has a dark brown dial with graphic rhombic pattern, guilloché stamps obtained with the help of a 40 year old 60 ton press to imprint a filigree pattern on the ultra thin dials. And finally my favourite, the Sixties "grey", with a kind of dewdrop pattern, also obtained from guilloché stamps, with a central part lacquered in light grey with a periphery painted in pitch black for the dégradé.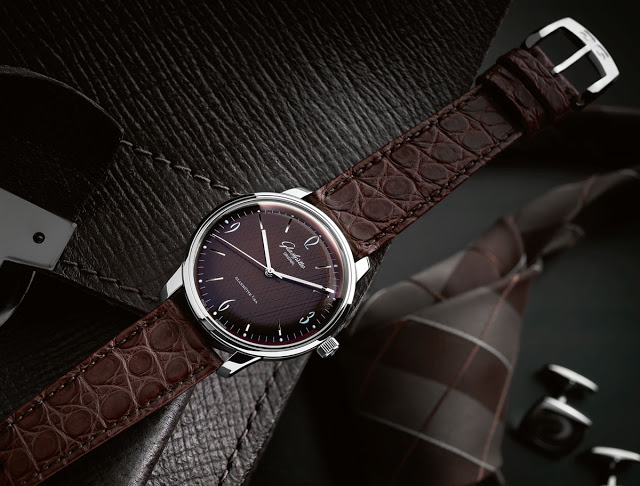 The Sixties Iconic collection is a tribute to the unforgettable design of iconic timepieces from the 1960's. This special collection comprises five colourful watches that take the unmistakable style of the popular Sixties line from Glashütte Original.
Well, sometimes a backward glance can inspire a decisive step forward, and for Glashütte it can be a new step. Like me, there are a lot of vintage watch enthusiasts, and this kind of pieces can really attract them. So why not continue to find inspiration in the archives?
For more info, please visit glashuette-original.com

JONATHAN KOPP – CONTRIBUTING WRITER
Jonathan Kopp has an avid enthusiasm for timepieces of all genre, from vintage timepieces to modern Luxury Haute Horology. His preference goes to small and independent high-end watchmakers. He loves the difference rather than classicism, although if he admits to being in love with several ultra-classics pieces. Jonathan was caught by the passion for watchmaking there are almost 6 years. For about 5 years, he wanders in this industry and was Communication-Marketing-PR Consultant for several brands. He has worked for over 2 years as a freelance for the development of the Swiss brand Arthur Oskar Stampfli (AOSWatches). Read his articles here