Watches & Wonders Geneva was very busy for me, but that didn't mean I didn't have time to have a chat with people. In April, we published our interview with IWC's Creative Director, Christian Knoop, but he wasn't the only person available to talk to. Long-time friend and brand ambassador for Chopard, racing legend Jacky Ickx, was also around and was willing to share some of his valuable time with us. 
What follows is a transcription of the event, you should be aware that I spent most of my time with Mr. Ickx talking about motorsports and racing back in the day, as is natural with someone of his pedigree. I also think it's interesting to find out about the person I'm talking to as a person, rather than an ambassador for something or other. With that said, we do talk watches a little and his affection for Chopard. I'll let, well, myself and him do the talking.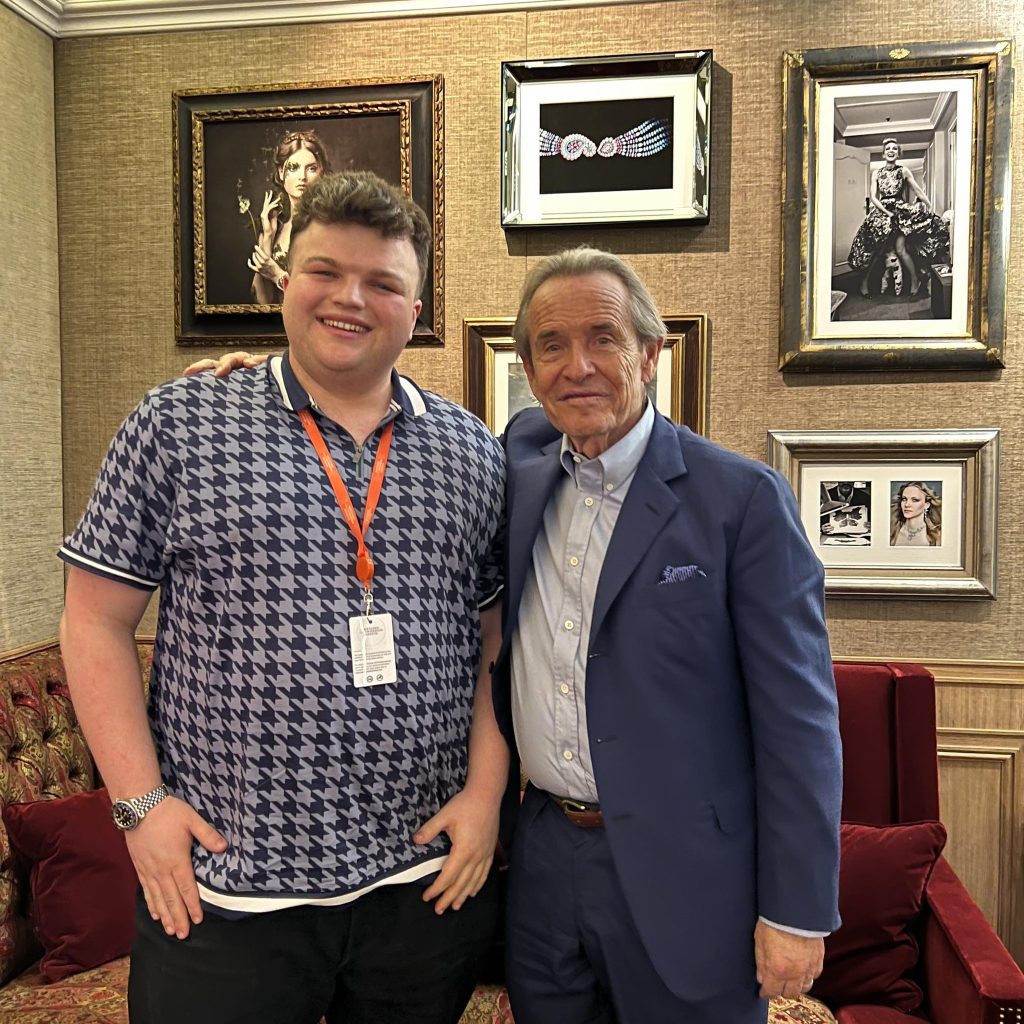 What would be your best memory from your career in motor racing?
Are you familiar with Jackie Stewart?
Yes, I am.
I am good friends with him, and when either of us is asked that question it is always the same, the best memory is knowing you survived that era.
That makes sense.
Yes, it does, because when you look at the pictures from the time you can see them (the drivers) talking about the racing (conditions) for that day. There are almost none of them left. So that's the first thing that we say, how lucky we are. We met at the Formula One two weeks ago and we always have the same comment about how lucky we are, because it's not a question of driving skill or talent, it's only a question of luck, and we have no control over that. So, just to have the privilege to survive.
Do you risk anything with a watch? That's the advantage of a watch, because visiting all the watches of the (current) era, not only Chopard, it is a lot safer.
Do you still enjoy motor racing today as much as back then?
Yes, there are some good ones, some less good ones, some attractive ones with a lot of emotions. Some are boring, but it has always been like that. I like to look, although I'm not directly concerned. Did you ever see a motorcycle race like Moto GP?
Yeah.
What do you think?
What you said about luck, I think that that seems to apply most of the time when watching them do what they do.
Yeah, I think what they do is really fascinating. In a car, you're sitting down, it's fairly simple. Motorcycle riding is very complicated because the way you put your weight on the bike changes the balance of the bike. You can go on the front wheel more for more front grip, if you go on the back you will lift the front wheel. Some of them go to a sixty-degree angle (in a corner) and the amount of rubber in touch with the road is the size of a credit card. Wow.
Keep in mind that a motorcycle is going faster than a car. For example, at the Italian Grand Prix, they go at 365 km/h, and Formula 1 usually goes to only about 350km/h maybe, and the acceleration is also better than a Formula 1 car. A motorcycle goes out of the corner at least 80km/h slower than Formula 1 but at the end of the straight, they are usually 50km/h over (Formula 1) plus. That's fascinating, and the braking too, and always on a credit card-sized surface.
I take it then that you're a fan of the Isle of Man TT then?
I love the idea that people are free to have the right to take risks. It's about the freedom of being able to do what they wish to do, although, I discourage the Isle of Man TT, I am sorry to say it is almost unbeatable. 260 people killed in that race since the start. There are open roads and narrow roads through the villages with walls and ditches and the like, and still, everyone wants to do it. And they also do it with sidecars, wow.
I commend their bravery!
Oh yes, these people are definitely an inspiration. Have you heard of Alex Honnold?
No, I haven't.
Alex Honnold is a climber but on extreme surfaces. In Yosemite Park, for example, there is a granite cliff which is almost 1000m high [El Capitan], he climbed it in three or four hours without anything to fix him to the cliff, only his hands and no other security. He is the most talented, but (when climbing) you shouldn't have any fear, you have to put your hands in the cracks on the rockface, and you can do it. It's an amazing feat and he's an inspiration as well as those that climb Everest, like those who sail around the globe in those 28-meter catamarans and they're alone with the machine while thousands of kilometres from the coast. These people are pure inspiration.
When you think about endurance racing, do you get that sense of 'you and the machine' as well?
Endurance racing is different because there are two people, to finish first you have two people working in harmony. An endurance race goes on for thousands of kilometres or more, and it's not about you and the car any more. You have to work collectively and you have to compromise to possibly win. Maintaining the car to have a good time is important too. There's a matter of compromise and intelligence in every aspect.
With Chopard, there are talented maestros working on every part of the job. Competition is nice, but it's not good to go with the idea of "me, myself and I", it's a team effort. The success of Chopard is also a team effort, and a family effort also. That's fairly extraordinary also, as there are very few industries that work that way. Having been around here (Watches & Wonders), I'm sure you will have seen a difference (in the way the brands present themselves), it's quite extraordinary too.
For sure. How did you come to know the Scheufele family?
In life, it's always about timing, a lot of things are not predictable. In my case, we met and it was unexpected. We share a lot of interests together, and we ended up with a friendship and we have been friends for over 35 years now. I won't say we always agree, but life has little ups and little downs. We can trust each other, though, and that's the most important thing, in my opinion.
We share some interest, the one for watches is evident of course. But we share other types of interests in life and it's really nice because the one they are handling is a very difficult type of business. When you imagine the competence you need in the (Chopard) team for designing, building, polishing, and cutting gemstones, there are so many jobs. It's not easy to maintain some traditional jobs that aren't common. You need some artists in every area, and then you need to have something where the people get on together well without any kind of ego or individuality.
For example, in Formula 1 to make it work you have hundreds of maestros, everyone is talented at something and they are the best, like the group of 8 who change wheels in the pitstops in 2.3 seconds, and the record is 1.9 seconds to change the four wheels (of an F1 car). It looks simple just to take the wheel out and put one back, but it's very complicated. There are many talents everywhere, it's interesting to see the capacity for humans to successfully adapt themselves.
Indeed. So you've been around the (Chopard) factory a few times then?
Of course. I don't always understand how it works, but you can feel it. And also, you can see there that there aren't only watchmakers, but guardians of the watchmaking ecosystem. Chopard was the first to introduce Fairmined gold so people know where the gold comes from. The same with diamonds, and Lucent Steel A223 which is made of partly recycled steel to help make the environment cleaner, which is fantastic.
Were you a fan of watches before you met the Scheufele family?
I don't remember what watch I had before, but for sure I had a watch and was using it in the race. A lot of people have their watches on in racing, but since I've had the chance to meet the Scheufele family, who makes watches, I can't see myself not wearing their watches, it's part of supporting your friends.
Of course. Changing tack slightly, if we go back to racing a little and talk about the racing of today.
I can see you prefer to talk about cars and racing rather than watches haha!
I like both! But, when you have someone like yourself sitting next to you…
I won't tell anyone, you know? *Said with a wink* I have no report to send back to Chopard after this.
My cover is blown! I'll come back for a car magazine next time! What advice would you give to someone (not me) who wants to start their racing career?
It's complicated. But, I would say the biggest difficulty in my opinion to start is to have the parent's permission to do it, and I can tell you that that's not easy. It's really hard, in fact. Then, after that, there's the finance, it's also very complicated. Today, everyone (the racing drivers) comes from karting, to do a season in karting costs a lot, but it's the best way to see if you have the capacity to do it or not, if you're competitive or not. So, for a limited budget, you can at least know if you're good at it (racing) or not. The worst thing that could happen is to always have wished to do it without having the chance to see if you were good or not. If you have the chance to try, then you'll know if you're good at it or not, but that's the only solution. You could get in if you know a sponsor who will give you a chance to do it, but that's complicated. Some do it, though. Dream, always dream and try to fulfill them.
Thank you for your time and for sharing so much of your knowledge!
You're welcome.
Thank you also to the team at Chopard for setting up this interview.