The Spring Drive from Seiko always was a technical marvel. First launched in 1999, the Spring Drive system is, as far as we're aware, the only fusion of mechanical watchmaking with the accuracy of quartz currently in production. It was introduced by Seiko in 1999 after two decades of research and has featured in many Grand Seiko models, as well as watches by Credor, Seiko's super high-end watchmaking arm.
To celebrate their 20th Spring Drive anniversary, Grand Seiko has brought us some new dress watches. The first two we're going to look at come from the Shinshu Watch Studio, in 18K yellow gold (ref. SBGY002) the watch is refined and enticing, I particularly like the blue seconds hand which matches with the white dial and the gold markers and hands very well indeed. The white dial features the snowflake pattern, which we've come to love on the more sporty watches. The stainless steel limited edition (to 700 pieces, ref. SBGY003) version loses the snowflake dial and instead has a more traditional sunburst style guilloché.
From the Micro Artist Studio come two enticing platinum pieces. The Micro Artist Studio first worked with Grand Seiko on the 2016 8-Day Power Reserve Spring Drive watch. The first version of the platinum case watch (ref. SBGZ003) matches the yellow gold variant with a snowflake dial, something which we all know has worked well in the past. The omission of a date further enhances the sleek appearance and the razor-sharp dauphine hands.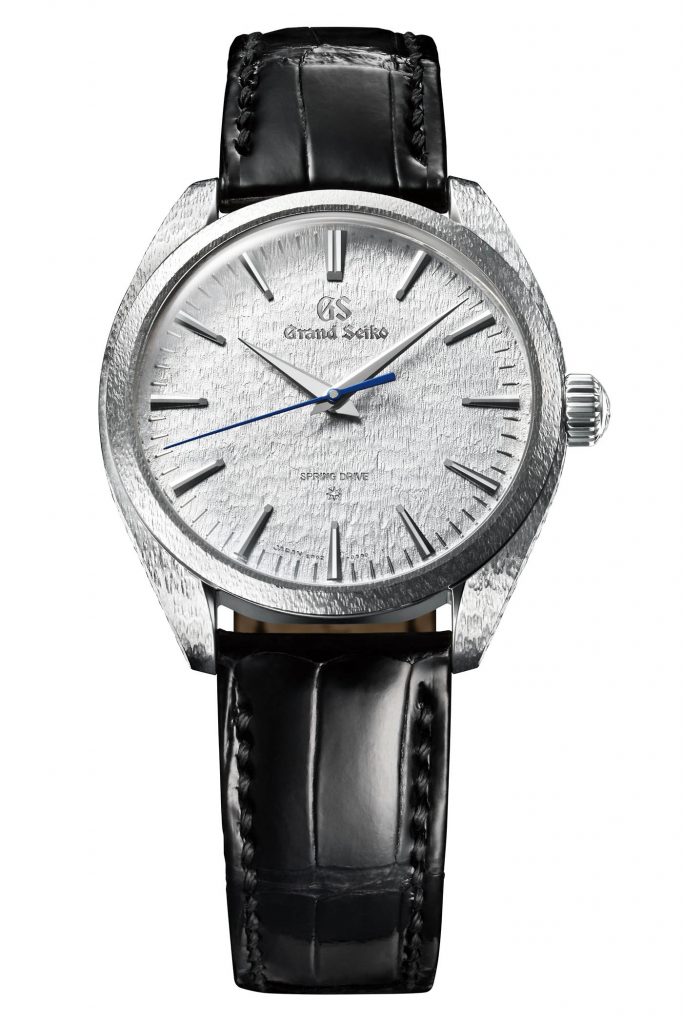 Finally, there's the ref. SBGZ001, a watch limited to just 30 examples worldwide. This watch has not only a snowflake dial but a snowflake case as well, which represents the snow found in the Shinshu region. Inside this watch, as with the others, is the calibre 9R02. The elite watchmakers in the Micro Artist Studio have now given us this: a hand-wound calibre with both the Spring Drive (which we'll cover separately) and a new and unique Torque Return System.
I had to do a double take when I read about this. Because this watch does not use a traditional escapement system, it can recharge itself, which is very handy as it's a manual. When the torque output is at its highest after the mainspring has been wound, it wastes the extra energy. The Torque Return System steps in to harness this energy and use it to wind up the mainspring, returning that excess energy to be used again. Once wound, the system works for 48 hours and extends the total run time to 84 hours. Grand Seiko presents us with yet another super cool watch for Baselworld 2019, but how can they top this?
Visit Grand Seiko here.