While I wasn't born in the sixties, I've always been drawn to the timeless charm of that era. Its unique blend of creativity, style, and individuality continues to influence the world of fashion and design. Recently, I had the opportunity to delve into the world of Glashütte Original once again, and I find it a genuine pleasure to have the opportunity to review another timepiece from Glashütte Original so soon after my encounter with the Glashütte Original Senator Chronometer White Gold not long ago. This time, the watch that has captured the attention of my eyes and wrist is the Glashütte Original Sixties Chronograph Annual Edition. This watch, like its predecessor, promises to be a feast for the eyes and a delight to wear. I am eager to explore the nitty-gritty of this timepiece and share my thoughts on its design, construction, and performance.
The Case: A Nod to Classic Simplicity
One of the first things that struck me about the Sixties Chronograph Annual Edition is its classic, unassuming case design. Its simplicity and elegance immediately set the tone for this timepiece. With a diameter of 42 mm, it sits comfortably on the wrist without feeling overwhelming. The stainless steel case exudes a timeless elegance that harks back to the golden era of watchmaking. The clean lines and timeless appeal make it suitable for a wide range of occasions while its simplicity is refreshing in a world where some watches tend to overcomplicate their designs.
The Dial: The Crown Jewel of this Timepiece
If there's one aspect of this watch that truly stands out, it's the dial. The finely embossed, stone-gray varnished dial with its dégradé effect that transitions from a light gray to a dark gray, is nothing short of stunning. It effortlessly captures the essence of the 1960s with its vintage elements, giving the watch a unique character that is hard to find elsewhere. I hope the pictures of the timepiece can capture the dial's beauty as I see it with my eyes. The dial features two white Arabic numerals and incised hour markers with luminous dots, complemented by red gold hands that add a touch of luxury to the overall design.
While some may consider the absence of a date window a drawback, I must emphasize that this dial doesn't need one. It stands as a testament to Glashütte Original's design philosophy, where simplicity and elegance take center stage. However, I can't help but think that if Glashütte Original had chosen to include a date window, they would have executed it with the same finesse that characterizes the rest of the watch.
The Movement: Beauty Beyond the Dial
Flipping the Glashütte Original Sixties Chronograph Annual Edition to reveal its caseback is a treat for the eyes. The beautifully finished movement is showcased through a large sapphire crystal, allowing you to admire the intricate details that make this watch tick. The finely finished automatic movement, Calibre 39-34, powers the Sixties Chronograph Annual Edition whilst beating at 28,800 vph (4 Hz). The rotor, adorned with the characteristic double-G symbol, is a work of art in itself while additional decorative touches like the Glashütte stripe finish, beveled edges, and polished small screws complete the movement's exquisitely finished aesthetic.
One standout detail is the skeletonized oscillating weight made of 21-carat gold, adorned with the characteristic double-G symbol. It's a small but impactful element that adds another layer of luxury to the movement. Additionally, the movement is equipped with an Anachron balance spring for enhanced precision and an Incabloc shock protection system, ensuring the watch can withstand the rigors of everyday wear while maintaining its accuracy.
However, one minor drawback I noticed is that the rotor can be a bit loud when in motion. It's not a deal-breaker by any means, but for those who appreciate a whisper-quiet movement, this might be a point of consideration.
Wearability & Strap: A Perfect Match
The choice of a dark blue synthetic strap for this watch is a masterstroke. It complements the dial color perfectly and adds a touch of sophistication to the overall look.
I'm glad to report that the strap is comfortable to wear and secures easily with a pin buckle.
However, I couldn't help but think that having the option of a steel bracelet would have been a welcome addition, allowing wearers to switch up the look when desired.
Conclusion: A Timepiece for All Eras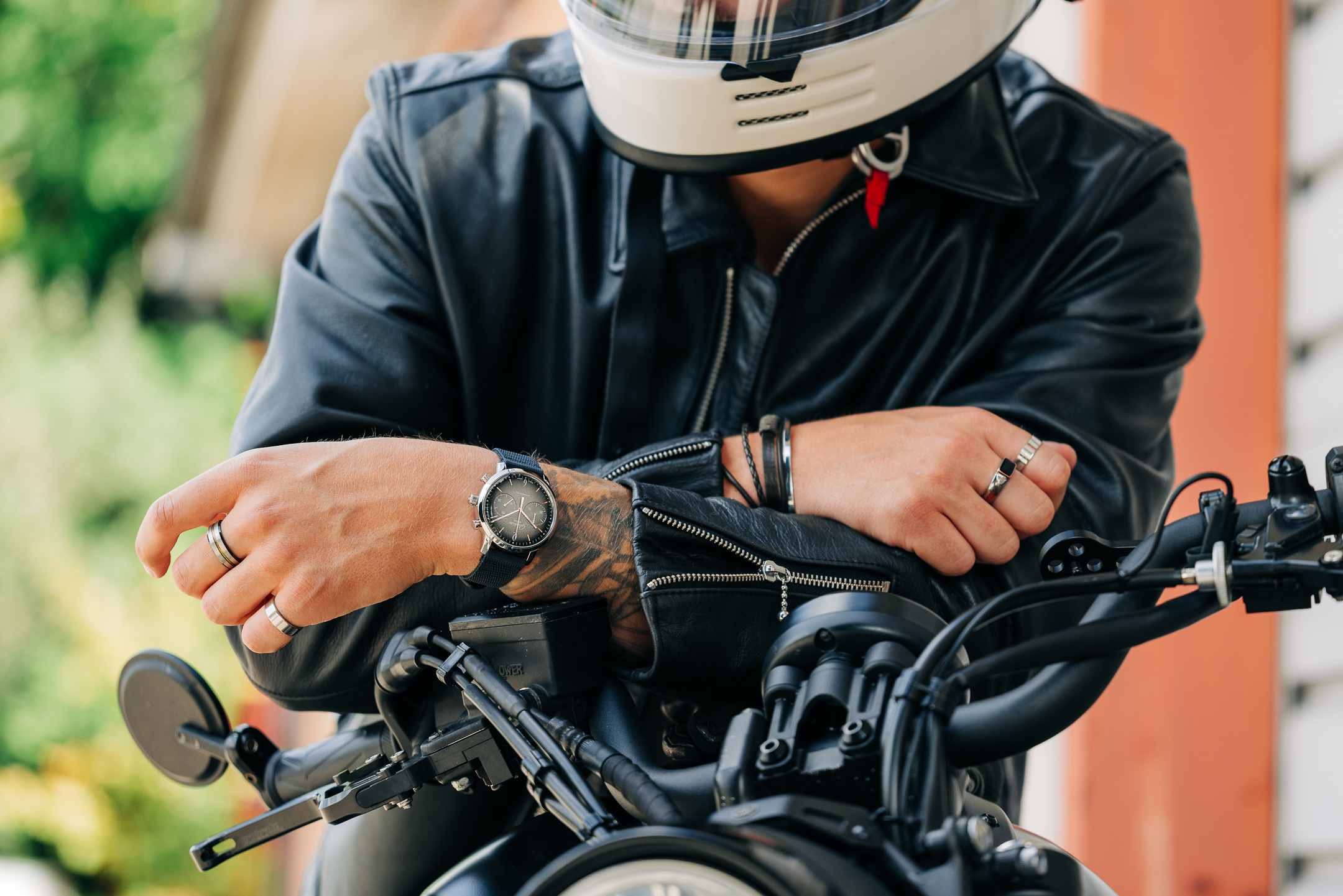 In conclusion, the Glashütte Original Sixties Chronograph Annual Edition is a watch that transcends time. You don't need to be a fan of vintage watches to appreciate the artistry and craftsmanship that went into creating this timepiece. Its classic design, paired with a dial that is nothing short of spectacular, makes it a standout in the world of horology.
Glashütte Original has a reputation for producing watches with extravagant dials, and the Sixties Chronograph Annual Edition lives up to that reputation with ease. The dial, with its stone-gray varnish, dégradé effect, and vintage elements, is a work of art that gives even the most renowned watchmakers a run for their money.
While I must mention the absence of a date window and the faint murmur of the rotor, these are but minor points of consideration in the grand tapestry of this timepiece's charm. It is a watch that speaks to those who hold a deep appreciation for timeless elegance and impeccable craftsmanship.
In a world where trends rise and fall like tides, the Glashütte Original Sixties Chronograph Annual Edition serves as a poignant reminder that some designs are, quite simply, timeless. It revels in the spirit of the 1960s while simultaneously standing tall as a symbol of contemporary style. So, if you're in the market for a watch that combines vintage charm with contemporary style, this watch deserves a place on your wrist. It transcends being a mere timepiece; instead, it eloquently narrates the tale of an era, safeguarding the brand's illustrious legacy. It masterfully embodies the harmonious fusion of German engineering and breathtaking aesthetics while upholding an unwavering commitment to originality. In every sense, it stands as a true Original.
Tech Specs
Glashütte Original Sixties Chronograph Annual Edition 2023
Reference: 1-39-34-06-22-04
Movement: Automatic chronograph movement 39-34
Functions: Hours, minutes, seconds, and 30-minute chronograph
Cases: 42 mm × 12.4 mm × 48.5 mm stainless steel, water-resistant to 30 m
Dial: Stamped texture in warm gray with rose gold accents
Strap: Dark blue synthetic strap with pin buckle
Price: USD 8,700/EUR 9,200