As a passionate watch enthusiast, I've had the privilege of experiencing a wide array of timepieces, each with its own unique charm and character. Although I'm not a fan of dress watches in general, I've been a fan of Glashütte Original watches for a long time. Recently, I had the opportunity to get my hands on the Glashütte Original Senator Chronometer, for which I was particularly excited to get the chance to review, as it's exactly my cup of tea for being a watch that blends classic design with traditional craftsmanship. As I unboxed the latest Glashütte Original Senator Chronometer, my initial impression was that this timepiece was more than just a watch; it was a piece of history meticulously crafted for the modern era.
The Case: A Blend of Classic Design and Tradition
The first thing that struck me about the Senator Chronometer was its case. Crafted from 18k white gold, the 42mm diameter case exudes classic elegance. It pays homage to the brand's historical roots in marine chronometers, a tradition that dates back to the 19th century in Glashütte, Germany. The concave bezel with its delicately knurled edge, reminiscent of vintage marine chronometers, adds a touch of authenticity to the design.
The case retains a water resistance of up to 50 meters, which is suitable for everyday wear and offers protection against accidental splashes, and light water exposure, such as washing your hands or being caught in the rain. Although, I wouldn't recommend wearing it for swimming or diving. The combination of brushed and polished surfaces on the case, lugs and the crown with double G logo demonstrates Glashütte Original's commitment towards meticulous craftsmanship. The thickness of the watch, while slightly reduced from the previous model, still maintains a robust feel, which some may find appealing, I did. Overall, the case design pays homage to tradition while incorporating contemporary elements, resulting in a timeless and enduring aesthetic.
The Dial: A Shimmering Work of Art
Moving on to the dial, I was immediately captivated by its exquisite craftsmanship. The frosted silver and blue color scheme, inspired by the ocean, creates a stunning visual effect. The granular texture of the silver dial is achieved through a meticulous process of silver plating by friction, giving it a unique, shimmering quality reminiscent of ocean waves.
The Roman numeral hour markers, crafted from solid white gold and coated in blue, lend an air of sophistication and luxury to the dial. They are elegantly positioned against a railroad chapter ring for precise timekeeping. The blued-steel pear-shaped hour and minute hands glide gracefully over the blue railroad minutes track, ensuring excellent legibility.
One notable feature is the Panorama Date window at 3 o'clock, framed with beveled edges. This signature Glashütte Original element adds both functionality and aesthetic appeal to the dial. The small seconds sub-dial at 6 o'clock and the power reserve indicator with a day/night function at 12 o'clock enhance the dial's balance and utility.
The dial of the Senator Chronometer is a testament to the exceptional dial-making expertise of Glashütte Original. Its harmonious blend of traditional design and contemporary aesthetics creates a visually stunning and highly functional centerpiece.
The Movement: Precision and Beauty
The heart of the Glashütte Original Senator Chronometer is the hand-wound Calibre 58-08. This movement not only boasts impeccable Glashütte watchmaking finishings but also offers exceptional precision, akin to the marine chronometers that inspired its creation. Each watch undergoes rigorous testing over 15 days, including examination in five different positions and three temperature variations, resulting in official chronometer certification.
Personally, for me, the most appealing feature of the Glashütte Original Senator Chronometer is the hacking seconds with minute detent. This feature allowed me to precisely synchronize the watch with a reference time source, such as an atomic clock. As I pulled the crown to set the time, I couldn't help but be captivated by the moment when the seconds hand gracefully came to a halt, and the minute hand elegantly aligned itself with the nearest minute marker. This allows for precise time-setting where the minute hand jumps to the closest minute marker and continues to snap to the minute markers as you set the time, ensuring a perfect relationship between the seconds hand and the minute hand.
Operating at a frequency of 28,800 vibrations per hour, the movement provides a generous power reserve of 44 hours and 40 minutes. The movement is beautifully executed with three-quarter plate exhibiting a striking frosted finish, mirroring the dial's texture and highlighting Glashütte Original's commitment to intricate craftsmanship. The gold chatons and hand-engraved balance cock are additional hallmarks of quality and heritage.
Wearability and Strap: Comfort Meets Luxury
Strapping the Glashütte Original Senator Chronometer onto my wrist, I immediately noticed its substantial weight and robust feel. The watch exudes confidence and durability, making it suitable for various occasions, from formal gatherings to everyday wear.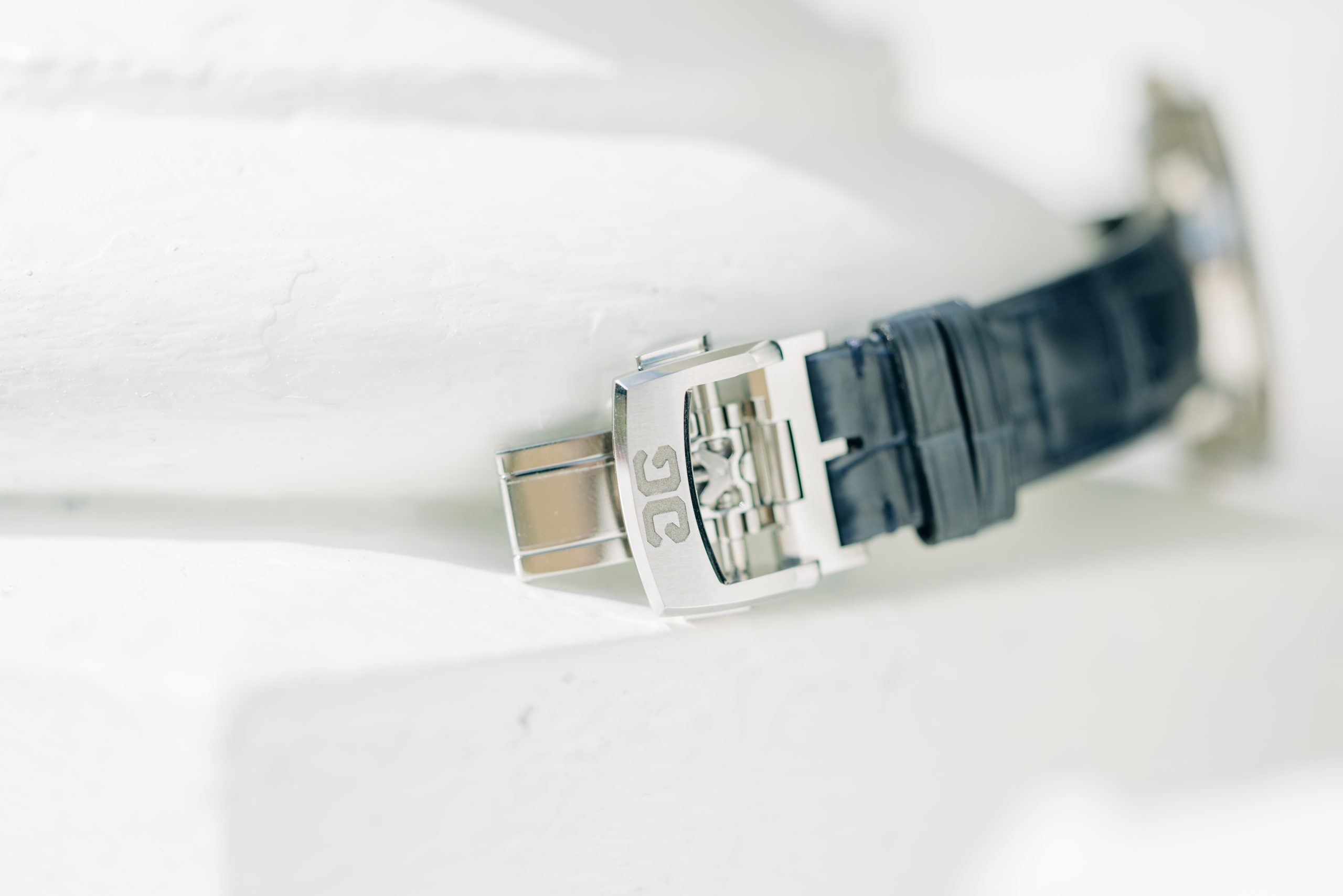 The watch felt very comfortable to wear with the dark blue alligator leather strap that not only complemented the watch's ocean-inspired color scheme but also enhanced its overall comfort. The 18k white gold folding clasp ensured a secure and elegant fit on my wrist.
Conclusion: A Worthy Contender
In conclusion, the Glashütte Original Senator Chronometer 2023 is a timepiece that seamlessly blends classic design elements with modern precision and craftsmanship. It pays homage to Glashütte's historic marine chronometer heritage while offering a contemporary aesthetic that is both luxurious and functional.
As someone who typically leans towards sportier timepieces, I found myself impressed by the Senator Chronometer's elegance and versatility. It's a watch that can easily transition from formal attire to casual wear, making it a valuable addition to any watch collection.
In my opinion, the Senator Chronometer is a solid contender to give comparable watchmakers like A. Lange & Söhne a run for their money. Its meticulous detail, precision, and aesthetic appeal are on par with the best in the industry.
While I may not be a die-hard fan of dress watches, I can confidently say that the Glashütte Original Senator Chronometer is a compelling choice for those in the market for a high-end dress watch in this price range, which is a meaty USD 32,300/EUR 35,800 by the way. Its combination of historical significance, exceptional craftsmanship, and wearable design make it a true standout in the world of horology.