The Lange 1 Perpetual Calendar is, generally speaking, the Lange 1 at it's very finest. Yeah, I know, there's a tourbillon model in there but those are so scarce they deserve their own special article. I could lose myself talking about them, but right now we need to focus.
It was 2021 when the Lange 1 Perpetual Calendar debuted. A.Lange & Söhne has made perpetual calendar watches for ages. The Saxonia Perpetual Calendar "Sax-o-Mat" is my personal pick of the bunch. It's probably my favourite perpetual calendar alongside Breguet's Classique 5327.
Although it's been around for centuries, the making of a perpetual calendar watch is still tricky business, especially if you want it to be accurate for a long time. A. Lange & Söhne's moon phases are renowned for being accurate for over 100 years, assuming the watch is running.
Now take the Lange 1, A. Lange & Sôhne's most iconic timepiece. The layout of the watch with its offset manner is gorgeous but potentially hard to work with. Mechanically, putting extra bits and pieces in there is likely a headache, and from a design point of view, it needs to be kept in balance to remain attractive.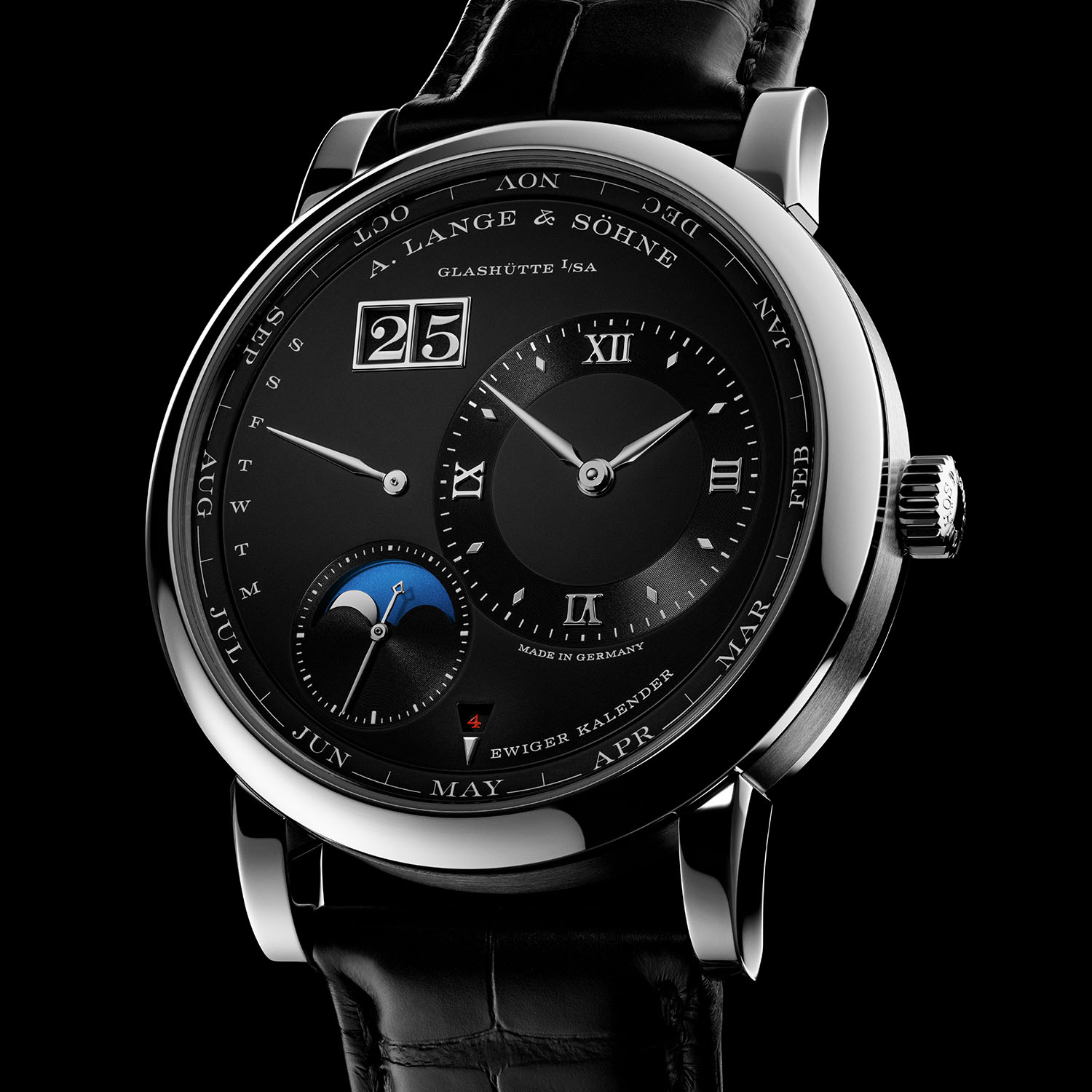 Thankfully, this new platinum variant is as attractive as the others. The 41.9mm x 12.1mm case glistens as only a precious metal can, and it's offset by the black leather strap and the matching black dial. With a combination of graining, circular polishing and white printing, this piece stands out, it's also likely to be very legible, too.
As with any changes to the Lange 1, the key is subtlety. Absolutely nothing is allowed to compromise the golden ratio that's used to precisely determine the placement of each key part of the dial, to do so would make the watch less subconsciously pleasing. The Perpetual Calendar models can be distinguished by the ring around the edge indicating the month. Also, the dial has been flipped, so the day indicator (a power reserve indicator on the regular models) is to the left of the dial. There's also a moonphase and the leap year indicator is hidden at 6 O'clock. No three subdial setups, just a beautiful integration.
Powering all this is the self-winding calibre L021.3. A gold and platinum rotor with hand engravings spins atop a gorgeous movement of German silver. The German silver with its wide waves is untreated so it'll patinate over time. 621 components make up the calibre, with 63 jewels with 5 golden chatons as well. These components work in harmony to provide a 3Hz beat rate and 50-hour power reserve. You're not buying this movement because it has a more contemporary 4Hz or 5Hz movement, you're going with this one because the level of detailing and refinement is about the best in the business bar none. Look at an A. Lange & Söhne movement under a loupe, and hardly anything these days has the same level of finishing.
Of course, that comes at a price. We don't have access to the pricing of A. Lange & Söhne watches any more, perhaps that's too gauche for them these days, but you can expect this to be well north of $100,000, maybe even over $120,000 for the platinum case.