A few months ago, I reviewed the impressive Seiko 5 SRPG37 field watch and there were inevitable comparisons to Hamilton's counterparts. This hand-wound Khaki Field is a bit different on paper, but similar overall with the same target market. Although I'm very familiar with both watches, I was surprised at how different the vibes were when put side by side. Seiko 5 models always impress with aggressive pricing, in-house production and excellent quality, but Hamilton just has an edge on fit and finish, accuracy and wrist comfort. Is this the ultimate affordable field watch? Let's find out.
The model I have is the Khaki Field Officer, which is an older design in Hamilton's portfolio (still in full production). It was upgraded in 2018 with a design inspired by Hamilton's American military history. Specifically, the newer Hamilton Khaki Field Mechanical takes inspiration from the mid-century "Hacked" that allowed soldiers to synch their watches by stopping the seconds hand. Both old and new models share the same case and movement, but the updated dial removed the date at 3 o'clock. I prefer this older design as it's more traditional in appearance and a date complication is always useful. When the latest model launched in 2018, it had the older model's ETA 2801-2 with a 42-hour power reserve, but both have been upgraded to the H-50 with an 80-hour reserve. From a spec stance, there isn't really an "old" one.
Hamilton was founded in 1892 in Lancaster, Pennsylvania and was named after James Hamilton. It was supposed to be named "Columbian," but the Waterbury Watch Company had already trademarked the name. Hamilton owned over 50% of the railroad market at one point and was vital to the US war efforts. It even dropped civilian production altogether during World War II, focusing entirely on the military. In 1942, Hamilton began supplying the US Navy with marine chronometers that were mass-produced with interchangeable components for easy maintenance/repairs. American production ceased in 1969 and the watchmaker is now a Swiss brand and subsidiary of The Swatch Group. Hamilton never forgot its roots, however, and the popular Khaki Field collections are heavily influenced by its American history.
The Khaki Field Officer is the perfect size for a modern field watch at 38mm in diameter with a thickness of only 9.5mm. The Seiko 5 was larger at 39.4mm x 13.5mm and noticeably heavier. The case has a matte sandblasted finish that resists both scratches and daytime glare in the field. The signed crown is a bit oversized and easy to wind with gloves, and winding is a pleasure as there's minimal tension. With an 80-hour power reserve via one barrel, that's a nice surprise.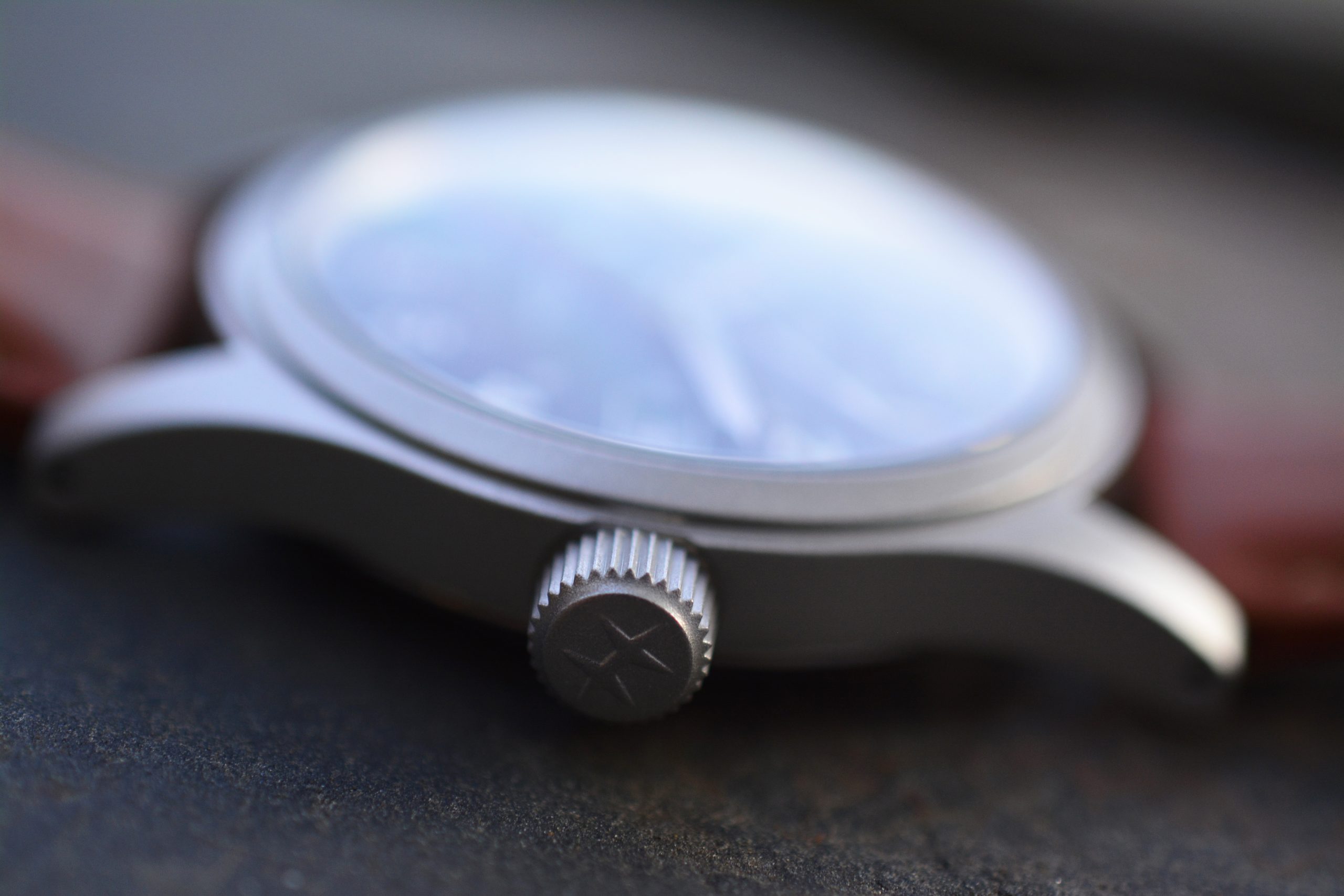 The lug width is 20mm and the watch comes with a yellowish canvas strap that's somewhat uncomfortable and doesn't do it justice. I immediately replaced it with a tan leather strap that better fits the field watch aesthetic. The 2018+ models come with NATO straps, but I don't think that works with the older design. The lugs are rather long (47mm lug-to-lug) and designed to accommodate a NATO, so there's a bit of a gap between the case and pin buckle strap. You get used to it quickly. The case back is solid steel and water resistance is rated at 50 meters.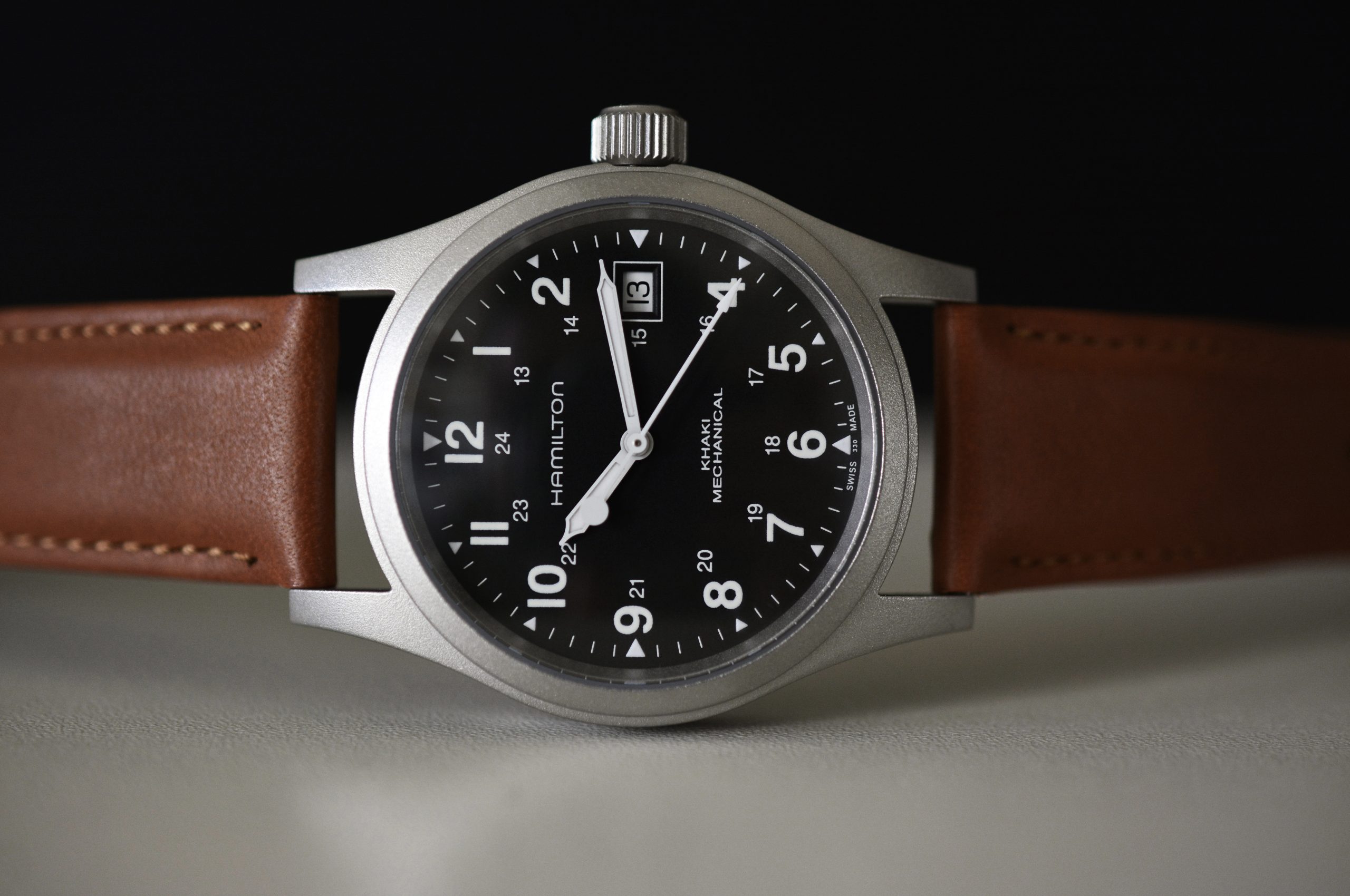 The dial layout is simple and very legible, even more so than the Seiko 5. That watch had applied silver indices that could get a bit lost in certain light, while the Hamilton has bright white Arabic numerals and hands that always pop against the matte black. I'm not trying to imply that the Seiko 5 has a bad dial, but the Khaki Field Mechanical is just that much better. All hands are filled with Super-LumiNova, along with triangular hour markers behind the Arabic numerals, but the numbers themselves don't glow. Seiko's in-house LumiBrite has the edge as it's just superior to Swiss lume – brighter and lasts longer. The Hamilton's nighttime longevity leaves a lot to be desired, but it doesn't really detract from an otherwise superior dial. Smaller numerals for 24-hour (military) time are printed just inside the main numerals, identical to the Seiko yet more legible. A sapphire crystal protects the dial, but its anti-reflective coating isn't the best. Sapphire does beat Seiko's in-house Hardlex crystal for durability.
Powering the Khaki Field Mechanical is the hand-wound H-50, based on ETA's 2801-2. It has a larger barrel and reduced beat rate (from 4Hz to 3Hz) to achieve the 80-hour power reserve, but accuracy didn't suffer. It has 17 jewels, beats at 21,600vph and is the champion workhorse for Hamilton's hand-wound Khaki Field collection. It's undecorated, but a handsome movement nonetheless and a shame that it's hidden behind the case back. I have a suspicion that an exhibition case back from one of the Khaki Field autos is compatible and would make for an awesome modification (for another time).
I'm glad that Hamilton didn't discontinue this piece when the new ones launched in 2018. They complement each other and by keeping this model up to date with the H-50, the portfolio remains modern and diverse. Variety is always a good thing. It retails for CHF 475 or USD 495, which is approaching double the price of the Seiko 5 at USD 275. I think it's worth it as Hamilton offers plenty of perks and the price is still accessible. The 80-hour power reserve is double what Seiko's 4R36 caliber offers and a sapphire crystal is superior to Hardlex, not to mention that the Khaki Field Mechanical is significantly lighter, smaller and more comfortable on the wrist. Seiko makes an amazing watch for the price and I always appreciate in-house production, but the Hamilton is just a better overall package. I'm not always hung up on "Swiss Made," but Swiss quality does shine through in this case.
Visit Hamilton here.