When I think about field watches, especially those from Switzerland, Hamilton always comes to mind. The brand has a long history with American military watches (it was an American company between 1892 and 1969) and its Khaki Field collection is second to none. Well, not necessarily anymore. The new Seiko 5 SRPG37 and other dial variants clearly have Hamilton in the crosshairs and outclass the Khaki Field autos in several areas. With a robust and military-inspired design, in-house automatic and fantastic price, this is the go-to field watch for anyone not hung up on "Swiss Made."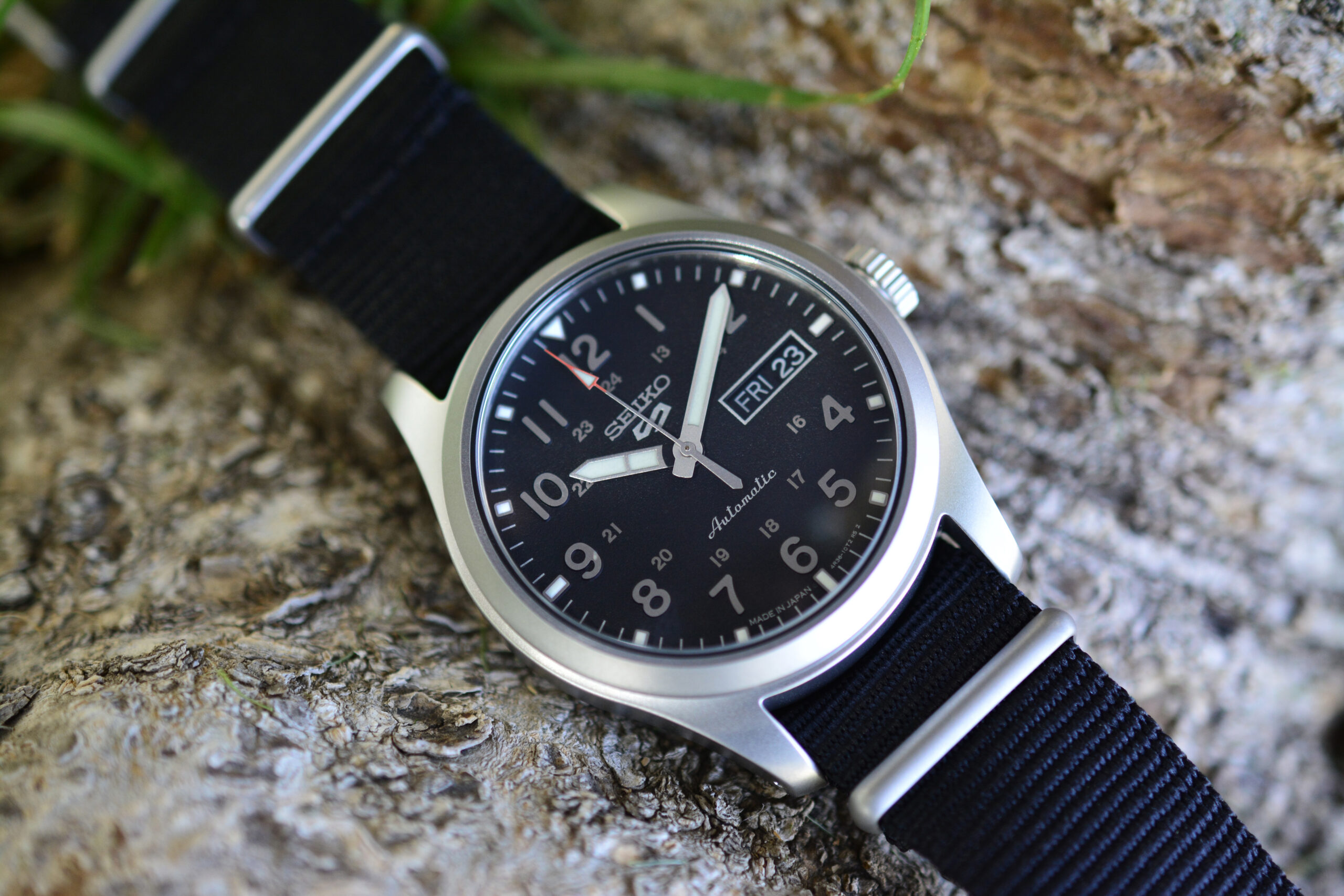 Japan has a long watchmaking history with brands like Seiko, Citizen and Casio that are dominant in the affordable global sales market. You can go all the way back to 660 A.D. for Japan's first documented horological piece, a water clock developed under Prince Naka-no-Oe. In the mid-16th century, Christian missionaries brought clockmaking know-how to Japan and Japanese timekeeping was developed via the temporal hour system. This system divided both day and night into six periods, each remaining flexible as the length of days and nights changed throughout the seasons. It was the dominant form of timekeeping during Japan's Edo (or Tokugawa) period between 1603 and 1867, which is often referred to as the last era of traditional Japan. By 1872, the country adopted the solar calendar over its lunar counterpart and transitioned from the temporal hour system to a contemporary fixed hour. Just shy of the 20th century, the Osaka Tokei Manufacturing Company imported watchmaking machinery from America and began pocket watch production with lever escapements. It wasn't long before millions of Japanese watches were produced annually.
Founded in 1881 by Kintarō Hattori, not long after Japan's Edo period, Seiko started as a jewelry and watch shop in Tokyo. Japan was in the midst of copying western timepieces with the acquisition of both foreign machinery and pocket watches. Hattori developed exclusive deals with trading firms and became well known for sales of western pieces that no one else in Japan had. His success led to the purchase of a factory in Tokyo for in-house production, which he named Seikosha (translated to "House of Exquisite Workmanship.") By 1892, Seikosha clocks were finding success and the brand's name changed to Seiko in 1924. This was due to a Japanese superstition that anything boasting the concept of "glory" in the name was a bad omen.
Seiko wasn't just a successful Japanese brand, it was a global game-changer in many ways. The quartz crisis of the 1970s and 1980s that decimated the mechanical watch industry began on Seiko's doorstep. In 1969, the Seiko Astron became the world's first quartz watch, forever altering the horological landscape. It was priced as much as a car at the time, but the tech soon entered both mass production and mass adoption, and cheap, unprecedentedly accurate watches would totally dominate. Just before 1990, Seiko introduced an automatic quartz watch that recharged itself via an internal rotor. It was quartz accuracy merged with mechanical automatics and became known as Seiko Kinetic. Throughout the 1990s and beyond, Seiko diversified production among subsidiaries to increase production and lower costs, although high-end watches are still produced entirely in Japan, including Grand Seiko. In spite of this, standard/basic mechanical Seiko movements produced outside the border are considered in-house as they're ultimately produced by the Seiko Corporation.
One of the most influential mechanical Seiko lines is the Seiko 5, which revolutionized the affordable mechanical segment in 1963. For starters, it introduced a virtually indestructible, proprietary mainspring called the Diaflex mainspring, along with shock resistance called Diashock (rivaling Switzerland's Incabloc system). Water resistance wasn't a breakthrough at the time, but what was innovative was Seiko's standard that all Seiko 5 watches would have meaningful water resistance ratings. These and additional attributes form the Seiko 5 name – five specific standards for the collection. Automatic winding, water resistance, Diaflex mainspring, Diashock shock resistance and day/date complication. It could very well be called the Seiko 6 as a consistent sixth attribute is price, which is always affordable. Interestingly, Seiko's official list replaces Diaflex and Diashock with a crown at 4 o'clock and durable construction. The "unofficial" list is the accepted one and most accurate as many current Seiko 5 cases have crowns at 3 o'clock, including the one being reviewed. And, of course, Diaflex and Diashock are major proprietary developments. A weird discrepancy from the brand, but I digress. Seiko 5 styles vary from dive to field to dress watches, but the five principles are always there, although no longer exclusive to the Seiko 5 moniker.
All of this brings us to the Seiko 5 SRPG37 field watch, which truly belies its sub-USD $300 price. As mentioned earlier, it's a close rival to Hamilton's Khaki Field watches, specifically the Khaki Field Auto. The Khaki Field Mechanical with date is similar, but has a hand-wound movement. I'll get more into the differences and similarities later, but perhaps the biggest difference is cost as Hamilton's offerings are twice the price. The Seiko 5 stainless steel case is 39.4mm in diameter, a universal size that should also appeal to women who prefer slightly oversized watches. It's 13.5mm thick with the Hardlex mineral crystal and there's a bit of weight to it, and I prefer that substantial, robust feel. The exterior matte finish is bead blasted, which avoids outdoor reflections and helps a bit with scratches. The exhibition case back is also mineral glass, while the rather flat crown is easy to manipulate for both winding and time/date setting. It doesn't screw down, but water resistance is still an impressive 100 meters. This particular model – SRPG37 – comes with a black NATO strap (other colors are available), but a matching stainless steel bracelet is an option at no additional cost (model SRPG27).
The matte black dial contrasts well against the hands and indices, although the applied Arabic numerals are silver – they look white in official pictures. I prefer the muted tone of the silver as it provides a more sophisticated aesthetic. The dial itself has a bit of texture like skateboard grip tape, which is only visible under bright, direct light. Inside the main hour numerals is a second, smaller set for military time (13-24) and the watch is ideal for military field applications. The matte silver hour and minute hands have Seiko's proprietary fluorescent luminous paint called LumiBrite. It's often brighter and glows longer than Swiss Super-LumiNova (up to 5 hours continuously). The outer hour marks are also coated with LumiBrite, as is the red triangular tip on the seconds hand. A day/date window sits at 3 o'clock, one of the five standards of the Seiko 5, and really fits the overall look. Extended date windows can interrupt the balance of a piece like this, but Seiko handled it well. The dial gives you everything you need – day/date complication, 24-hour time, hacking seconds and LumiBrite – and nothing you don't. It also comes in blue, blue/grey, green and a gradient brown with some having tan accents, but the black and silver combo here is my favorite.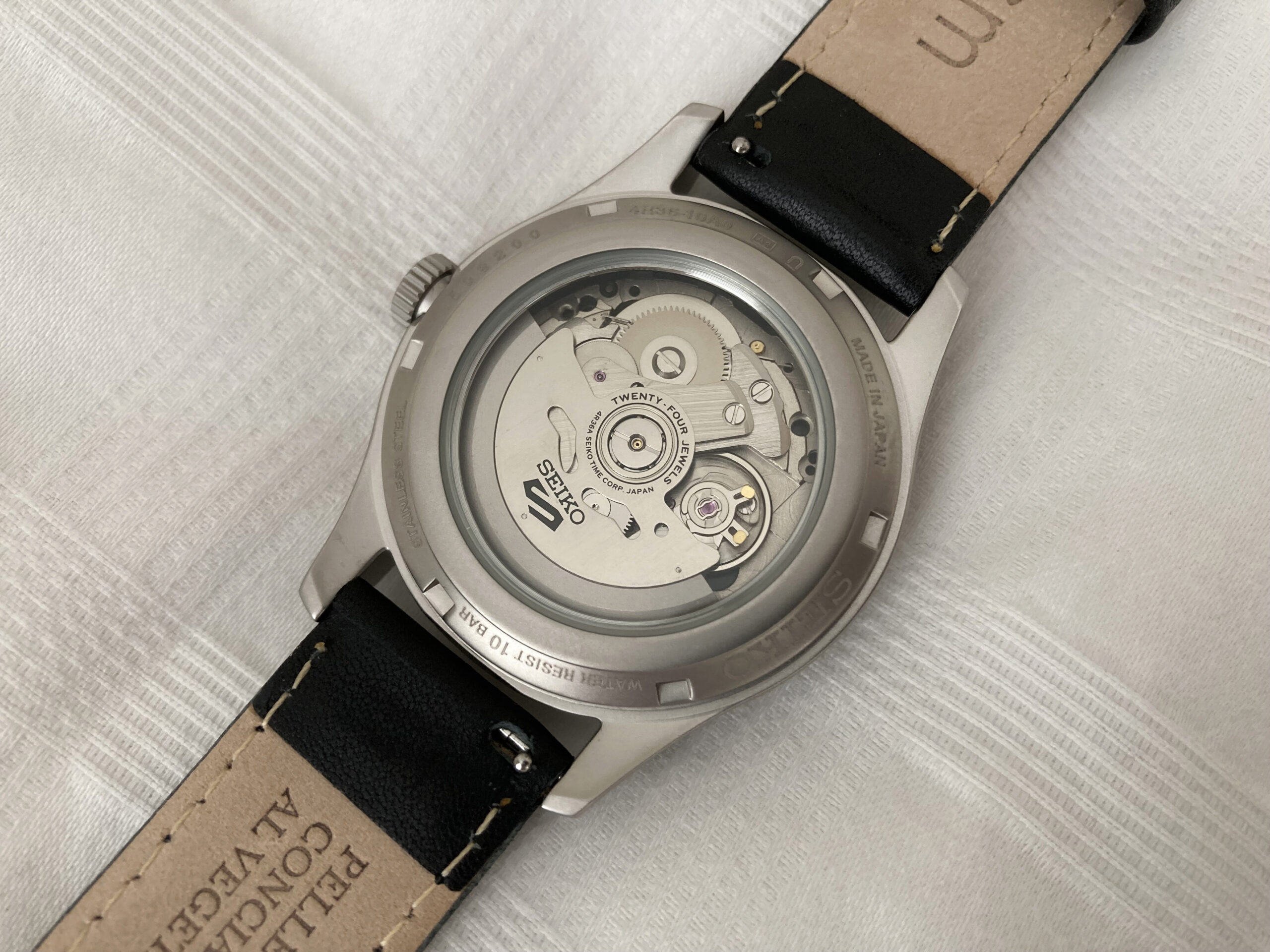 The movement really sets this apart from Hamilton's Khaki Fields as again it's in-house. Hamilton uses an ETA C07.111 auto (known as the H-10), which has some advantages like an 80-hour power reserve, but it's also an off-the-shelf staple from the Swatch Group. Seiko's 4R36 automatic has half the power reserve, but comes with a day/date complication over Hamilton's date-only counterpart. Hamilton does have some day/date Khaki models in its sizable portfolio, but at an additional cost. Technicalities aside, I almost always prefer an in-house movement from a vertically integrated manufacturer like Seiko. Better or not, it just feels more "complete." The Seiko 4R36 has 24 jewels, beats at 3Hz (21,600vph) with a 41-hour power reserve. It's an upgrade from the older Seiko 7S36 as it has hacking seconds and manual winding. It's also a variant of the Seiko NH36 automatic, which is sold for use by other watch brands – the 4R36 is exclusive to Seiko watches. Accuracy is rated at +45/-35 seconds per day, which is a bit over the parameters of the H-10, but it's also more accurate in actual use. I'd probably give the edge to Hamilton, but we're talking about a relatively nominal difference.
At USD $275, the Seiko 5 field watches are among the best values in the industry, especially with in-house automatics. Yes, some of you might be thinking about another Japanese brand, Orient. Seiko's overall quality and finish are a big step ahead in my opinion, although I do respect what Orient produces. If you're looking for a well made, bulletproof-reliable field watch for just about any occasion, you just can't go wrong with the latest Seiko 5 field watch. Hamilton's Khaki Field line does offer a better power reserve and "Swiss Made" prestige, but at double the price. You're giving up little and perhaps gaining a thing or two with Seiko, and it's always my go-to field watch in this price range.
Visit Seiko here.