In this hands-on, the special edition watch comes all the way from Jaeger-LeCoultre in Switzerland and is extremely limited to just two watches globally. At the time of writing this article, the other watch is still in production, making this the only one around right now which the very friendly staff at the Jaeger-LeCoultre boutique on Bond Street in London were very pleased to share with me (and with you guys).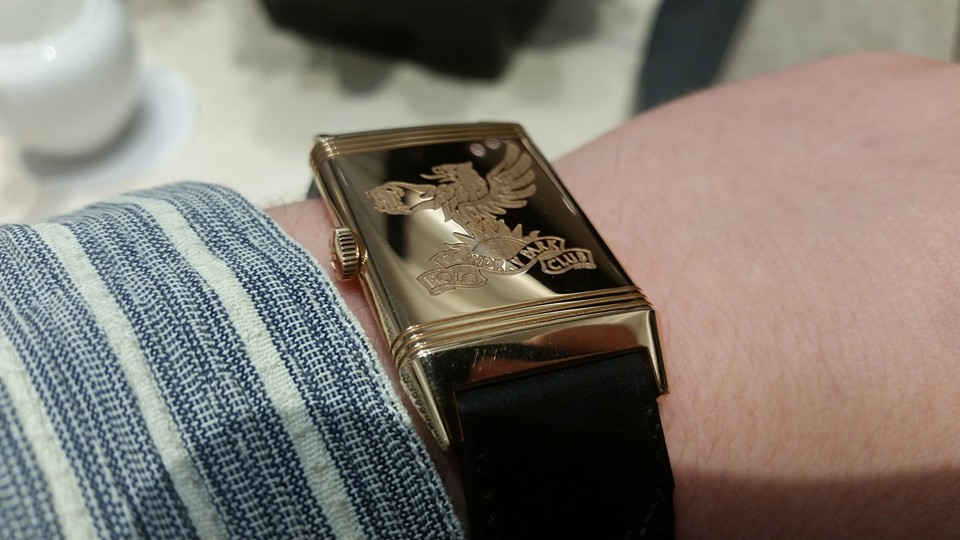 The style of this watch is more modern compared to some other new Reverso watches. which take their inspiration in both dial design and case sizing. The dial of this particular watch is a light coloured dial with black sword hands and black numerals. The central square on the dial of the watch has been given a striped guilloché treatment, around the edge of this are the minute markers. Around the edge of the dial itself is another type of guilloché treatment which blends the case and the dial beautifully.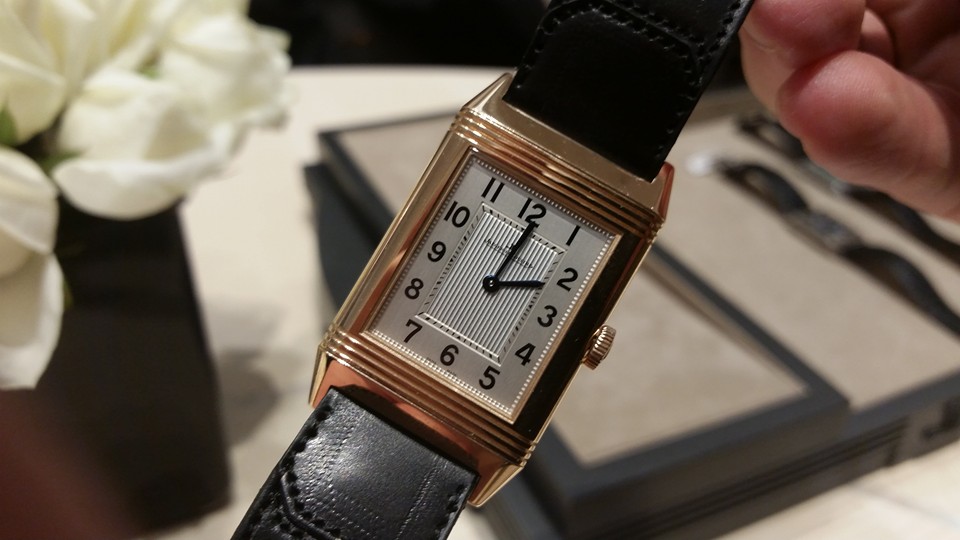 The case of the watch is a beautiful piece of metal. Gold, to be precise, the 18K yellow gold case of this watch is simply stunning and it has been treated with a wonderful engraving of the logo of the Cowdray Park Polo Club which Jaeger Lecoultre sponsors. The reason this is really important is because Cowdray Park is the Wimbledon of polo, it's what Twickenham is to rugby. Of course, the Reverso watch came about because of polo. In India where the British still had a major foothold left there by the Victorian Empire, the English game of polo was a very popular sport shared by British troops and the Indian locals. The players spoke to the local representative of a slightly obscure Swiss watch company called Jaeger-LeCoultre and asked if they could have a watch which would be suitable for polo, where you ride around on horseback trying to hit a ball around. The designers of this new watch had to think very carefully about the watch, it had to have a very resilient movement which would be able to stand up to knocks or even a fall from a horse (which is a surprisingly long way up). The way they made the watch tough enough was to come up with a brand new idea which involved using a ball bearing based system which would allow the watch face to flip over to expose a steel underside, they came up with a watch who's face reversed.

On this watch, the entire reversing system is made of the same gold as the case, a feat which actually takes a lot of engineering. On top of that the movement has also had to pass the 1000 hours control test which Jaeger-LeCoultre is known for. The watch is simply gorgeous and everything a Reverso should be.
For more info, please visit jaeger-lecoultre.com
HARLAN CHAPMAN-GREEN – CONTRIBUTING EDITOR
A keen bass guitar player, Harlan enjoys all the perks modern watchmaking technologies the industry has to offer. Although you might catch him sampling Omegas or the odd Rolex, Harlan loves all things Haute Horology, with his three favourite brands being Breguet, A.Lange & Söhne and Vacheron Constantin. He hopes to study timekeeping more in depth someday and will never be able to thank his father enough for introducing him to the industry. You can follow him on Instagram Read his articles here