Not too long ago, we saw Jaeger-LeCoultre's next collaboration with Argentinian bootmaker Casa Fagliano. Now, weirdly, another brand is getting in on the watchmaker x cobbler scene. Hublot has announced a new version of its Big Bang chronograph sports watch which has been given a new brown outlook on life by French cobbler Berluti. Hublot has worked with Berluti since 2016. Collaborating with leather artists actually makes quite a bit of sense for watches; they are usually paired with a leather strap after all. But Hublot's pairing with Berluti stretches far beyond simple straps for simple dress watches.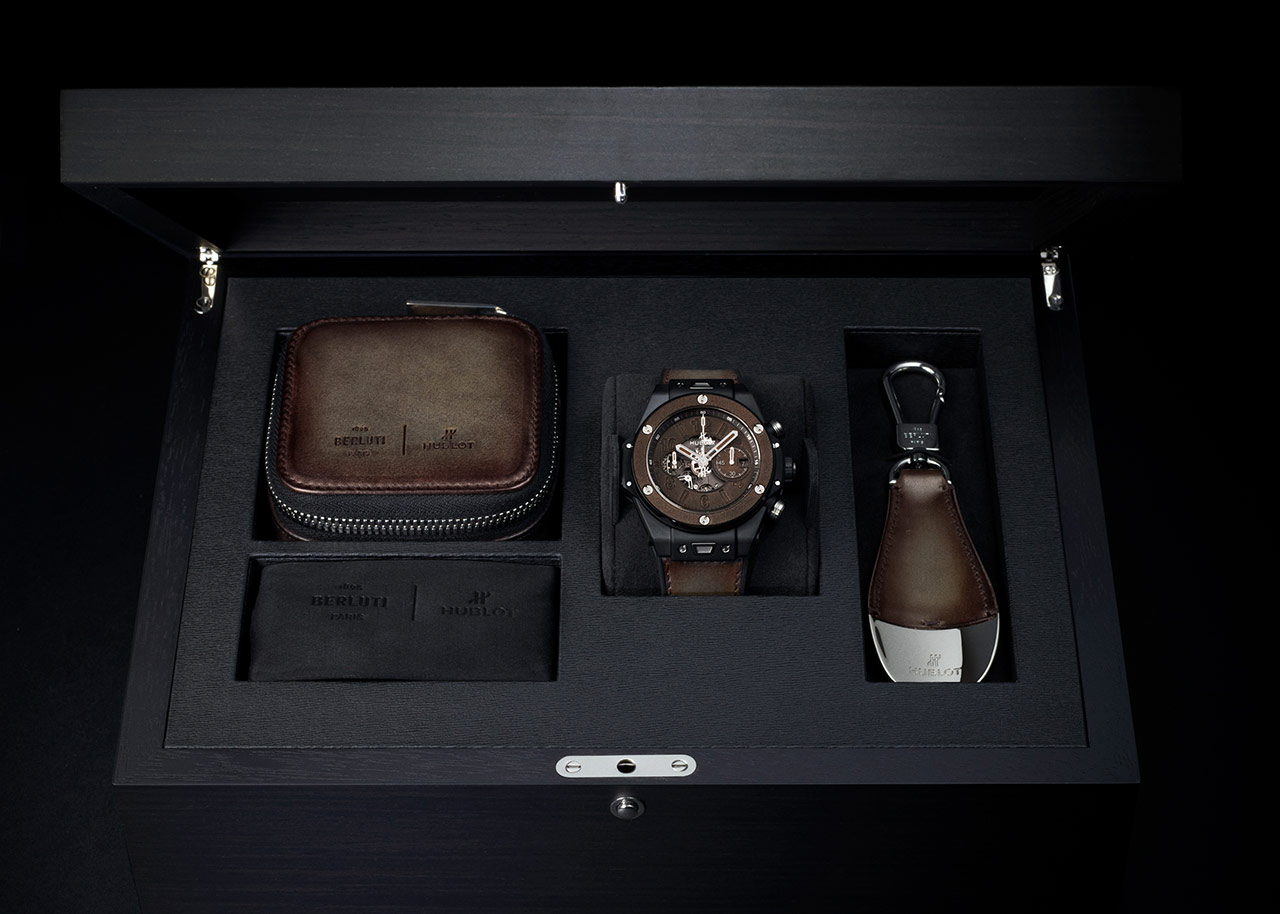 Let's start with the base watch first. The Hublot Big Bang Unico is the basis for this Art of Fusion timepiece. It comes with a hefty case of 45mm x 16.4mm, but that heft is thankfully limited to the dimensions as most of the watch is made from ceramic. The bezel appears to be a patinated leather which matches the strap, it's a first for this brand. There's also leather on the dial. Presumably, when you take this watch in for a service that leather is treated as natural leather needs to be from time to time, much in the same way Rolls-Royce will oil and polish the teak decking on its cars when they come in for a service.
The dial is nice and simple, which means it's easy to read at a glance. The watch has a running seconds hand in one unmarked subdial and the chronograph minutes/date in a larger one at 3 O'clock. Around the back of the watch and on display to the world is the calibre MHUB1242 which has a 4Hz beat rate, 72hr power reserve and 38 jewels. It's also got a chronograph function built into it, which features a flyback function as well as column-wheel control and a double-clutch which is partly visible through the dial. It's not much to look at if I'm honest, but it is functionally elegant, and the dark finish matches the dark case.
I'm not going to make any patent leather jokes about this watch, but I think it is worth looking at this Shoeblot Big Bang with an open mind. The leather strap looks really thick and comfy in the press photos, and the brown colouration makes for something we don't see very often. Hublot's Art of Fusion idea is to mix different and exotic materials together in its watches. I can't wait to see how far they can make leather go. The price of one of these is $26,200, and it's limited to 100 examples only. Each one will come with a Berluti leather travel case and shoehorn keyring too.
Visit Hublot here.