Remember the 2014 FIFA World Cup in Brazil? For horology fans, it's easy to spot the Official Watch used in the Cup thanks to the very vocal Hublot. Yeah, the watch was phenomenal and a collectible since it represents the spirit of Brazil. It's not the first time that Hublot spoiled its sports ambassadors such as Diego Maradona and Usain Bolt.
Kobe Bryant wearing a King Gold 413.OX.4738.PR.KOB15
Kobe Bryant is a special case since he had several unique Hublot watches on his name already however the latest one in my opinion better reflects the athlete's sport. Oh, I forgot to mention I freaking love basketball and the previous Hublot Kobe watches are nowhere near the spirit of the sport at least in my opinion. It's also worth noting that the Big Bang Unico Bi-Retrograde Chrono Kobe "Vino" Bryant or Vino for short is a redesign of the Official Watch used in the World Cup. This time, you get to feel the basketball on your wrist, literally. The color is also powerful yet simple and it's practically easier to use than the previous Kobe watches for basketball timing of course.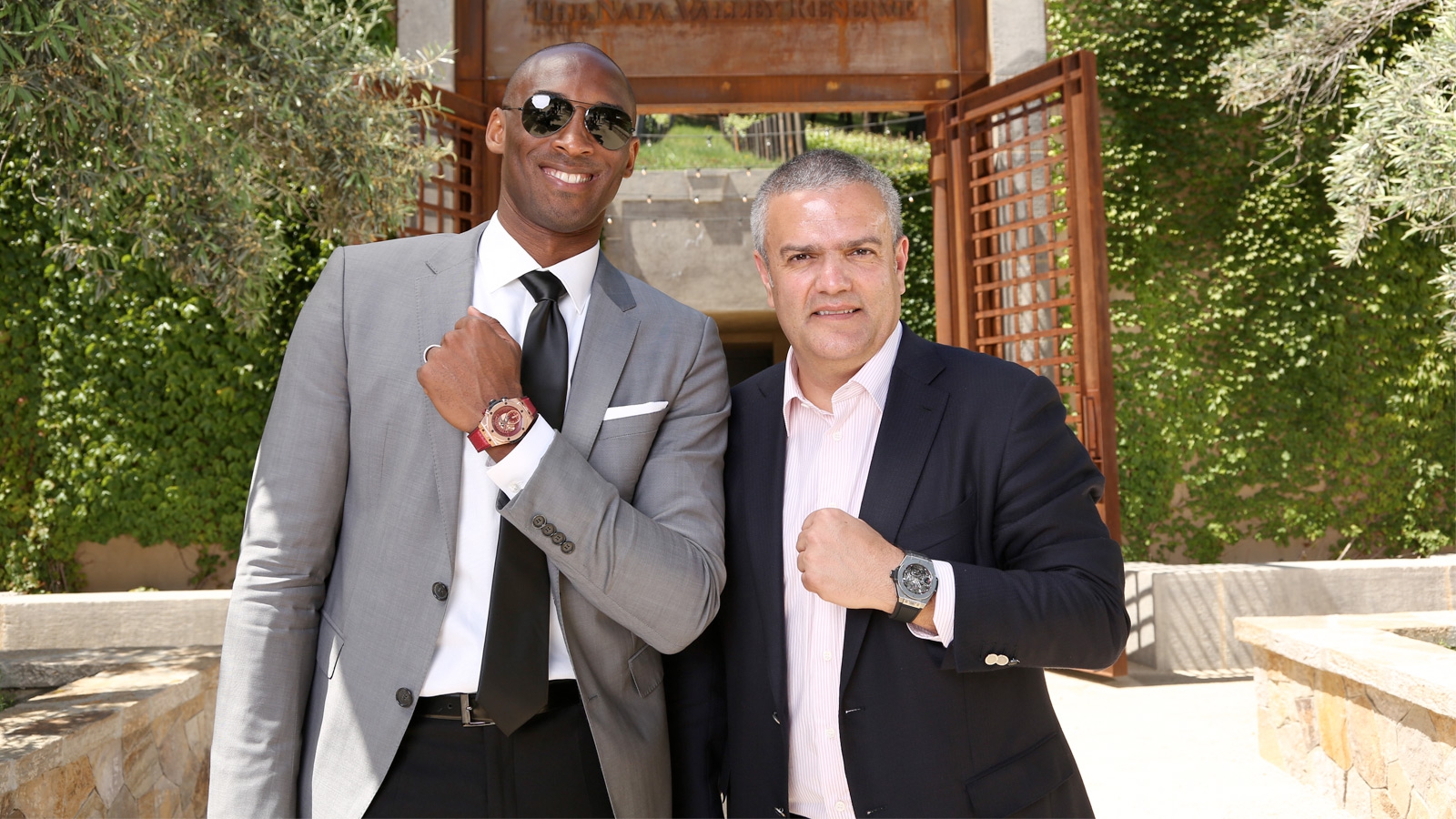 Kobe Bryant together with Hublot CEO Ricardo Guadalupe
Alright, so what makes the watch tick? Before we get to that point let's take a look at the case which comes in either black or gold. I failed to mention that there are only 300 Vinos (200 black ceramic and 100 King Gold) that are going to be released somehow making it a rare collectible item. So I guess you're salivating to grab one for yourself. The case design is top notch and subtle. Basketball is a tough game where every detail counts however if there's one constant element in the sport, it's precision. That's the spirit of the sport where precision basketball throws and fluid movements lead to winners. Kobe is an awesome athlete and the same can be said with the new Vino. The lugs, crown, bezel and chronograph pushers didn't skimp a bit on design principles. It's great and even if I'm a bit biased, you can certainly appreciate it for yourself.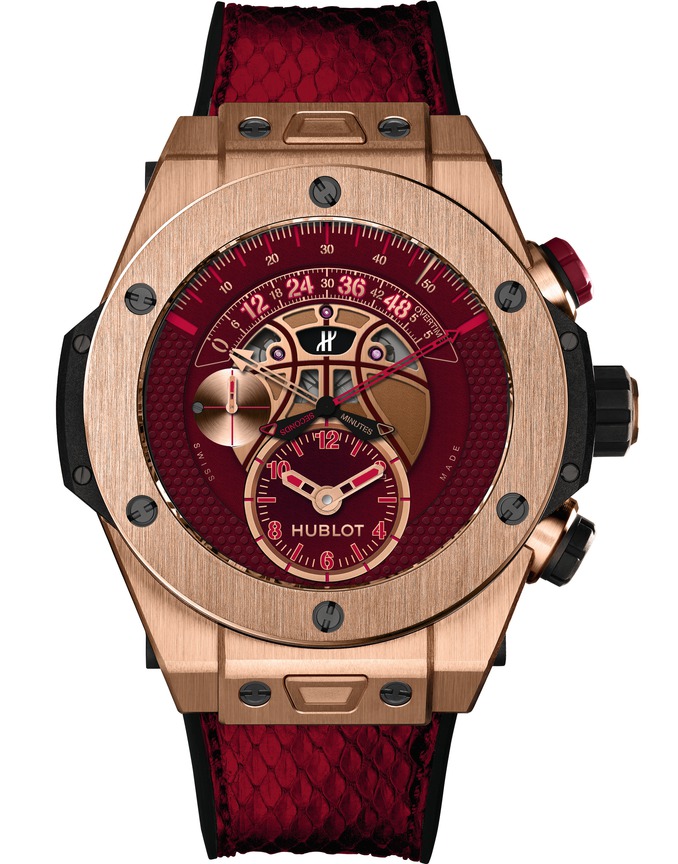 413.OX.4738.PR.KOB15 (King Gold – Limited edition of 100 pieces)
The dial is magical although I'm not so fascinated by the off-centered dial for hours and minutes located at the 6 o'clock featuring a micro-blasted and satin-finished hands while the small seconds counter lies at the nine o'clock position but then that's the purpose of a bi-retrograde display. This functionality also makes it an official basketball timer since the chronograph at the upper part of the dial counts the duration of the game in 48 minutes also taking into account possible overtimes too. So yeah, it's very useful indeed. Kobe's burgundy color preference seems to add prestige to the watch so there's nothing wrong there plus there's the inconspicuous basketball pattern at the center of the dial.
413.CX.4723.PR.KOB15 (Ceramic – Limited edition of 200 pieces)
The watch is powered by an in-house HUB 1261 Unico movement which is more than capable of running the bi-retrograde display that also makes it perfectly suitable for timing basketball matches. Finally, you get to wear this in a burgundy python strap sewn onto black rubber. Hublot acknowledges the fact that python straps are rather fragile so you're given an additional strap in black rubber with burgundy stitches. The strap also features a patented "one click" system that makes changing the strap a breeze. For more info, please visit hublot.com
JOVAN KRSTEVSKI – FOUNDER, PROPRIETOR & EXECUTIVE EDITOR
Watch collector, aficionado and an Event profile in the Swedish nightlife. He launched Watchgeek back in 2011, which is now known as WristReview and is one of the most widely read watch blogs on the Web. He quotes 'WristReview is a site to help people find, explore, discover and enjoy wristwatches.'  His passion jump started in his early teens when he was given his first mid-range wristwatch which was an Omega Seamaster. Since then he has always been in love with wristwatches! Besides WristReview, he also writes for a number of publications. Read his articles here.