Sports watches. For some, like me, they're an essential part of the daily kit. For others, they represent the optimistic escapism of the weekend, a partner in the fun that the days off provide. For a select few, they're something to be despised because they're not traditional watches. I don't listen to those people, but I've certainly come across them.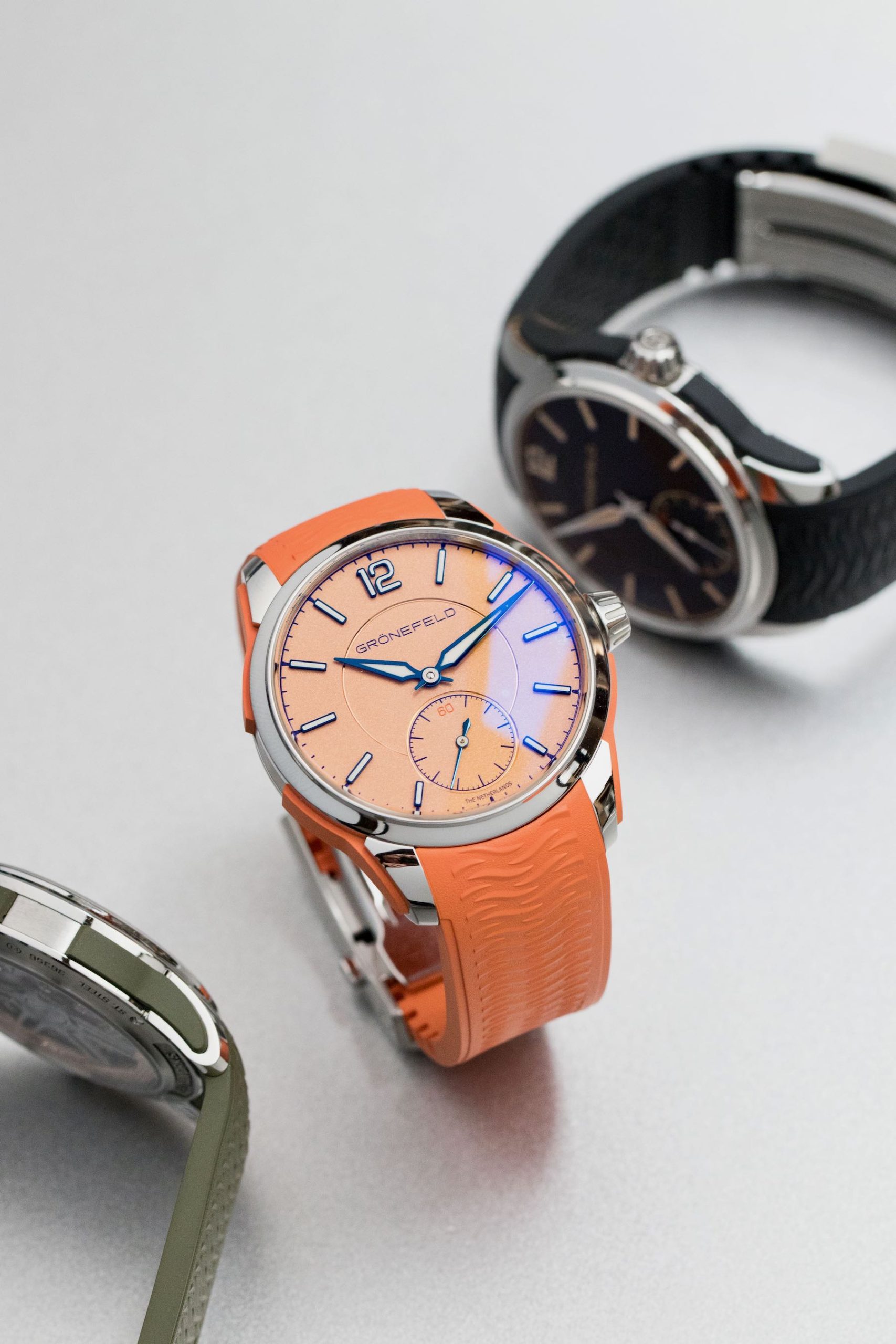 The last watchmaker to seriously surprise us with a sports watch was A. Lange & Söhne when they unveiled the Odysseus in 2019. I got a hands-on review of that. It was the first outing of my new (at the time) camera setup. Anyway. The Odysseus surprised us because it was something A. Lange & Söhne fans had been asking for, but the brand itself was unsure. Of course, the watch turned out to be a success.
It seems fitting then that one of our favourite Dutch watchmakers, Grönefeld, would have a similar idea and make one of their watches a little more action-ready. What we received from the Horological Brothers is the 1969 DeltaWorks. Delta Works is the name of a colossal flood protection system erected all around the Netherlands between 1953 and 1997. It was planned and built after a catastrophic flood in 1953 took the lives of 8361 and flooded nearly 10% of the country's farmland. A series of dams, barriers, floodgates, dykes and sluices aids in keeping the flat Netherlands from getting a little too soggy in the rain, so to speak. Fitting, then, that the watch would be named after this.
RUBBER CLAD INSERTS
This is the only watch Grönefeld makes with a 100m water-resistance rating which means it's very capable of being used as a daily, although I wouldn't, given the price point. Let's call this a smart/casual sports watch, better for chilling in after the main rough and tumble is over. Also, the case is made of stainless steel rather than white gold or platinum, as we'd typically expect from a watch like this. With dimensions of 44.35mm x 12.5mm, the 1969 DeltaWorks isn't subtle, but it is beautiful. 
STEEL CLAD INSERTS
To differentiate it further from its sporty brethren are three dial colour choices: salmon, black or khaki. All three come with beautiful hand-applied grain texturing, applied markers and plenty of lume to make it a usable watch after dark. A simple sub-seconds dial provides a delicate contrast to the meaty lancet hands.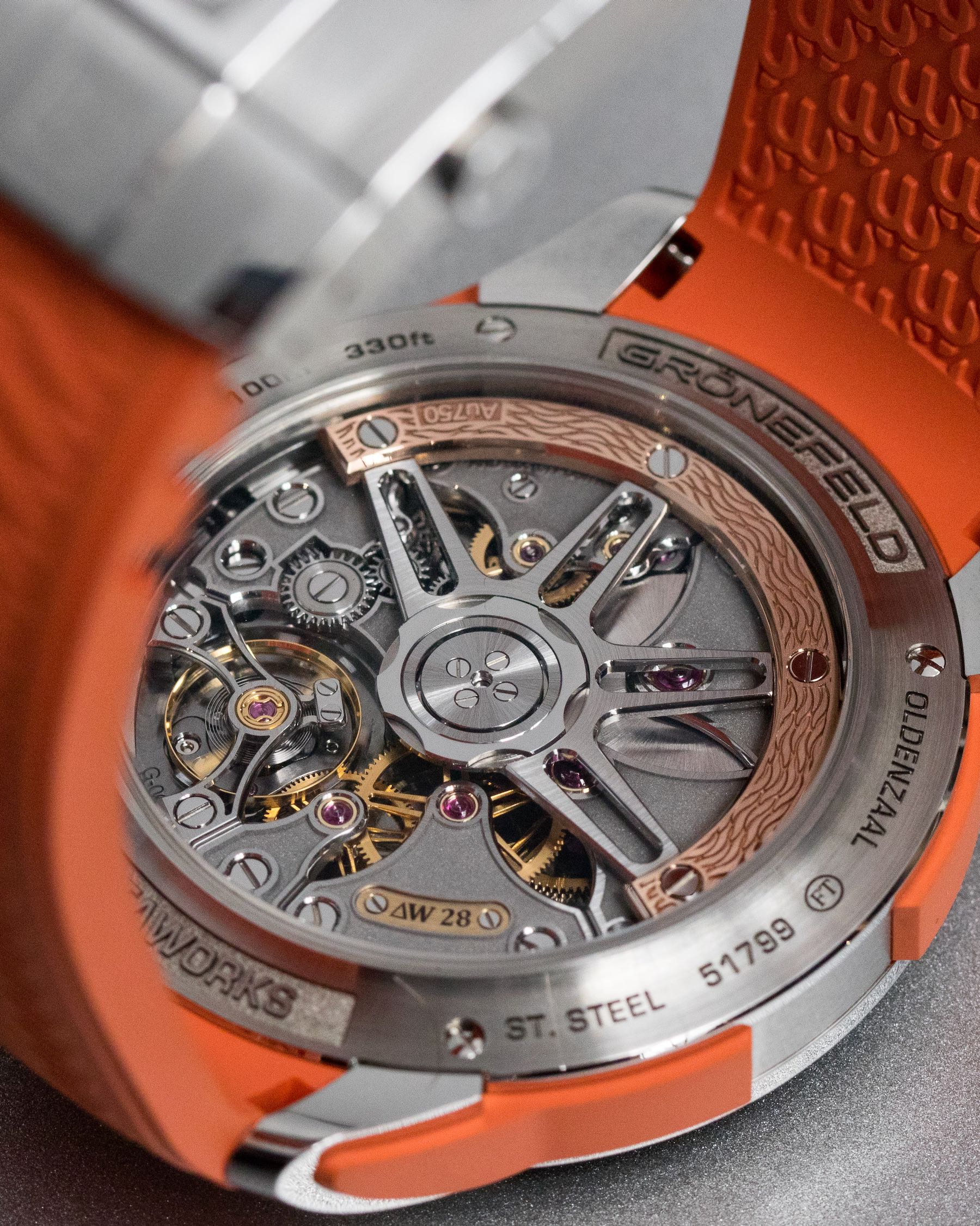 Powering this wonder is the self-winding calibre G06. A gorgeous two-tone rotor spins unidirectionally over the movement. Grönefeld says the spoke design aids in shock resistance by reducing the severity of impacts on the winding mechanism, but I don't think we at home would have a way of measuring this, so we'll need to take their word for it. The balance wheel beats at 3Hz for 56 hours, but let's be honest: the finishing is what takes precedence here. Grönefeld's movement finishing is on another level, folks, it deserves a closeup from yours truly, but I'm told that's unlikely (please do spam their email inboxes with requests, though!). Black and silver are the main themes, contrasted by gold and accentuated by the fact the silver parts stand higher than the black for a unique three-dimensional experience.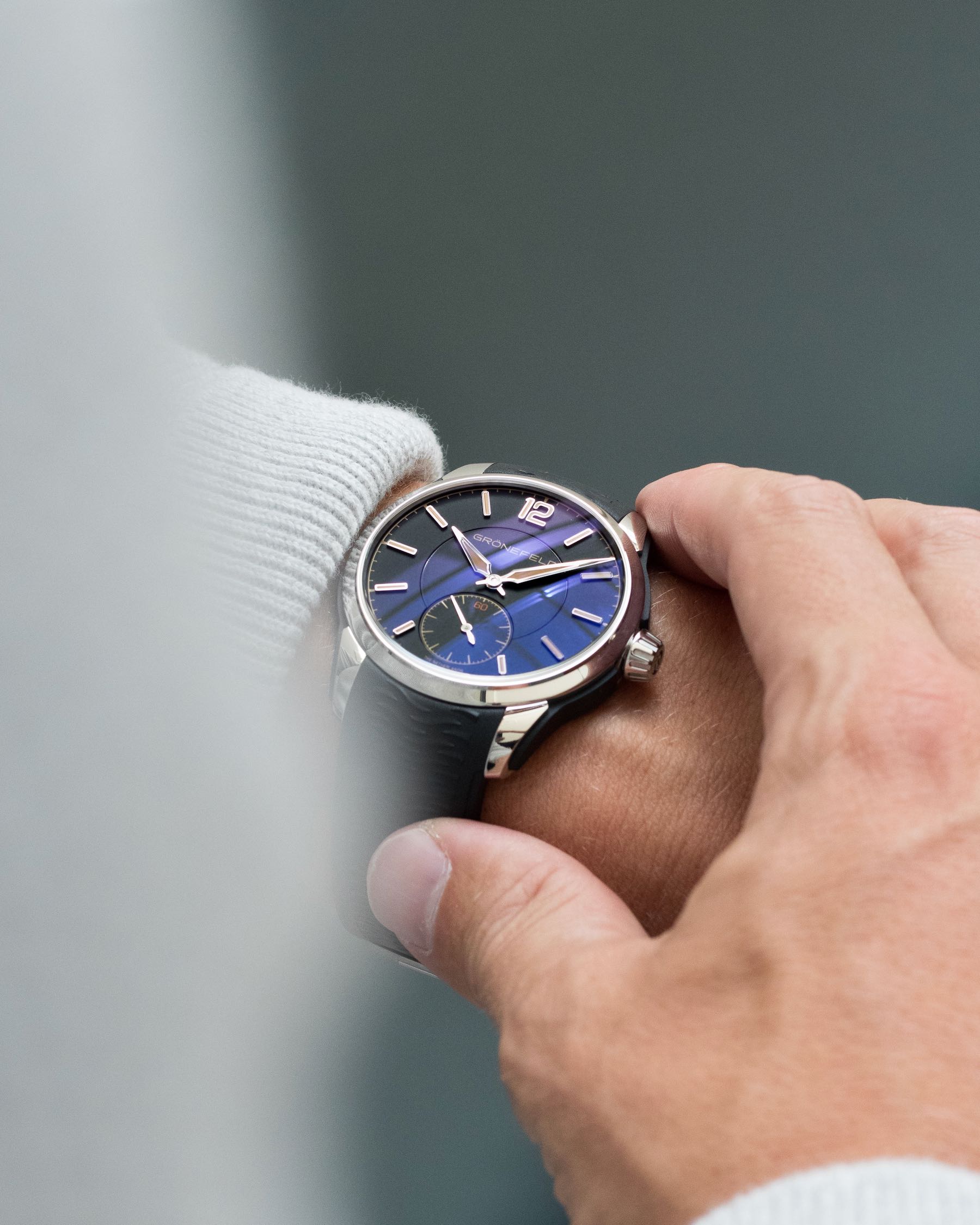 These are available with FKM rubber straps with stainless steel clasps that have micro-adjustment built in. The colour choices are white, olive, orange, blue or black. Grönefeld says these are in serial production, but this is a low-volume watchmaker so expect around 20 units made annually. The price is €49,800 before taxes, and I think it's worth it.
Visit Grönefeld here.