The watch industry is mostly geared towards men, which make up 98% of our audience. However, times are slowly changing as we see an increase in female leadership within the watch industry. But there a few women, such as Caroline Scheufele, Artistic Director and Co-President at Chopard, Carole Forestier-Kasapi, Director of Movement Creation at Cartier, Sandrine Stern, Head of Creation at Patek Philippe, Chabi Nouri CEO at Piaget, Delphine Favier, Managing Director at Montblanc, Chadi Nouri Gruber, Product Director at Audemars Piguet and Aurélie Picaud, Timepiece Director at Fabergé to name just a few who are in influential places.
I was very excited when I met Aurélie Picaud, Timepiece Director of
Fabergé
at the GMT event last month during the
SIHH event
. We only had a brief time to chat, but it was very interesting and fun to meet the one who has transformed Fabergé's watchmaking department in just four years.
Aurélie has played an important role at Fabergé as she has focused on creating a stronger collection for women as well as men. She has also united with the CEO of Fabergé, Sean Gilbertson, Agenhor's founder, Jean-Marc Wiederrecht and Giulio Papi from Renaud et Papi for certain extremely advanced and creative timepieces in the past. As mentioned above she joined Fabergé's watchmaking department just a few years ago and quickly pushed the department forward, even securing two Grand Prix d'Horlogerie de Genève awards along the way. She was also awarded Woman of the Year at Eve's Watch Awards last year.
Jovan Krstevski
Can you tell us more about yourself and how you ended up as the Timepiece Director of Fabergé?
Aurélie Picaud
I attended engineering school and then spent two years working in research and development within the automotive industry in Germany. This was a fantastic experience but I hadn't yet discovered my passion.
In 2004 I entered the watch industry through my position as a Project Manager in the Quality Management department of the Swatch Group. I worked across all the brands within the Swatch Group, discovering my true passion for timepieces and the exceptional craftsmanship within the world of watchmakers.
I learned a lot by working at Omega and then Audemars Piguet, both of which are established watch brands; however, joining Fabergé really marked the beginning of a new journey for me. To work for an established brand, but being able to start a project from scratch, was a great opportunity.
Jovan Krstevski
What has been the most challenging aspect of working for Fabergé?
Aurélie Picaud
I was awarded so much creative freedom: it was very exciting and something I really embraced, but it was intimidating at the same time. We had only 18 months to develop and launch new timepieces collections, including new exclusive mechanical movements, so I had to follow a very strict plan:
– Define the key feature unique to Fabergé, incorporating its rich history and DNA
– Develop innovative techniques aligned with Fabergé's vision
– Begin to share Fabergé's timepiece journey with the public
CEO of Fabergé, Sean Gilbertson together with Aurélie Picaud, Timepiece Director of Fabergé at GPHG
Jovan Krstevski
How do you expect people's attitudes towards luxury wristwatches to develop over the next few years? What are you doing to do to prepare for this?
Aurélie Picaud
I think that luxury is about making people dream: luxury timepieces should tell a story and I think that, more than ever, people need to be taken on a journey by luxury brands.
We develop exclusive Fabergé mechanical movements and unexpected time displays to evoke emotion, as Peter Carl Fabergé himself did with Fabergé clock objects. Therefore, we will continue to push the boundaries and continue the Fabergé story, which is sure to surprise and delight our audience.
Jovan Krstevski
Obviously, Fabergé doesn't have the same culture as other watch brands, do you find it difficult to catch the attention of customers who are used to other high-end brands?
Aurélie Picaud
Of course, it requires time and innovative ideas to capture the attention of the public. Fortunately, many people know the Fabergé name, but few truly know the story of how Fabergé began, particularly his work with clock objects: both eggs featuring clocks and also timepieces.
Partnering with the best artisans around the world, Peter Carl Fabergé featured both Moser and Vacheron Constantin movements in this clock-work creations. Therefore, following in the footsteps of its founder, Fabergé continues to partner with the best work-masters for each watch project, creating mechanical watches exclusively, working with the best Swiss suppliers and opening our own watch workshop in Geneva.
Jovan Krstevski
Which is your personal favorite timepiece?
Aurélie Picaud
I love wearing the Lady Levity watch, which is not as spectacular as the Lady Compliquée Peacock watch in terms of its complication; but it is an understated and feminine watch. There is no need for diamonds to enhance a ladies watch, its elegance still shines through, perfectly adapted to women's ergonomic.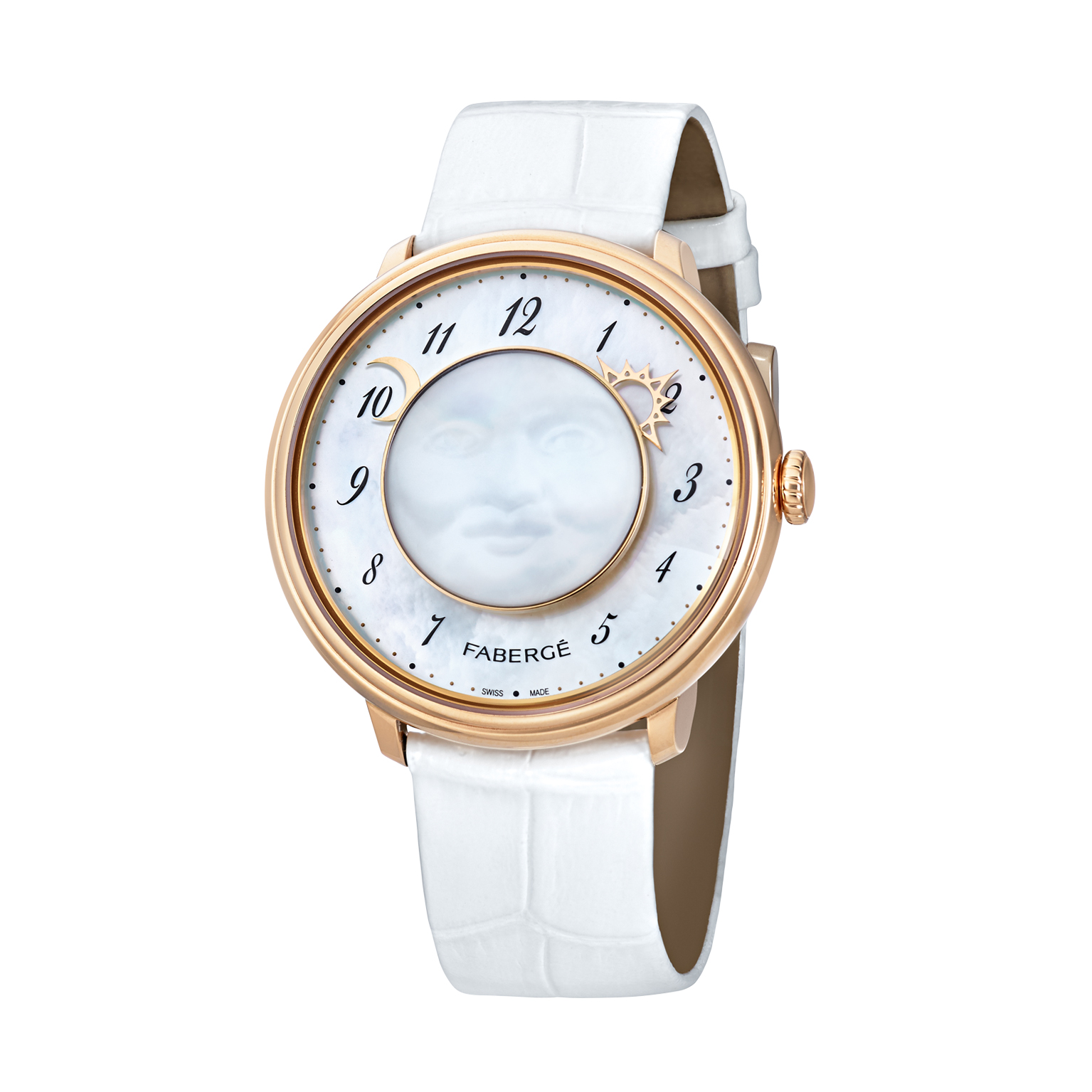 This watch is inspired by a silver gilt, enamel and rock crystal desk clock created by Fabergé workmaster Henrik Wigström in St Petersburg, around 1910. As no motion work is present to turn hands at the central axis, the AGH 6911 (developed by Agenhor exclusively for Fabergé) instead features a central void, which allows a supporting structure to be secured into the movement itself and, as such, it can support a comparatively large mass. The central element of the Lady Levity features a man-in-the-moon decoration, inspired by that original Fabergé desk clock, but the intriguing design element is how this central decoration is only visible to the wearer when seen as particular angles: this is the art of the surprise at the centre of the watch, reminiscing of the central surprises discovered within Fabergé Imperial Easter Eggs.
Jovan Krstevski
Do you have any plans to make any sports watches?
Aurélie Picaud
Fabergé recently launched the Fabergé Visionnaire Chronograph, which is, by definition, associated to the category of sports watches: in true Fabergé spirit, a remarkable technical innovation is discovered in the centre of the dial. We may develop new sports watches in the future, as long as they continue to feature the ingenious spirit of Fabergé.
Jovan Krstevski
What would be your favorite complication on a watch?
Aurélie Picaud
No doubt a complication that evokes strong emotion, because I think this is something that is often neglected. For me, it is not all about the technical advances, it is also about allowing people to dream every time they glance at the exquisite creation on their wrist.
Jovan Krstevski
Do you see Fabergé becoming more mainstream in the future or do you like the niche market you have?
Aurélie Picaud
Fabergé remains quite niche. In recent years we have developed skus that are more widely accessible, but it definitely will remain as a special, exclusive brand.
Jovan Krstevski
Can you tell us a bit about the watches you are bringing out this year?
Aurélie Picaud
Having established our main watch collections, now is the time to share the news! We are keen to tell the story of our collections and unique approach. There are so many stories behind each of our collections, we're looking forward to deepening the understanding amongst our existing clientele and introducing them to new audiences.  And, of course, we will continue to work on new creations to surprise and delight in our Fabergé way!