So it seems that Hublot has been paying attention to the comments section of our Top 5 black watches article. Evidently, they've seen your comments and your criticisms and decided that, what they'd like to do instead of making watches to please all of you, is go even more mental for 2021. Fair play to Hublot for being bonkers at such a time; let's dive on in.
Big Bang Unico Yellow
Hublot staff have once again been playing with the things lying around in their R&D labs if this new bright Big Bang Unico is anything to go by. It looks as if Hublot is miles ahead of everyone else in terms of adding colours to ceramic, not an easy task considering the colours have to be baked all the way through and can crack in the firing kilns at any moment. And yet, this 250-piece limited edition watch with its yellow 42mm case and in-house movement shows they've been able to master it. If you want one, it'll cost you CHF24,900.
Sang Bleu II
Hublot has updated the Sang Bleu II line of its Big Bang line with three new colours for 2021, those being blue, white and grey. The 45mm angular case is made from ceramic, which is how Hublot injects colour into the watches. They also come paired with colour-coded straps and a quick-change system if you fancy shaking it up. One of these new ones will cost you CHF25,900, but they come with an in-house movement.
Big Bang Integral Tourbillon High Jewellery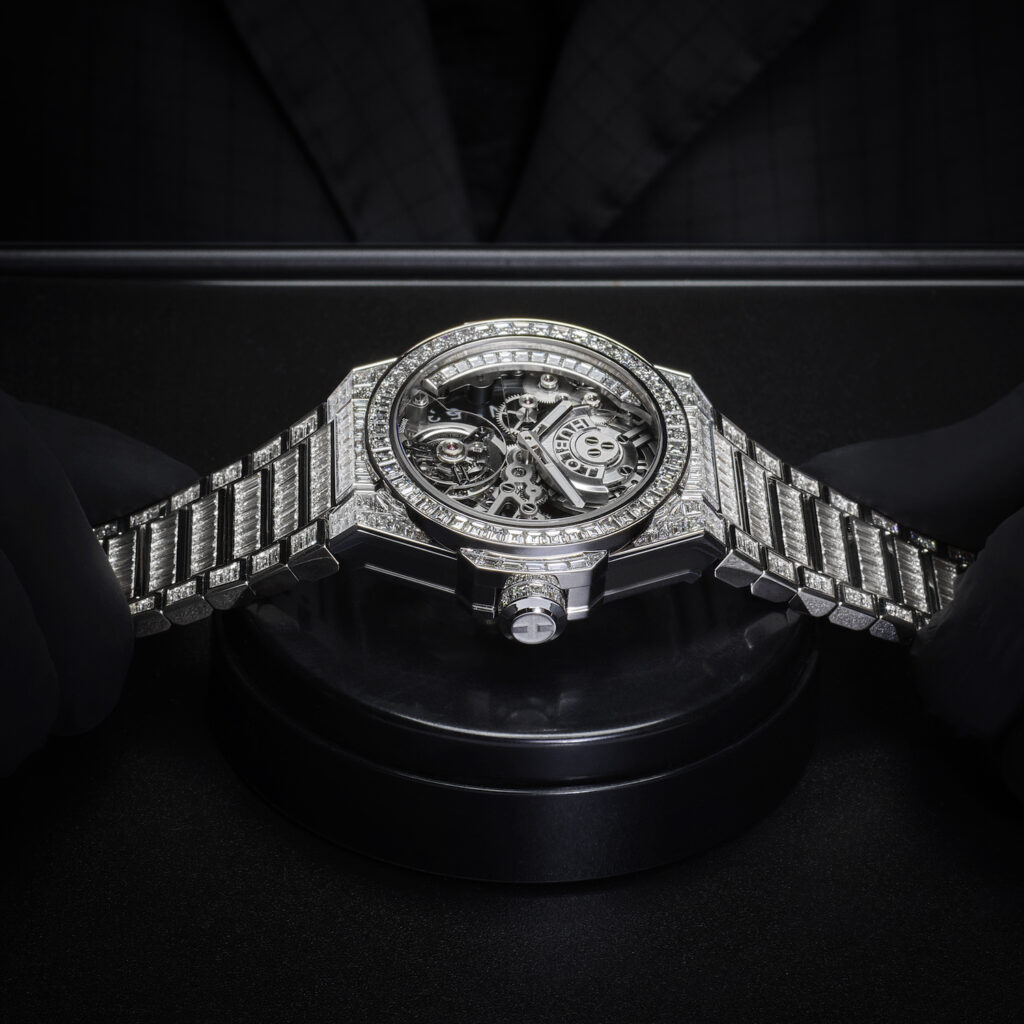 The Big Bang Integral line's key difference from the regular Big Bang line is that it lacks a quick-change system for its bracelets. It might seem unusual, but it fixes the proportions of the case, in my opinion. What sets this version apart from the other Big Bang Integral watches is the flying tourbillon on display on the dial. And the fact that the 43mm white gold case and bracelet have been festooned with diamonds, turning it from clapper to rapper instantly. It also jacks up the price to CHF650,000.
Big Bang Integral Full Sapphire
Probably my favourite of the watches being released at Watches & Wonders this year is the Big Bang Integral Full Sapphire. It features a 43mm case made almost entirely from sapphire crystal. It also features a bracelet made almost wholly from sapphire crystal, which is exceedingly cool in my opinion and not something I'm sure I've seen on a watch before. I can't imagine it would look great if you didn't keep it clean, though, but then again, maybe the upper classes simply aren't dirty. It's got a self-winding in-house tourbillon movement just like the watch above and will set you back CHF400,000. It's also limited to 30 examples worldwide.