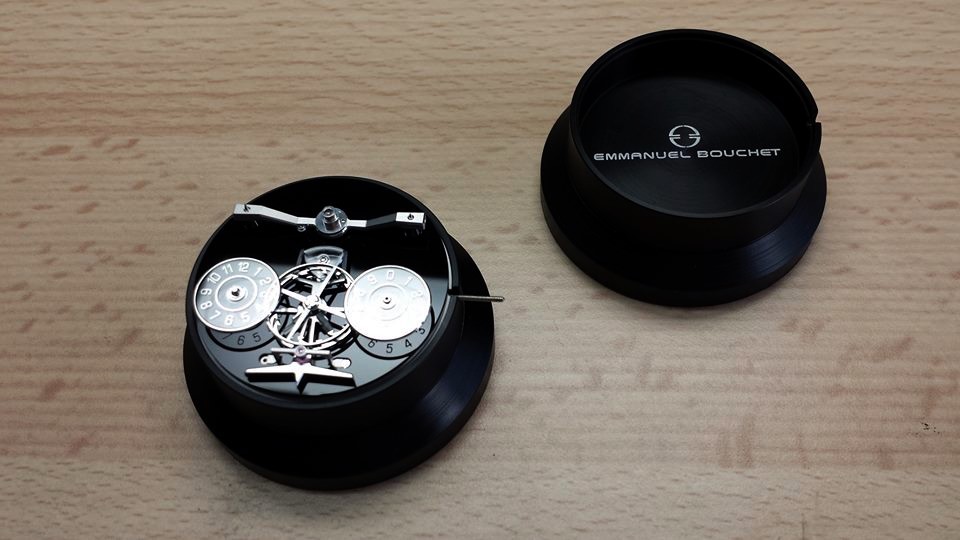 So we have this second front-mounted escapement that is visible on the front of the dial and that gives the really cool 3D effect, while the main escapement is visible through sapphire caseback and that also oscillates at a slow and steady 18,000 vph. I I should also mention that this is a twin barrel movement with 70 hour of power reserve, which is indicated on the back of the watch.
We have to admit that this engine created by Emmanuel Bouchet himself specifically for this timepiece is quite clever.
Going further we can say that the dial is dominated by the essence of the mechanism, positioned at the centre stage (the escape wheel and the anchor) as mentioned above. This regulates the tens of a minute hand, but the other thing was also created to captivate your eyes.
The multi-level dial is composed of futuristic looking sapphire discs that seem to float in space over an onyx or chalcedony dial base (depending on the version). What's very interesting is that depending on the light and it's position above the watch you'll have different reflections of the indicators on the dial.
Hours are indicated at 8 O'Clock, minutes and tens of minutes are displayed at 4 O'Clock and seconds at 12 O'Clock.  A resolutely contemporary day-night indicator is revealed at 12 O'Clock on a disc underneath the seconds disc and further accentuates the powerful and harmoniously balanced design. The tips of the hour and tens of  minutes hands are finished with sanded sapphire to accentuate the legibility and add a refined and elegant touch to the design. Personally, I don't understand the interest with the tens of a minute retrograde hand on this piece, maybe it adds a perspective that I haven't thought about yet.
The movement is enclosed in an elegant and contemporary 44 mm case with a thickness of 11.20 mm and is offered in 18K gold, platinum or titanium with black ADLC treatment. ADLC, "amorphous diamond-like carbon", is a revolutionary coating that not only creates a shock-resistant, extremely smooth and scratch free layer but also shows a high-tech aura that further accentuates the captivating dial.
Finally it's interesting to note that the black back of the Complication One may be customized to create a timepiece with a unique dial or diamond setting, personalized hands, finishes or movement decorations.
As with many watch enthusiasts and collectors, I was immediately amazed by this "horological art". Because this is the name we have to give at such an impressive creation.
Unfortunately I was not able to go to Salon QP this year to try the first prototype out and I hope to have it really soon on the wrist to make a final opinion about this timepiece.
Technical specifications
Case :
Dimensions : Diameter – 44 mm / Height – 11.20 mm
Material : 5 versions: 18K white, rose or yellow gold, Platinum, Titanium with black ADLC treatment.
Finish : Polished.
Crystal :  Anti-reflective curved sapphire crystal glace box
Case back : Sapphire-crystal glace box display back
Crown : 18K gold, Platinum or Titanium with ADLC treatment – and EB Logo
Dial :
Onyx or chalcedony dial base (customisable)
Open dial revealing the escape wheel and anchor
Polished, bloqué and trait tiré finishes
Polished hands. Hours and tens-of-minutes hands with sapphire tips
Functions :
Hours on a sapphire disc at 8 o'clock
Minutes and tenth-of-minutes on a sapphire disc at 4 o'clock
Seconds on a sapphire disc at 12 o'clock
Day / night indicator on a sapphire disc at 12 o'clock underneath the seconds disc
Power reserve indicator on case back
Movement :
Type : Mechanical, manual winding – Swiss Made Caliber EB-1963
Movement dimensions : Diameter – 37.5 mm / Height – 7.66 mm
Power Reserve : 70 Hours
Barrels : 2 Barrels
Balance Wheel : Variable inertia balance wheel
Balance spring : Breguet balance spring
Frequency : 18,000 alt / Hour – 2.5 Hz
Number of components : 283
Number of jewels : 64
Water Resistance : 3 atm / 30 meters / 100 ft
Strap & Buckle :
Hand-stitched black calf Leather
18K gold, Platinum or Titanium with black ADLC treatment ardillon buckle
EB logo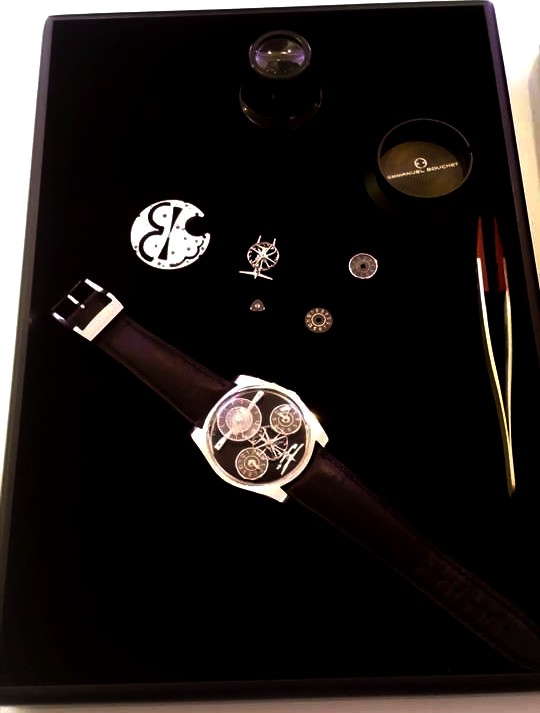 For more info, please visit emmanuelbouchet.com
Pages: 1 2

Jonathan Kopp – Contributing Writer
Jonathan Kopp has an avid enthusiasm for timepieces of all genre, from vintage timepieces to modern Luxury Haute Horology. His preference goes to small and independent high-end watchmakers. He loves the difference rather than classicism, although if he admits to being in love with several ultra-classics pieces. Jonathan was caught by the passion for watchmaking there are almost 6 years. For about 5 years, he wanders in this industry and was Communication-Marketing-PR Consultant for several brands. He has worked for over 2 years as a freelance for the development of the Swiss brand Arthur Oskar Stampfli (AOSWatches). To keep in touch with Jonathan you can follow him on the various social networks: Instagram, Facebook and Twitter. Read his articles here.