Ever think of being captivated by a ninja move? Who hasn't seen any ninja movies, anyone? If you haven't seen any, you are probably liying to the teeth, come on those movies are truly inspiring in some sense like a gateway towards an escape, at least for me that is what happens every time I think of karate stuff.
Now, how would you like to go beyond the screen experience to actually having a piece of karate inspired stuff right there in your wrist? Isn't it awesome, if by now you're not slightly excited, I can't think of you as a human being, nah – just kidding.
The Hartig Timepieces are one of a kind and the creators made sure that they have infused their interests on their creations. Honestly, I'm very much fascinated by their ingenuity to figure something quite this spectacular.
Although these watches may not make a dent in the high end watch world where fanatics prefer class and the uber-priced magical technical prowess of the timepiece grandmasters, Hartig surely knows where to strike with an excellent precision. The watches are actually pretty attractive and highly classical in some sense.

I love the colorful schematics and it takes quite an inspired artist to infuse ninja inspired designs to a wristwatch. The reason why I asked if you know some ninja moves is that you're going to love Hartig watches if you're into that stuff. I sure love ninja stuff and the choices of colors and the overall design simply kicks up my interests for something kick-ass. You may not agree with me if I took one of these in a formal occasion especially with some expensive tuxedos and fancy cars where the other timepieces make sense but aren't you at least tempted to go against the crowd and explore something new? That's the idea behind the creation of Hartig Timepieces. I love the idea and I can't seem to stop being interested with these fancy watches.
The dials are amazingly designed and if you really look closer, you'll notice that the watch is pretty much solidly built with the signature of an elegant creation. I see this watch used mostly by young ones though and some really cool guys with a weakness for awesome stuff.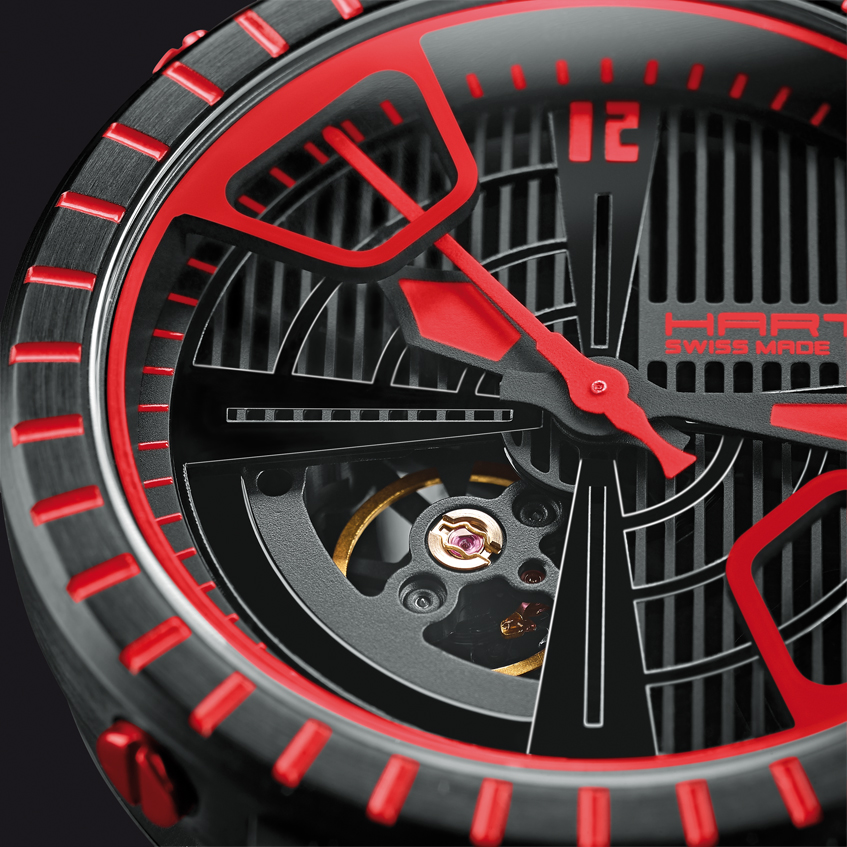 Where it took inspiration, it also fortified with select materials such as utilizing a 40 mm black ion-plated(IP-coated making it even more impressive)high-grade steel 316 l casing. Hartig used sapphire glass on both sides allowing you to appreciate what makes the watch tick both from the front and the back views.
What powers the timepieces is the impressive IT10 movement based on Unitas 6497–1 with a power reserve of over 36 hours, that's a serious feat right there. It is also water resistant up to 50 m or 165 feet.
Now the bracelet is just as impressive as the general appeal of the case and the dial plus the awesome blend of colors. The massive high-grade steel bracelet 316 l is simply stunning and it also comes in black IP-coated design. It has a double folding fastening making you move slickly just like a ninja. For more info, please visit hartig-timepieces.de
Jovan Krstevski – Founder, Proprietor & Executive Editor
Watch collector, aficionado and a Event profile in the Swedish nightlife. He launched Watchgeek back in 2011, which is now known as WristReview and is one of the most widely read watch blogs on the Web. He quotes 'WristReview is a site to help people find, explore, discover and enjoy wristwatches.'  His passion jump started in his early teens, when he was given his first mid-range wristwatch which was an Omega Seamaster. Since then he has always been in love with wristwatches! Besides WristReview, he also writes for a number of publications. P.S: He is also a huge fan of The Man of Steel/Superman. Read his articles here.