Born in the United States of America is OX OCEANIX, a brand-new watch company. As a watch enthusiast/journalist, seeing a brand-new watchmaker emerge is always a pleasure; one that adapts the norm along the way is even more exciting.
Joseph Bolart
OX OCEANIX was founded by renowned watch collector, connoisseur, scuba diver and all-around professional Joseph Bolart, who, like so many of us, was bitten by the horological bug at a young age. His history and involvement in scuba diving, which is considered an extreme sport by most, ultimately led to the foundation of OX OCEANIX and the creation of their very first timepieces.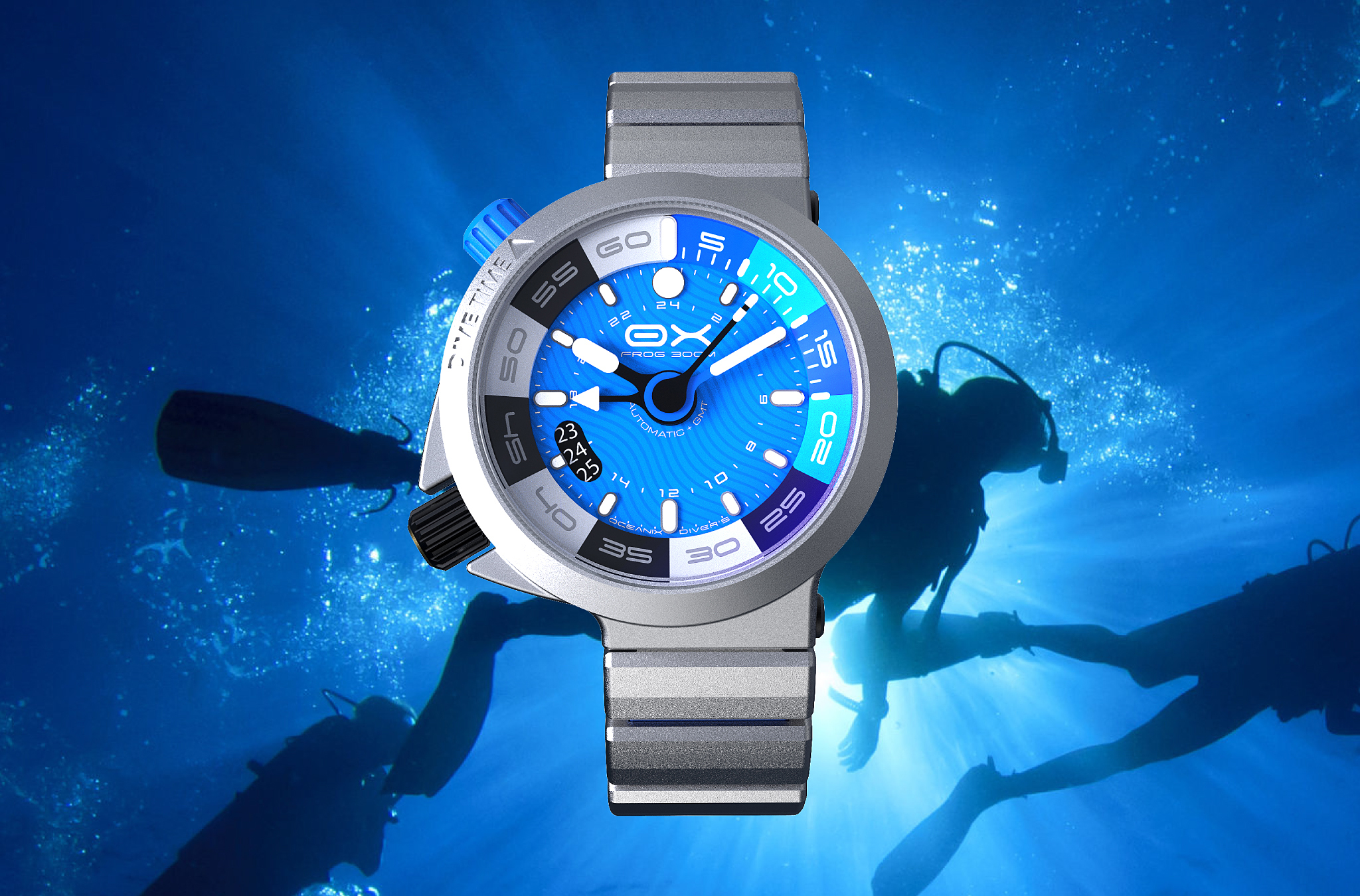 Three years of development have created the FROG300, a watch targeted at all scuba divers but with a particular lean towards the professionals. That lean is quite evident from the design. The case is quite chunky in its design at 45mm x 15.8mm but with an impressive lug-to-lug measurement of 42.9mm. The watch is also offset on its strap to aid in wearability, and it's designed to be worn all day above the surface and up to 300m below. A helium escape valve for saturation divers is also included.
You might be thinking that it's gonna be a workout wearing it all day, but evidently, OX OCEANIX has thought of that already, as the FROG300 is made of grade 4 titanium. Grade 4 titanium is the strongest 'pure' titanium around, grade 5 which is most commonly used is an alloy of titanium and aluminium typically. Grade 4 is workable and is often used in surgical applications for its strength and durability, making it perfect for this application. The strength is one reason why people love titanium watches, the other main reason is its lightness. Combined with its rubber strap, a FROG300 watch weighs 112.5 grams, much lighter than any dive watches we've measured. There's also a special watch made of a unique blend of 18k gold and grade 3 titanium. This one weighs 153.2 grams but does feature the same hardcore sandblasted finish.
The party's just getting started here, as it's the colour combinations of straps and dials that ultimately make the FROG300 stand out. OX OCEANIX's catalogue currently shows seven different variations of the FROG300. All have unique dials with different colours and finishes to suit your wildest dreams. What connects them, though, is the functional design.
Under the anti-reflective-coated sapphire crystal sits a dial that is incredibly readable from any angle. While a scuba diver these days will be equipped with at least one dive computer (and possibly more), a reliable and readable mechanical diving watch will always be a great fallback, and you can never have enough of those when diving. That means the dial is extremely clear. Each of the four hands on this GMT diver has a different shape, and the SuperLumiNova applied to each hand is also uniquely shaped so you can easily determine the time in total darkness. The inner-rotating diving bezel is controlled by the blue crown at 10:30 on the case, its design protects it from accidental knocks, which could put the diving time out, but this patent-pending design has a locking system as well. It can also be adjusted underwater.
The safety features of the FROG300 don't stop there. A major selling point of the new watches is the inclusion of the patent-pending ID+Sys. This consists of a unique NFC chip in the watch and specialist software developed by OX OCEANIX. iPhone users will know that Apple takes healthcare seriously; it has a vested interest in keeping its customers alive for as long as possible. One way it's worked on this is the storing of the phone owner's essential health data, which can be viewed from the lock screen by paramedics and even transmitted through the cellular network to the operator in some cases. Instantaneous access to vital information is crucial to saving lives.
The problem is your phone isn't likely to be with you when on a deep dive. This is where ID+Sys comes in. By sharing as much health info with the database as you're comfortable, you're adding an extra layer of safety should the worst happen. A simple tap on the watch will display your vital information to rescuers, and because it doesn't require a battery or cellular signal to work, it's undoubtedly very reliable. The chip that stores your data is also user-removable and the reason is that the disc, due to security and legal regulations, is not rewritable. It's very easy to replace it with a new one containing updated data, which the properly identified owner must input at OX Oceanix website.
Another reliable component is the customised self-winding True GMT 9075 MIYOTA (Citizen Movement Division) calibre, a traveler's GMT that features the jumping hour hand functionality. It has 24 jewels, a 4Hz beat rate and a power reserve of 42 hours. Accuracy is within +15/-10s per day, and it's not visible through the caseback on the current model. The watch is assembled at OX OCEANIX's specialist workshop in Hong Kong.
Additionally, all the watches come with a high-quality rubber strap with a nylon "Cosmoband" strap becoming available soon; they also all come with a lockable security clasp.
In terms of availability, deliveries are expected to begin in 2024. Pricing for five of the models is $1,430, including taxes, rising to $1,560 for the NASA version (a tribute to the upcoming Artemis moon mission and the team behind it). The gold version is priced at $9,100. For boutique brand pricing that's excellent, and reflects the overall ambitions of OX OCEANIX.