You may remember some time ago the DateJust was shifted over in the range as the dress watch of the collection when Rolex unveiled the new round cased Cellini line. The Cellini prince wasn't exactly the big success they were hoping for, but let's not forget this was the time when A.Lange & Söhne's Cabaret and the eponymous Jaeger-LeCoultre Reverso were all the rage in the world of dress watches, and I know which I'd rather have. Nevertheless, Rolex showed us its new dressy pieces which were met with some raised eyebrows of curiosity, and now they've come back with an updated model.
Just like all Rolex watches it's all about innovation that's stretched over a period of years. This is their second crack at the round and subtle dress watch and it certainly does look the part. Rolex has re-engineered the lacquered dials with 12 elongated appliqué hour markers.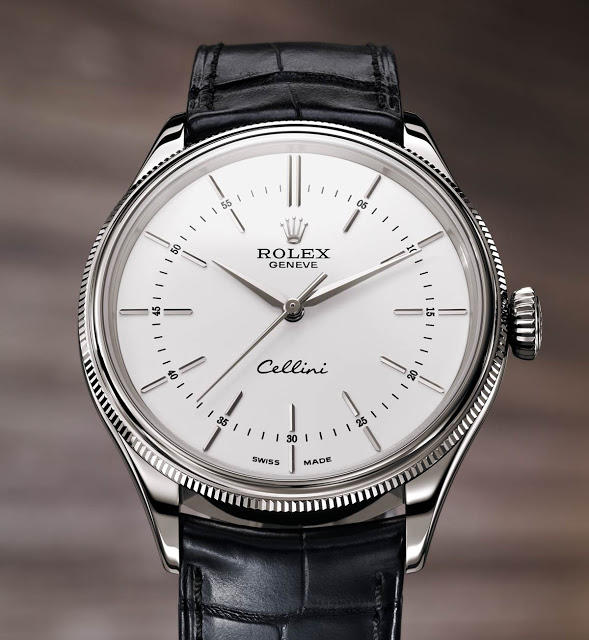 The Cellini collection celebrates the eternal elegance of traditional timepieces with a contemporary touch. As with the previous Cellini collection, the new one is also split into three different tiers of complication if you like to see it that way. The first is the super simple Cellini Time watch which has only three hands, the essential hours, minutes and seconds, it's as if nothing except the present is important with this one!

The next is the Cellini date watch which has a unique take on the simplest of complications. Normally the date function is made up of a rotating disc hidden under the dial that can be viewed through a small cutout. If you're feeling a little more adventurous with your watch hunt you might consider one with a big date, sometimes known as a multi-window date or by A.Lange & Söhne as an Outsize Date which makes use of 2 date wheels instead of one. The Cellini Date uses a rotary date indicator, which, in a way is a better classical touch than a normal date window as it's obvious on the dial yet the fact it moves when you're asleep at night means it's sedate as well.
The new Cellini Dual Time uses the same layout as before with a second set of hour and minute hands located in a subdial at 6 O'clock. At the 9 O'clock position on that subdial is an extra little touch in the form of a day/night indicator which is sure to have diehard Rolex fans raving, it's been a while since we've seen something like this on a popular Rolex watch. As with all Rolex watches this new Cellini range has received the Superlative Chronometer rating, meaning that the Cellini range will run between +2 seconds and -2 seconds. The watches are available in 18K Everose or white gold and come with many different dial variations, my favourite is the 18K white gold date model with the blue dial and strap, a much-needed touch of colour in today's drab business world! For more info, please visit rolex.com
HARLAN CHAPMAN-GREEN – MANAGING EDITOR
A keen bass guitar player, Harlan enjoys all the perks modern watchmaking technologies the industry has to offer. Although you might catch him sampling Omegas or the "odd" Rolex, Harlan loves all things Haute Horology, with his three favourite brands being Breguet, A.Lange & Söhne and Vacheron Constantin. He hopes to study timekeeping more in depth someday and will never be able to thank his father enough for introducing him to the industry. You can follow him on Instagram Read his articles here