It seems that 2020 has been the year brands use to release as many things as they can. In all fairness, with everything being how it is, I'm not surprised. These guys need to stay relevant, and in Chopard's case, they need to pay the bills. That's why we're unveiling to you another version of their integrated bracelet smart/casual sports watch, the Alpine Eagle. It was about this time last month we showed you their new chronograph version, this one doesn't have a chronograph but is still a unique model in the range.
It's not uncommon to see brands work with retailers and produce a special edition version of a watch just for that retailer to sell. We all know how popular Tiffany dial watches are, right? There's also multi-brand dealers like Bucherer which collaborate on special blue-themed watches which match the blue colours used by the Bucherer brand as well. This new Alpine Eagle is here to mark Chopard's presence in the Wempe boutique on 5th Avenue in NYC, which is celebrating its 40th anniversary this year.
To mark the occasion, Chopard has gussied up its time only Alpine Eagle with a new colour scheme. The dial is a bright silver colour which Chopard calls "Vals" grey and features the unique spiral guilloché pattern of the other models. The hands are blue now, as are the markers applied to the dial and printed on the chapter ring. I would like to have seen the blue used for the numbers on the date window; I think that would have made the dial a little more coherent. But, otherwise, it's a great design on the front. To remind you this is a special edition watch, the Wempe logo has been printed at the bottom, it doesn't have the same pull as the Tiffany logo would, but it's still a prestigious name in luxury retail.
The 41mm case remains unchanged from the other time only Alpine Eagle models. It's been crafted from Lucent Steel A223, which is a proprietary blend of metals that Chopard is keeping a secret. What Chopard has told us, however, is that 70% of the steel is recycled and the other 30% is sourced from 100% traceable roots. It's also much harder and more resistant to scratches than standard stainless steel and features a unique crystalline structure with a high level of purity that means the metal reflects light in a way more similar to gold (if you didn't know, gold has didn't know, gold has a different lustre to steel which means it reacts to light differently). For a more in-depth look on this, check out the review on the watch by our columnist Mark by clicking here.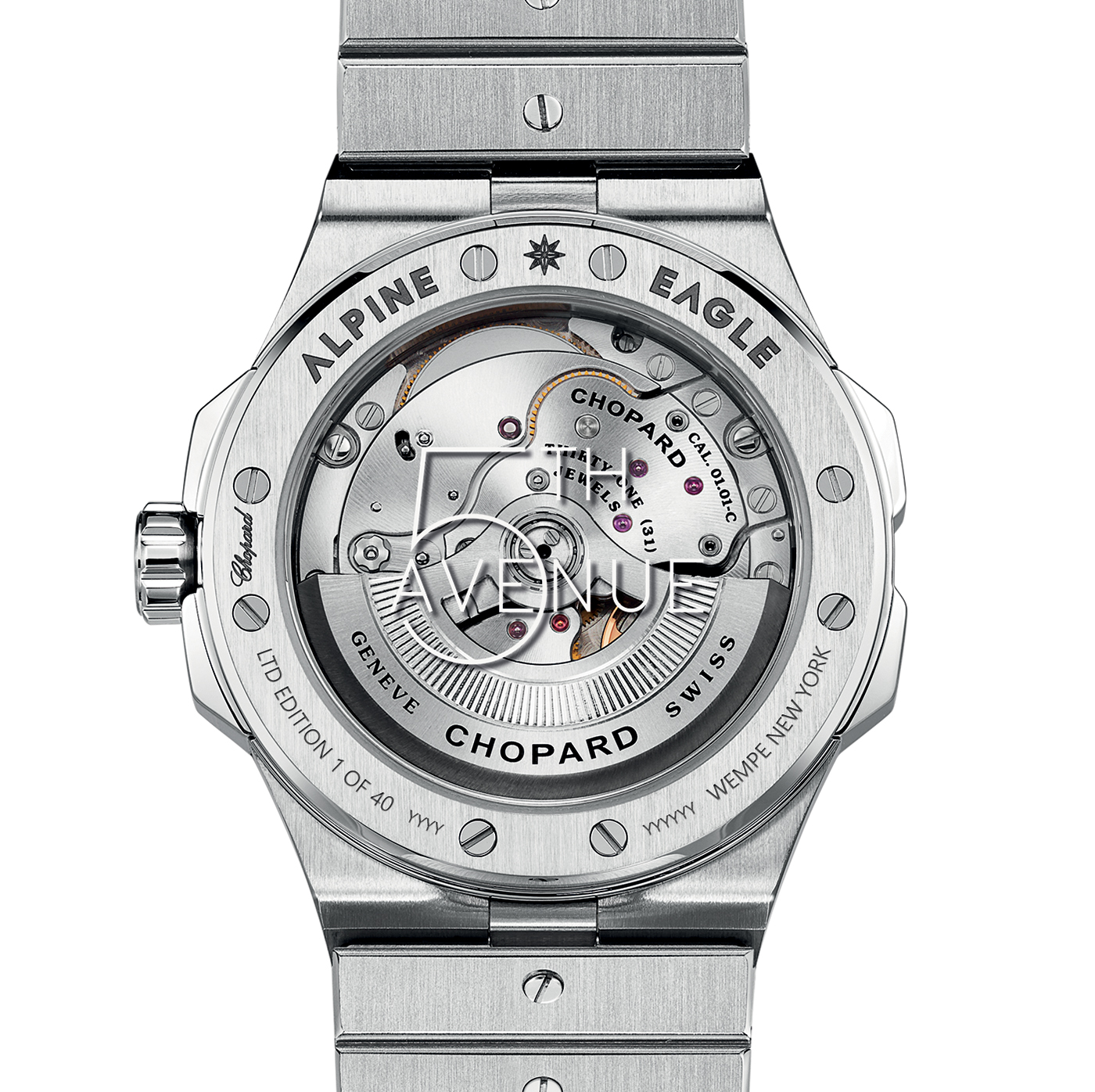 Inside the watch is the same calibre 01.01-C as the standard Alpine Eagle and other models from the Chopard range. It's good for 60 hours of run-time and has a 4Hz beat rate, as well as high-quality finishing. There's not much in the way of the traditional stripes as you'd find on other Swiss watches, but this finish is still contemporary and attractive when viewed through the caseback. What's not so attractive is the big '5th Avenue' logo printed on the crystal, there's already an engraving on the caseback here, I'm not sure why Chopard needed to print that again, but at least it doesn't obscure the movement too much.
If you want one of these they're available through Wempe boutiques for a price of $12,900 and only 40 in total will be produced.
Visit Chopard here.