Regulator watches are a relative oddity in the watch world. They split the elements of the time up across the dial, with the minutes taking up the entirety of the display and hours and seconds having their own subdials. The theory is that the thing you'll probably find most important is the display of the minutes, most people generally have a good idea of the hour thanks to their body clock and, well, people just don't usually time things down to the second in their daily lives. 
That presents a challenge for the watchmaker as it requires a few extra gears and a new design for the dial that remains balanced, which is why only a few high-end brands tend to bother with the regulator layout. But, not everyone can afford a Patek Philippe or an L.U.Chopard, so, Chronoswiss took it upon themselves to change that. So far, they've been successful, too, in fact, the Regulator design has become one of their most notable over the years.
The new Carbon Racer model attempts to bring some sportiness to the Regulator watches, which tend to be a little more reserved and a little more dressy. The steel case is 41mm in diameter and 12.7mm thick, it has been polished and also knurled on some edges to give it a luxurious and yet racing feel. The only thing that stands out for me here is the crown, and I'm not sure what the design of it is supposed to be precisely, it's similar to an onion crown except its the wrong way up, they tend to get thicker towards the edge for ease of use. I think it's the only part that doesn't fit in this instance. The three-link bracelet features a brushed centre link and polished links either side; it seems nice but doesn't jump out. There is a black rubber strap as an alternative, though.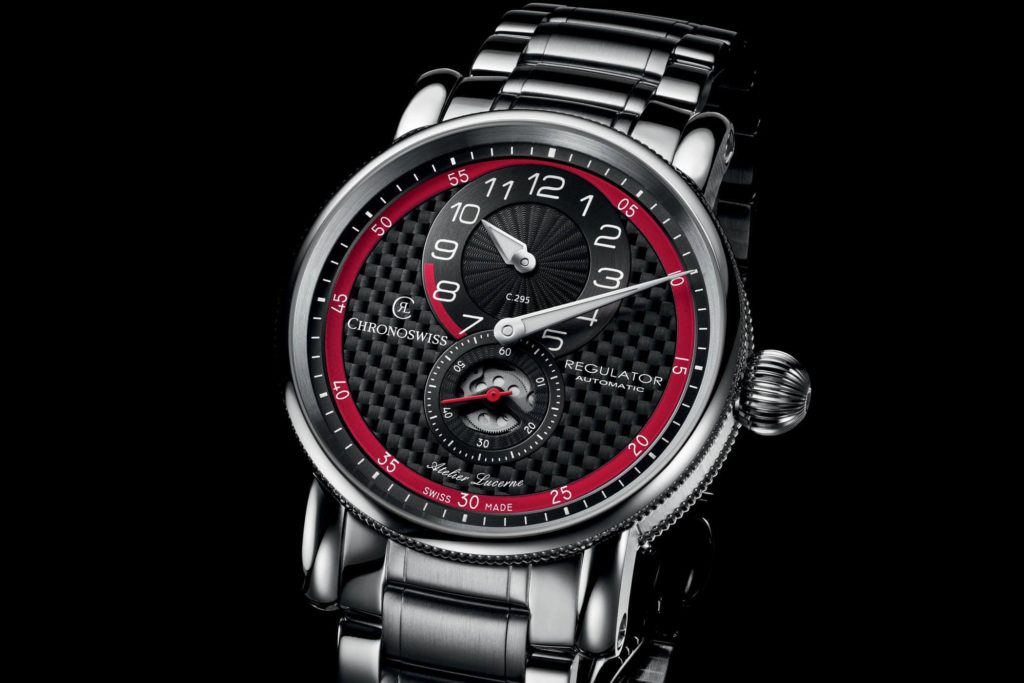 The black carbon fibre dial looks attractive on this watch, and it contrasts with the red details such as the minutes track and the seconds hand very well. There's also a sunburst guilloché on the hour subdial to add a distinct flair. Both the hour and minute hands also have a lume coating.
Inside is an ETA based movement with Chronoswiss' proprietary in-house made regulator module on top. It's automatic winding and a beat rate of 4Hz and a power reserve of 42 hours. It also has a hacking seconds feature. The total cost of the watch is CHF 4750.
Visit Chronoswiss here.