The company that shares its name with a county in the United Kingdom but so far as one can tell has no other connections to it is of course Yorkshire. No, wait, that's not right. Derbyshire? Kent? No, it's of course Devon Works. Now, I love the county of Devon, it's next to Somerset so it's easy to get to, has spectacular beaches and amazing views. The Devon Works Star Wars is a watch that also looks pretty amazing.

I'm going to just come out and say that I'm not a big fan of the Star Wars franchise (I'm a self-confessed Trekkie), I don't dislike the movies but I've watched them all several times and some drag on a bit more than others. You can't argue with the special effects in the series, though, and it looks almost like George Lucas' company Industrial Light and Magic had some input into this watch. And that's because Devon Works has collaborated with the makers of Star Wars to bring you this unique and stealthy looking watch.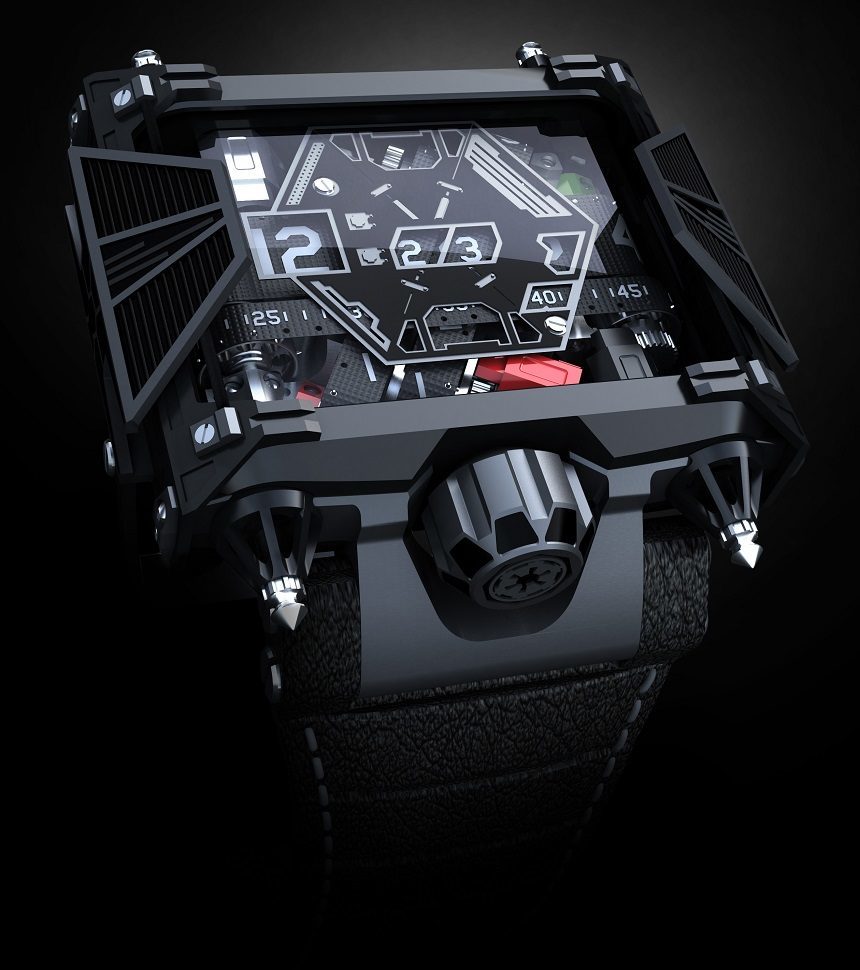 Here's probably what you want to know the most: the Devon Works Star Wars watch was inspired by Darth Vader's Tie Fighter, as well as the Sith Lord himself. The biggest clue to this is the case shape, as Vader's Tie Fighter has angles in its "wings" while ordinary Tie Fighters do not, these "wings" have become a part of the watch case and run along the sides of this rectangular piece. The watch is also Darth Vader's apparent favourite colour: black, using this colour Devon Works have made a watch which (thanks to the decorations) would look gaudy in pretty much any other colour look sublime yet menacing too. This is accentuated by the coloured parts of the movement motors inside the watch which represent the switchboard inside the Tie Fighter. If you look closely you'll also notice that the spikes on the ends of the watch match the futuristic screws of Darth Vader's helmet. The crown of the watch is on the end of the watch rather than side, to accommodate for those lovely side plates, it's had the Imperial Crest engraved onto it for that little extra touch of evil.
The Devon Works Star Wars watch is based upon Devon's Tread 1 watch and most importantly is no different to it technologically. That means it still has 350 parts with 4 unique Time Belts and 4 micro-step motors. The watch will run for two weeks before its batteries need to be recharged, so it'll last longer than a normal mechanical watch but not as long as a quartz yet as long as it's charged it'll have the same degree of accuracy. It's definitely a different way of looking at how a watch should be on the inside.
Tie Fighter cufflinks
If you're a mega fan of the watch already then you'll be delighted to hear that there are also limited edition cufflinks coming along too, they consist of a small black cylinder with the Imperial Crest on and Darth Vader's Tie Fighter's wings on too. The Star Wars watch will be available in only 500 pieces, at a retail price of $ 28,500 and will be delivered with a matching set of Tie Fighter cufflinks.
For more info, please visit devonworks.com
HARLAN CHAPMAN-GREEN – CONTRIBUTING EDITOR
A keen bass guitar player, Harlan enjoys all the perks modern watchmaking technologies the industry has to offer. Although you might catch him sampling Omegas or the Rolex, Harlan loves all things Haute Horology, with his three favourite brands being Breguet, A.Lange & Söhne and Vacheron Constantin. He hopes to study timekeeping more in depth someday and will never be able to thank his father enough for introducing him to the industry. Read his articles here.