Finally, a new timepiece from SevenFriday. Personally, I was afraid of what they were going bring out, but the Swiss brand created in 2012 comes back in the market with a very astonishing piece.
Why was I afraid? Simply because the first model, which hit the world of watchmaking, began to falter and, in this case, it's very difficult for a young brand to innovate and prosper while offering something new for a good price. Well, it's a young brand for sure but today it's available in no less than 88 countries through more than 550 retailers. That's quite impressive.
I have to try it in the metal to get a real opinion because it seems complicated.
SevenFriday comes with a completely new case shape and an unusual way to display the time. The case made in stainless steel with sunray brushed or vertical sunray brushed top bezel, measures 49.7mm in height and 44.3mm wide, with a thickness of 11.3 mm it looks big. But the V-series watches don't have lugs that go out of the case, instead the strap is attached just under the edge of the case.
At the heart of the timepiece, we find the movement to be a Miyota 82S7 that has 40H power reserve. When you look at the dial side of the piece it becomes complicated and it can give you a headache! You have a 120° angle hour reading with «additioner» principle and a turning central disc «0, 4, 8» to be added to fix «0, 1, 2, 3, 4» scale… Did you get that?
In other words, you have the static hour markers to from 0 to 4 positioned between the traditional 11 and 3 O'clock positions, and a central disc that "adds" hours to the 0-4 scale. A real Chinese puzzle and you will probably have difficulty trying to understand everything. On this dial you will also find a classic minutes hand, a day/night indicator (at 9 O'clock) and a small second indicator.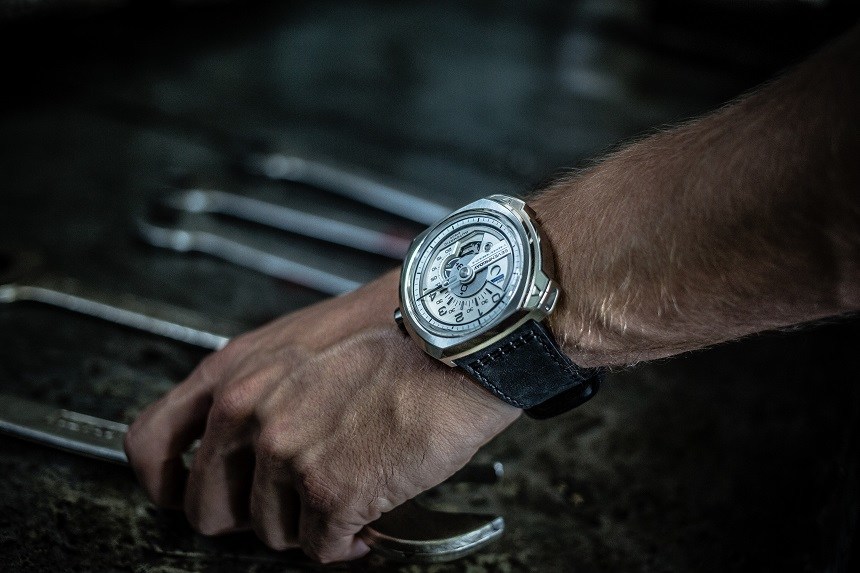 Talking about Chinese puzzles, I really appreciate that SevenFriday chose to be honest about the origins of the watch, marking the info on the caseback. This info is linked to a world map via a near field communication (NFC) chip. Thanks to the SevenFriday application on your smartphone (available by the end of September.), the NFC chip can be read and the watch authenticated as long as your smartphone has NFC capabilities. The owner of the watch can also register the timepiece, as well as sign up for other after-sales services, now that's clever!
A really useful patent on this watch is the Fast Strap Changer (FSC) of the V-Series timepiece. A little button is placed at 9 and 7 for the FSC. The button of the FSC is spring loaded and secures the tip spring bar, so pressing the button causes the spring bar to pop out. Putting it back in is equally simple, with a channel milled into the underside of the lug that guides the spring bar back into place.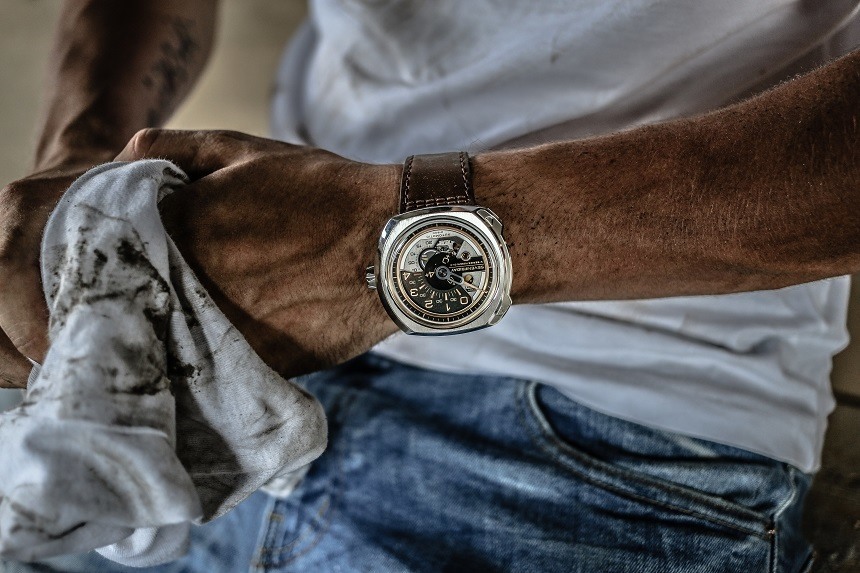 To conclude we get a brand new case shape, a new visual complication or way to read the time, a fast strap changer and an embedded NFC chip that allows authentication of official SEVENFRIDAY watches by consumers and retailers.
I seriously need to try it to get a real opinion of this piece because at first glance it's not for me.  When you talk about watches you might want something that is easily legible at a first glance. And here, it is not the case, so it bothers me a little. The really cool side is that we have with this piece an unconventional design and an elaborate dial, and the whole for an affordable price at about US$1000.
So if you have the money and look for a previously unseen way of telling the time then go for this new SevenFriday V-Series.
For more info, please visit sevenfriday.com

JONATHAN KOPP – CONTRIBUTING WRITER
Jonathan Kopp has an avid enthusiasm for timepieces of all genre, from vintage timepieces to modern Luxury Haute Horology. His preference goes to small and independent high-end watchmakers. He loves the difference rather than classicism, although if he admits to being in love with several ultra-classics pieces. Jonathan was caught by the passion for watchmaking there are almost 6 years. For about 5 years, he wanders in this industry and was Communication-Marketing-PR Consultant for several brands. He has worked for over 2 years as a freelance for the development of the Swiss brand Arthur Oskar Stampfli (AOSWatches). Read his articles here.