The Vacheron Constantin boutique wasn't the only place I visited in London while I was there. Across from Vacheron on Bond Street is another top brand in the world of horology and I have to say a new favourite of mine, Jaeger-LeCoultre. Today we're going to be taking a look at my personal favourite sports watch (alongside the Breguet Type XXI).
Where on Earth should one possibly start with a watch like this? At a first glance it's clear that this is no ordinary skeletonised sports watch, there's something else going on here.
At a first glance…
The Jaeger-LeCoultre Master Compressor Extreme Lab II is an impressive looking watch both on and off the wrist. It's large case diameter of 46.8mm makes it stand out among the other watches in the boutique. The fact that the case is two tone between silver and black only serves to pique the interest of the customer. The Jaeger-LeCoultre went that little bit further and added small touches of blue here and there all around the watch, adding just that little bit extra visual impact when you see it. The black elements of the case have been given grips in the form of lines at an angle and the crown has the same design on it, making the watch look industrial yet still keeping the sophistication of Jaeger-LeCoultre.
It starts with touch…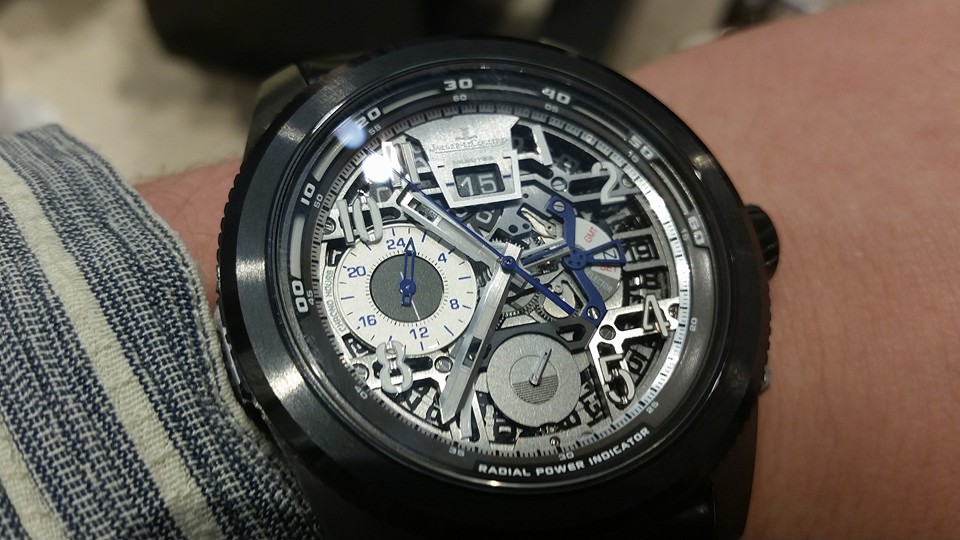 In the hand, the watch is impressively light for its size. You'd think this being a sports watch that the watch would be super heavy, given the amount of metal used in the case. The case itself is made of titanium with black ceramic inserts on it, I generally dislike the feel of titanium in a watch, in other watches such as the Omega Seamaster Planet Ocean Chronograph, it's just a little light and tinny feeling for my tastes. This is not a Planet Ocean, though, I think that the movement is quite heavy as I was surprised to learn that the case was indeed titanium, it felt quite heavy like steel! Place the watch on your wrist and you'll notice a few things almost immediately. First off is the strap, it's a very wide combination of blue rubber with black leather on the outside with blue stitching, it's so wide in fact that there's two pins for the buckle instead of one. After that, you'll notice that the strap isn't free moving like on pretty much every other watch on a strap. That is, the strap clicks when you move it to fit your wrist, this extra little touch may not really do much to aid in security, however it does show that Jaeger-LeCoultre focuses on the smallest details. The next thing is that the watch is surprisingly well fitted to most wrists despite being near enough to 47mm in diameter. The thick security fasteners over the chronograph pushers really don't add much to the size either. The dial is also pretty legible too, however I should point out that it takes a little while for you to grasp the layout of all the little parts as they do tend to get lost in the skeleton dial.
Looks are nothing without mechanics…

The movement in the Jaeger-LeCoultre Master Compressor Extreme Lab II really is a marvel to behold. You can see some of it through the dial, but if you turn over to the back you are greeted with a square window beyond which lies the movement. Why Jaeger-LeCoultre decided to go with a square I really have no idea, however, you still get a great view into the movement thanks to the skeletonised rotor. The movement in the watch is subjected to the most gruelling testing process it's possible to put a watch through, the 1000 Hours Control. Jaeger-LeCoultre won't let any watches out into the big wide world until they have passed this. The company literally tests its watches for 1000 hours straight to make sure they don't break or severely lose time. Another interesting point about the movement is the way it's made. It uses a lot of modern watchmaking materials and a secret non-oil based lubrication method to keep all the parts running smoothly, this means that, as long as you don't subject it to extreme impacts, the watch will theoretically never ever need to be sent back to Vallée de Joux for a service. It's a pretty big claim.
It all comes down to this…
Would I recommend you buy one? Personal tastes aside, absolutely. Jaeger-LeCoultre has made movements for all three members of the holy trinity of watch manufactures, proving they have what it takes to make fine watches. If we bring back personal taste it might be a slightly different answer, though. Close friends of mine have remarked that it looked quite like the Hublot Big Bang Unico watch, although I can see where they are coming from, the chronograph and the GMT functions are discreetly placed and accentuated by colour. Also, the watch is still large, despite it fitting my wrists perfectly. The drawback of the watch is the cost, it's $55,000 new. Some people who want to spend that kind of money on a watch might well like some gold in the case, in which case they may well opt for a solid gold Submariner or Nautilus, however this is missing the point of the watch. It's an experimental sports watch, Jaeger-LeCoultre is offering concepts for sale, and concepts generally aren't cheap.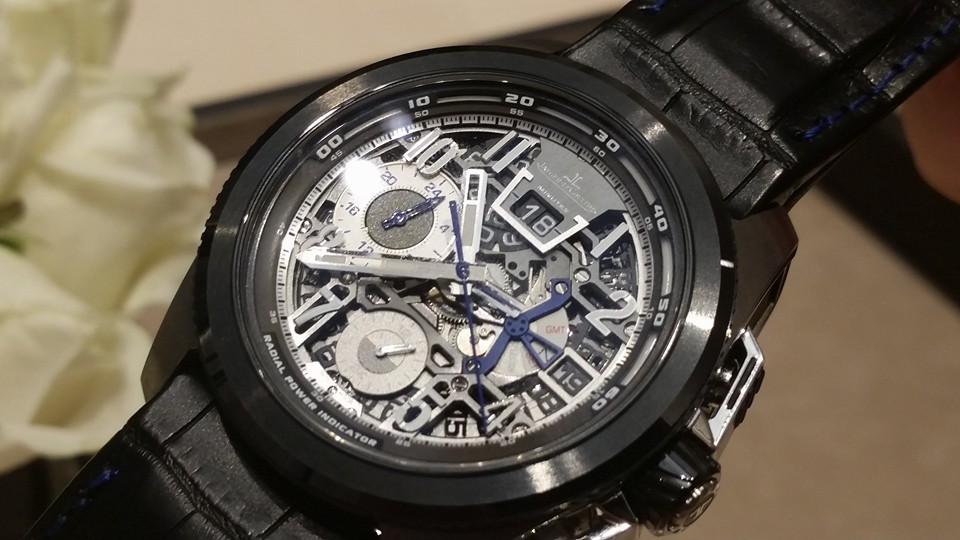 I'd like to finish by stating this: I'm a right handed person, I write and wear my watch with pride on my right wrist, however in the photos I am wearing it on the left, this is due to the fact that my right hand is dominant, and therefore, better for holding the camera with, hence my left being used for trying on watches. However, what I didn't shoot was that I also put this watch on my watch-wearing wrist, the wrist reserved for pieces I really love as well as my own. I cannot offer higher praise than that, that's how well the watch speaks to me.
For more info, please visit jaeger-lecoultre.com
HARLAN CHAPMAN-GREEN – CONTRIBUTING EDITOR
A keen bass guitar player, Harlan enjoys all the perks modern watchmaking technologies the industry has to offer. Although you might catch him sampling Omegas or the Rolex, Harlan loves all things Haute Horology, with his three favourite brands being Breguet, A.Lange & Söhne and Vacheron Constantin. He hopes to study timekeeping more in depth someday and will never be able to thank his father enough for introducing him to the industry. Read his articles here.