We were sitting around spinning on our spinney chairs in the WristReview office the other day thinking of something to write about. Apart from one or two brands, no one has released news ahead of January's SIHH show in Geneva, so there's not a huge amount to discuss, so we did a bit of thinking (dangerous, I know). One of the big topics that's on the news frequently is the topic of Great Britain leaving the European Union, a complicated and confusing process known as 'Brexit'. You wouldn't think that this would be the ideal inspiration for a wristwatch, but someone at Graham watches clearly has a sense of humour as that's exactly what they've made, a Brexit watch.
The name Graham comes from the English clockmaker George Graham and is very historically significant regarding horology. Graham was already a practical and very well trained clockmaker by the time he met Thomas Tompion, who took a shine to him and later employed Graham. Graham would go to take the reins of Tompion's business after his death in 1713, and he spent quite a bit of time perfecting Tompion's cylinder escapement and the early form of deadbeat seconds Tompion was working on. Finishing other people's projects wasn't Graham's only success, though, he is also well known for inventing the temperature compensating mercury pendulum, this combined with the deadbeat seconds system made Graham's clocks some of the most accurate timepieces for more than 150 years.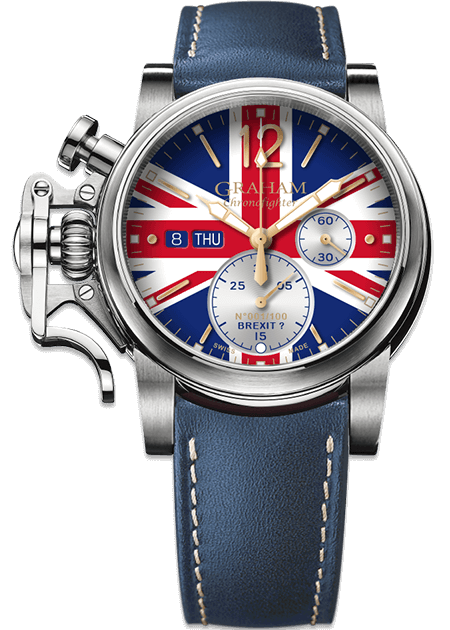 Nowadays the Graham company doesn't have all that much to do with George Graham, apart from the name and their more complex timepieces. Still, they are a cool watch and offer a unique look, and have become well known in their own right thanks to the 'hand-grenade' style fast action start crown system. The actual base for this UK edition is the Chronofighter Vintage watch, so it gets all the mod cons like Graham's calibre G1747, based on an ETA movement, that runs at 4Hz for 48 hours before needing a rewind. The watch features a 30-minute chronograph operated via one pusher, as well as a day-date display. The movement also has 25 jewels, Incabloc protection and is certified Chronofiable. The case is a hefty 44mm in diameter and made of steel. Water resistance is 100m.
The dial is the unique part of the watch, instead of having a more traditional brown or blue dial, the watch has the Union Flag on it, the official flag of the United Kingdom and the most recognisable flag around. Yet, this isn't celebrating a world-renowned rock band such as the Rolling Stones or a British innovation, it's actually marking the event that could change everything (at least for Europeans), Brexit. To make this known, and to add a little humour, the chronograph subdial has the word 'Brexit?' written on it. This is not so much an indication of the company's standing on the topic, I commend them for staying neutral, but instead, it echoes a lot of people's worries. "Will Brexit ever happen?" is a big point of discussion, from the European side it seems like Britain wants the best without actually being in the EU, and on the British side, it's more about why the EU appears to be unnecessarily hindering the process. It's still a big topic, but there's not much time left before the day finally arrives. I wonder how many Brits will be rocking this watch on the day? There's only 100 pieces anyway, as it's a limited edition
Hey, look at that, we managed a political article without mentioning Donald Trump once. Oops. Visit Graham Watches here.