Unbelievably the Paris 2024 Summer Olympics are right around the corner already. Sure, they seemed to creep up quicker this time because the gap between the games is actually smaller than usual thanks to Covid-19. Weirdly, to me, it doesn't seem that long ago that we had London 2012 which, as far as I am aware, is currently regarded as the best modern Summer Olympics to date. 
The imminent arrival of the games means that not only will all the athletes be doing their final preparations and training but all the corporate partners will soon be releasing their merchandise. That is, unless you're Omega, the official timing partner of the games, which has already released its first official piece.
The Seamaster Diver 300m in its current form has been around since the late nineties and it's that version that's stuck in everyone's minds. The old Seamaster 300m with its wavy dial and iconic bezel shape just worked. It's why Omega brought that shape back for the latest generation. Less is said about the number of variations of that old Seamaster though, one that sticks in everyone's heads is the two-tone steel and gold piece.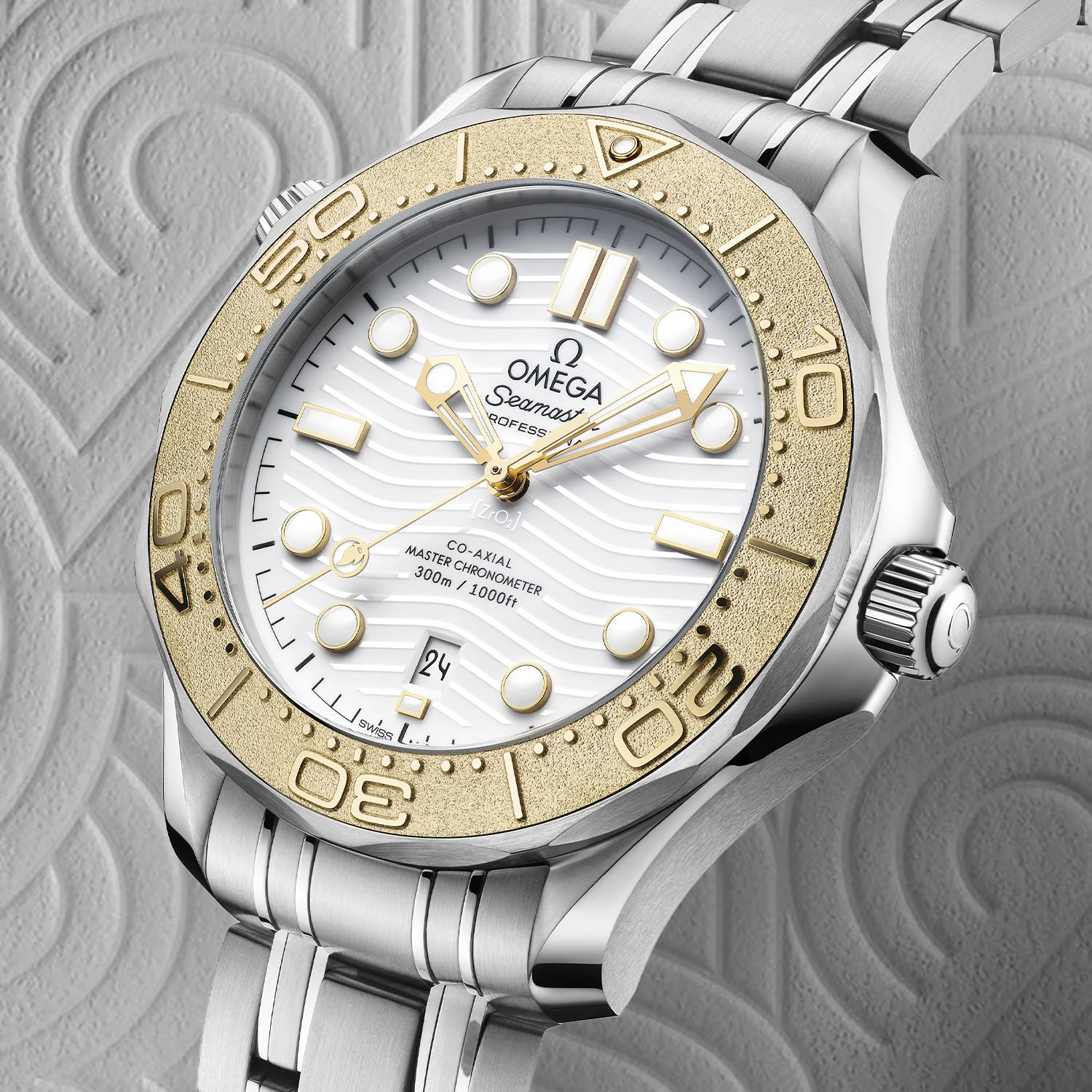 For the Paris 2024 Olympics edition, the two-tone theme returns in a more familiar format. Yes, there are two-tone versions of the Diver 300m on sale already, but they have blue dials and ceramic bezel inserts. This one has a creamy white dial with contrasting gold hands and markers, there's a small Olympic torch design (the logo for the 2024 games) within the seconds hand that looks super cool. There are other cool details here but they're harder to see. For example, the waves of the ceramic dial are polished, and the gaps in between are matte, which is reversed from the regular watches, and the Paris 2024 font is in use in the date window.
The bezel is also looking smart as it's made of embossed gold on a grainy backdrop instead of ceramic. It would have been nice to see Omega go all the way and add gold to the bracelet and the crowns, but this is good. I'm still convinced that the helium escape valve looks like a brain slug from Futurama here, but it is pretty iconic.
Inside the watch is the in-house made self-winding calibre 8800 with 55-hour power reserve, 3.5Hz beat rate and the Co-Axial escapement Omega is known for.
This watch isn't limited in the amount Omega will make, but it is limited in that you can only buy it from retailers and boutiques in Paris. It's also expensive at EUR 8,900/CHF 8,200/USD 8,700, but it looks great. I hope a regular version in this colour/metal scheme will be along soon, I'm excited to see what the next Paris 2024 special edition will look like.