Of all the people to do a diving watch, Ulysse Nardin was not what I'd expected when I fell out of bed this morning. I mean, they have done them before, they also do other sporty kind of watches but those are usually associated with riding above the waves upon millions of dollars worth of yacht, not snooping around looking for lost treasure on the sea bed. However it's important to note that this more vintage inspired style of watch has been picking up in popularity over the past few years with companies like Blancpain, Jaeger-LeCoultre and even Oris and Longines enjoying the benefits of a watch of this style. So in that case it's no surprise that Ulysse Nardin wants to up its sales, not like the Freak watches will be selling too well with their astronomical price tag.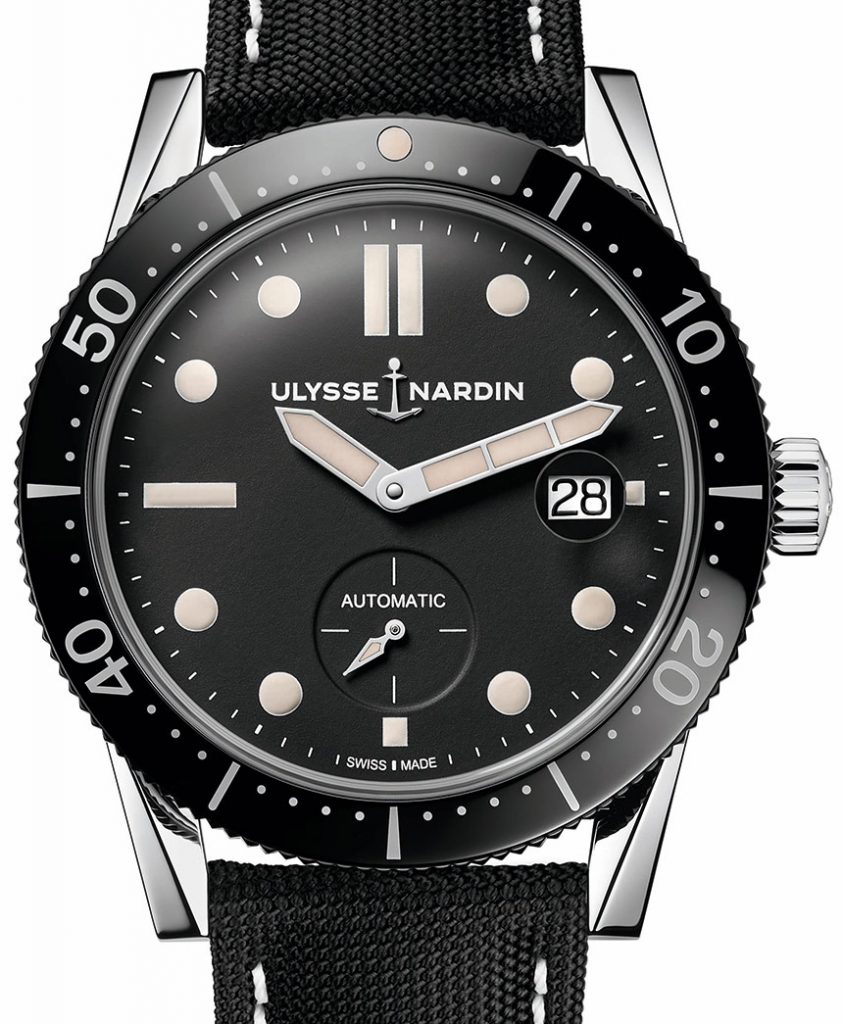 Out of all the vintage style diving watches coming up recently, most of which look mediocre at best, I think that this new one does look a little better, whether it's those fat and quirky hands coated in lume or the little magnifier over the date window. We're also pleased by the fact that they make use of Rolex style markers on the dial but the hands are a completely different shape, no Mercedes hour hands here. Possibly the thing that I in particular appreciate the most is that there appears not to be any faux patina lume on the watch. I honestly wonder what the point of it even is, surely the whole joy of owning fine watches like this is that they will last long enough to develop a real patina, right? Well, that's an article for another day.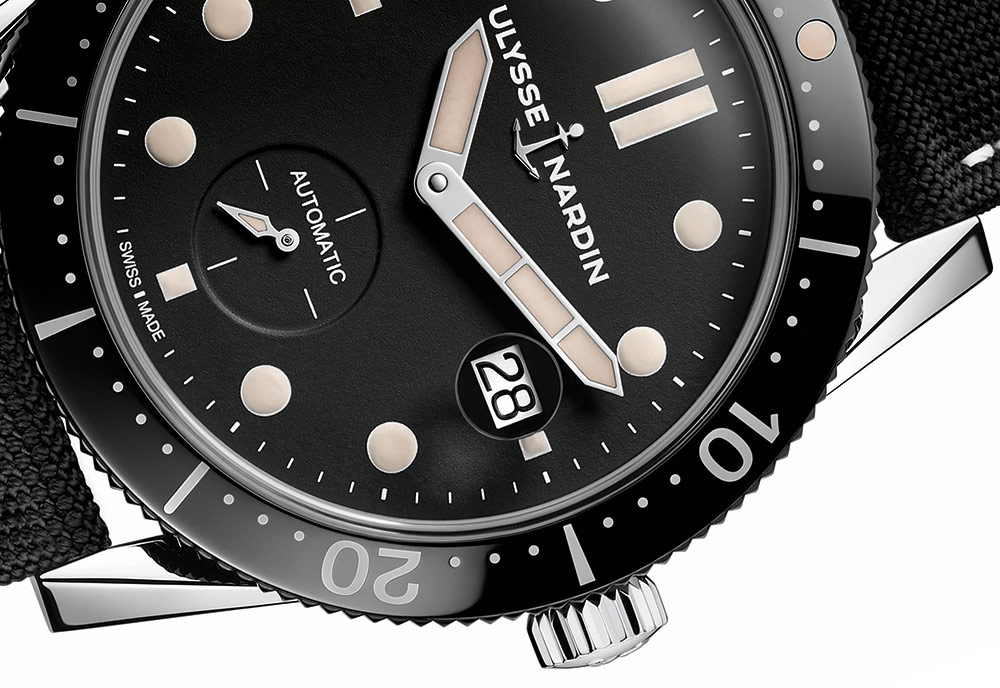 Unlike other companies which ramble on forever about their heritage and how one model changed everything forever, Ulysse Nardin's timepieces have actually been out there and done many things. Mostly this is in the form of a marine chronometer, a clock designed to be super accurate when at sea to allow the crew of a boat to more accurately navigate before compasses and GPS were widely available. There isn't any writing anywhere I can see on the watch that mentions whether or not the movement inside it is at a chronometer standard, but this being Ulysse Nardin I'll bet that if it isn't a chronometer, it isn't far off one either.
A more unique feature on a modern day sports watch, one that has definitely been inspired by the past, is the small seconds hand at 6 O'clock on the dial. Given a small coating of lume for the hand, the subdial is actually in a small dip on the dial itself, to add an extra optical effect to the deep black colouring. The bezel on the watch is aluminium, not ceramic. Whether this is good or bad is something that's usually very personal to a collector with some avoiding ceramic bezels like the plague while others embrace it. I'm all up for a bit of material science on my watches and I like the benefit of scratch resistance on my watch, but going back to my earlier point regarding patina at least this watch will show time and wear its battle scars with pride in sixty years time.
Inside the case is the UN Calibre 320 which is automatic winding and offers a total of 48 hours of go time in between winding with the added benefit of a silicone hairspring too. The watch comes on a thick, sailcloth strap, something that we appreciate that distinguishes our higher end diving watches from the masses such as Rolex and Omega. What takes away from that lovely sailcloth strap is the calfskin leather inside of it, which maximises comfort but essentially makes the watch useless as an actual diving tool. While most sports watches will undoubtedly spend their days saddled with the wear of 'desk diving' with the occasional longing glance at the sea, we at least like to imagine our watches are built to last in the hardcore outdoors. It seems we can't even do that any more. It's also $9600, but you expected that, it's a Ulysse Nardin after all. For more info, please visit ulysse-nardin.com