The Breitling Chronoliner is the combination of an automatic chronograph equipped with an easy to read dual time zone system. This watch is further enhanced by the high-tech ceramic rotating bezel, which is set to read to the wearer a third time zone. This 100 piece, limited edition blue livery advanced mechanism is entirely developed and produced in the Breitling workshops. This piece is officially chronometer-certified by the COSC and distinguished for the use of the dual time zone system. This watch will be available exclusively to the public from one of the 50 Breitling boutiques around the world.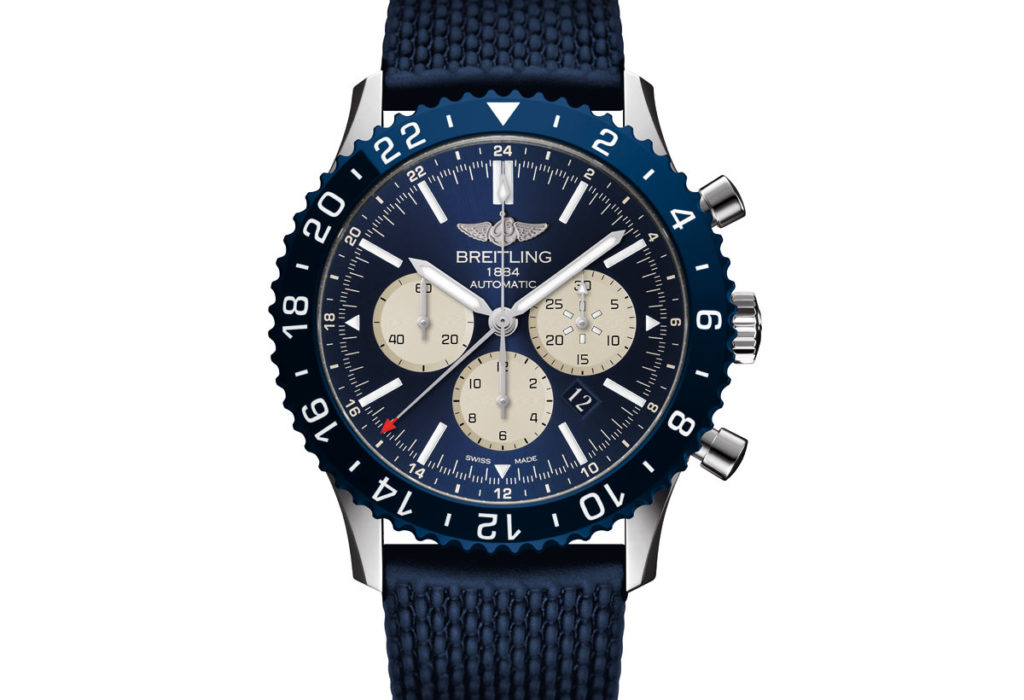 This watch has a powerful 4 Hz movement and offers the user a power reserve of up to 70 hours. This watch is water resistant for up to 100 meters for use in or near the water, as well as outdoors. The case of this watch is 46mm and is made of stainless steel, which really brings out the navy blue bezel and dial of the piece. The blue dial is decorated with silver counter and numbers and is encased by a sapphire crystal glare proofing on both sides. The Aero Classic rubber strap is also in a beautiful navy blue, which is engraved with a mesh pattern very similar to the steel mesh bracelets surrounding the watches of the 1950's and 1960's. The seconds, minutes, and hours timer on this piece is encased in a dulled gold color to bring out the bright hue of the blue colored watch. In between four and five o'clock is a display for the date, and at 12 o'clock is the Breitling logo, the word Breitling, and the year of the company's establishment, 1884.
Adjusting the main hours of the watch and the watch's secondary time zone is quite simple. The user can simply pull out the crown and turn it either way to ensure the precision of the minutes in the time zone. This watch comes equipped with a red tipped hand which is used to mark the home time (the watch's base time) in 24 hour mode. This makes it very easy for the wearer to distinguish what time it is in their home time zone and what time of the day it is in that time zone. Additionally, on the back of the watch's caseback is a special edition logo. This logo sports a vintage looking woman holding a bomb, preparing to drop it below her with the words Boutique Edition No 1/100 below the logo. The steel with ceramic bezel is best used for telling both the first and second time zone that is displayed on the watch.
As a limited edition piece, it is pretty common to find that the price tag of this piece is going to be higher than expected at first sight. Regardless of the high price, the buyer will be more than pleased with their purchase. Look for this watch to be available at one of the 50 boutiques for 8,195 Euros. For more info, please visit breitling.com