It's no secret, I love complex watches. I write about them all the time, I study their beauty and grace. If you followed our series The Tourbillon Trials, you'll remember I included some extremely complex watches, but this is my first time actually experiencing one of this caliber in the metal.

In this case, it was white gold and a lot of diamonds. The appearance of this watch is stunning to my eyes, the case reflects light in a crisp and modern fashion, the way only a white metal can. The diamonds add an extra glint to the watch that makes me wonder even to this day what it would be like to actually own this piece and wear it to dinners and other posh events, events that are very much out of my league at least for now. It really is an eye catcher this watch, it'll catch your eyes at any time for sure so driving might become a bit of an issue as your attention is on the watch.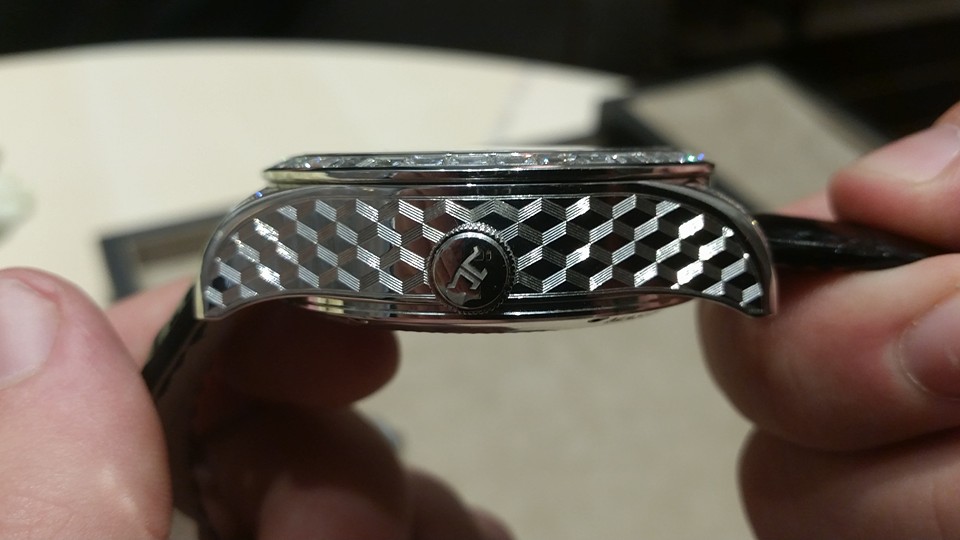 The sides of the case on this particular watch have been engraved with a 3D square pattern called, the actual name for this design escapes me at this moment in time, but maybe this is just one of those moments where words aren't even needed to describe the beauty.
It's a hefty beauty for sure, the case is 44mm in diameter. It's not the slim and elegant yet almost clinical beauty that you'd find on an ultra slim watch such as a Calatrava or a Patrimony. It's unapologetic this, built to standards that are beyond belief, every piece is worked to perfection and integrated in a way that fits delicately into the watch case. Having said that if what you really want is a thin watch then this really isn't for you, but if you can look past that thickness of 15.8mm then the Grande Complication status of this watch will draw you in even further this piece.
I'm going to go ahead and say it, the dial on this watch is my favourite, it's in a league I haven't even thought of a name for yet. A grail watch perhaps? Oh yes, most certainly and that's a high commendation indeed, this makes a Jaeger-LeCoultre watch on par with the Breguet Classique Complications Double Tourbillon and the A.Lange & Söhne Lange 31. Maybe I'll never own any of them, but dreaming is just as fun! 
Back to the watch, the dial is made of aventurine and has been set with precious gems which represent some of the closer stars. You should have worked out by now that this watch, as with every version of it for that matter, has a beautiful deep blue dial representing the night sky (Jaeger LeCoultre's running theme for their timepieces this year is a celestial theme, which is why a lot of their watches have had sky type features on from the very simple moonphase to this very extravagant creation we see here).
There's something extremely obvious that's staring us in the face with this watch, even more so than the lovely baguette cut diamonds around the bezel and on the lugs of the watch. The celestial dial of the Jaeger-LeCoultre Grande Tradition Grande Complication achieves its status as a grand complication watch partly because of the minute repeater mechanism in the movement which we will come to later on, but also partly because of the flying tourbillon located on the dial.  This mechanism has been cantilevered on the dial, the simplest way to describe what that means is that the mechanism is only supported on the underside by an oil-free lubrication system which uses a ceramic ball bearing in its place. The tourbillon is 12.42mm in diameter and 3.85 mm in height and consists of a total of 73 individual parts, one of which is a Breguet overcoil. The tourbillon beats at a steady 4 Hertz.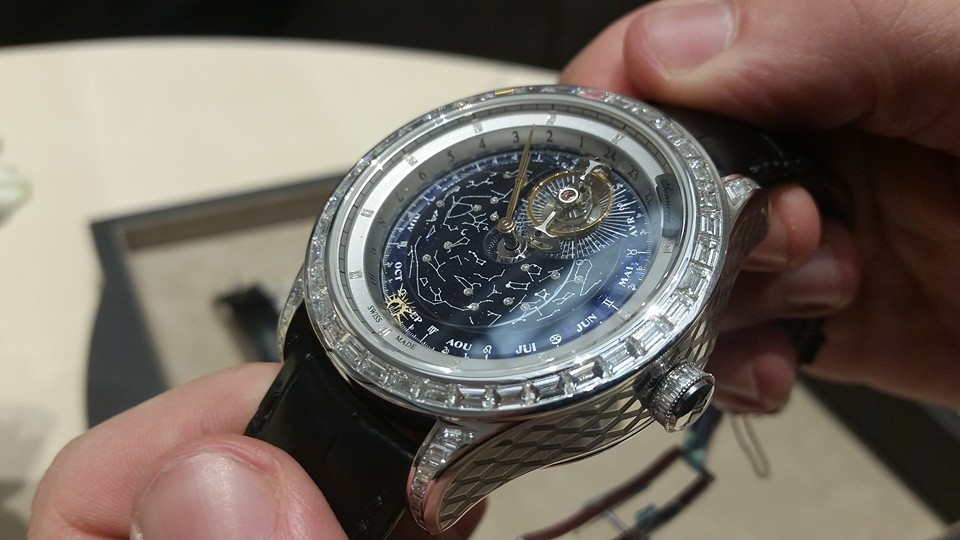 This isn't all, though, the tourbillon mechanism is a one of a kind system which uses the flying tourbillon itself to display sidereal time. To make this possible, the extraordinary dial is divided up into three tiers which all move in perfect harmony. The lowest layer will complete one full rotation over a period of 24 hours, the position it is in is marked out by a little sun, in the photos you'll spot it at quarter to seven, however, the real depth of the dial caused by a steep angle between the dial and the inner bezel might make it a bit harder to see. Above that is a second layer which shows us a magnificent star chart of the sky as seen from the northern hemisphere. The third and final layer is reserved for the flying tourbillon. Each layer is mounted using ceramic ball bearings and jewels to ensure that the layers of the dial rotate smoothly.
There is, however, another part to this watch as I'm sure you've noticed by now. Although it's buried in the movement on the dial side there is an indicator, a plaque inscribed with the word 'Sonnerie' is placed near 2 O'clock on the inside of the bezel. If that wasn't enough there's a whopping great slider on the side which is used to activate the minute repeater mechanism inside the watch. The tourbillon and the dials made the watch complex, but the addition of what is known as the most complicated thing you can put on a watch, the chiming mechanism, makes the Grande Tradition Grande Complication a real masterpiece and a message to the rest that this is what Haute Horlogerie is all about, taking an ancient system and placing it in a case to make a poetic piece of mechanical artwork.
Even though this was the first time I've encountered a minute repeater in the metal, I still knew exactly what to look and listen for. The ringing of the chimes was clear, crisp and reasonably loud despite the Jaeger-LeCoultre boutique on Bond Street in London becoming increasingly busy after my arrival in the morning.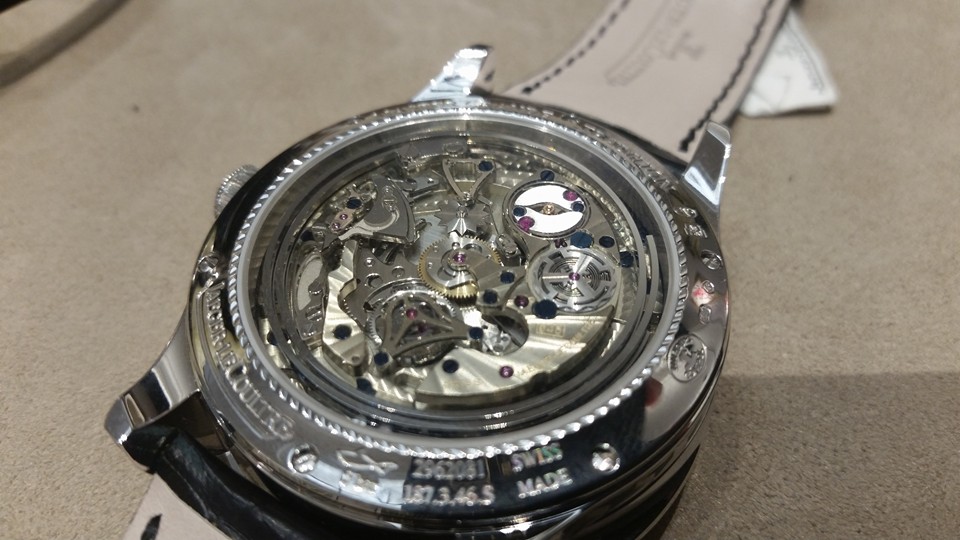 The open caseback on this watch allows you to lose yourself in the majesty of the hand wound, in-house made Jaeger-LeCoultre caliber 945. A caliber which has a full 40 hours of running time built into it. The caliber is made of 527 individual parts.
How can I possibly sum up this watch? It's a one of a kind thing; you won't run into many of these on your travels. Although this watch is elegant to my eyes, some may not enjoy this specific model. Happily Jaeger-LeCoultre offers this watch in other metals and there's even one on a precious metal bracelet which is fantastic for those who live in a warmer climate where leather doesn't last so well. If you can find a spare €405,000 without VAT to purchase it, then you might have just made one of the smartest decisions yet.
For more info, please visit jaeger-lecoultre.com
HARLAN CHAPMAN-GREEN – CONTRIBUTING EDITOR
A keen bass guitar player, Harlan enjoys all the perks modern watchmaking technologies the industry has to offer. Although you might catch him sampling Omegas or the odd Rolex, Harlan loves all things Haute Horology, with his three favourite brands being Breguet, A.Lange & Söhne and Vacheron Constantin. He hopes to study timekeeping more in depth someday and will never be able to thank his father enough for introducing him to the industry. You can follow him on Instagram Read his articles here