When we heard that the Patek Philippe Nautilus was going away, however long ago it was, we knew it wouldn't be gone for good. The Nautilus is the Swiss brand's best-selling product and certainly its most renowned. The key indicator of the Nautilus' success is the price of the stainless steel 5711 on the pre-owned market. A quick check of the handy tracker on Chrono24 says the average sale price of a 5711, the simplest and cheapest Nautilus at retail, in stainless steel, is currently $155,165. Given that its retail price, if memory serves correctly, was about $115k lower than that, I'd say that's a success for Patek Philippe, if not also an indicator of the grotesquely absurd market that treats it as an "investment piece" rather than something to actually enjoy.
So, we weren't surprised that the three-handed Nautilus came back, and we're not surprised by this new variation, the 5712, now in solid 18k rose gold. To be clear, just because we weren't surprised by its reveal, that doesn't mean we aren't impressed by it.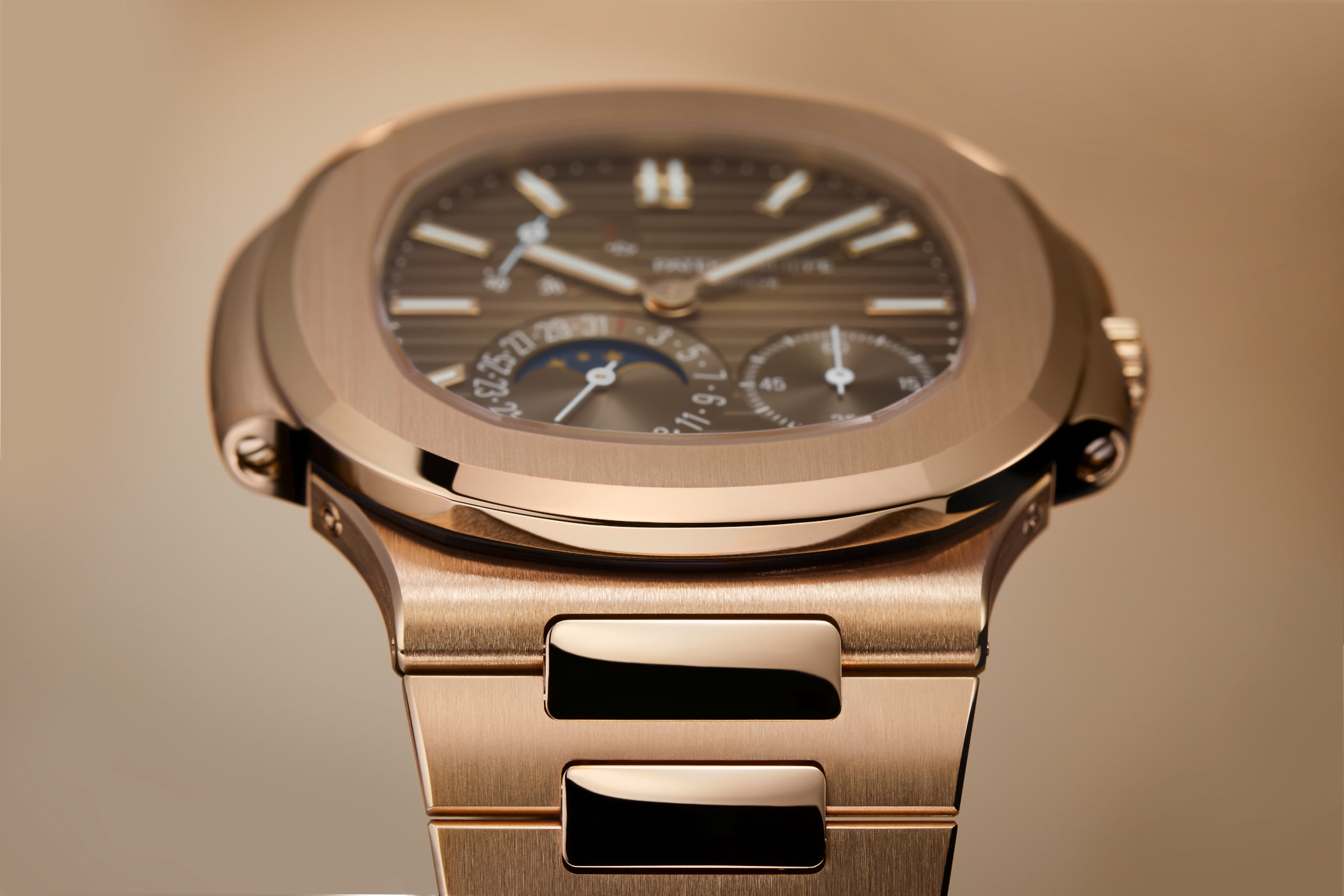 To say the Nautilus is gorgeous is a bit of an understatement. It's never been an ugly watch, although it has definitely been seen on the wrists of some ugly (spirited) people. With a delicately designed case measuring 40mm x 8.52mm, it's clear this is on the dressier side of the sports spectrum, not that there were any doubts about that. The 60m water resistance, which is probably due to the pushers on the sides of the case, means it's definitely better enjoyed after the sporting is done, but you can at least be at ease at the poolside.
The new chocolate brown dial looks excellent when paired with the darker colour of the rose gold case, and I love how it seems to fade out near the edges, even if that is just a trick of the light. The unbalanced dial shows us the time, date, phase of the moon and the remaining power reserve.
The rear is made up of classy finishing, complete with a solid gold micro-rotor. The calibre 240 PS IRM C LU is made in-house by Patek Philippe and is made from 265 components, 29 jewels and has a maximum power reserve of 48 hours. It runs at 3Hz.
With a retail price of $82,796 it's pricey, but it's still at least $20,000 than a pre-owned steel one if you can get your hands on it.
Visit Patek Philippe here.