Founded in 1833 Jaeger-LeCoultre has been known as the one to turn to when a new idea or way of thinking is required. Since their inception they have produced over a thousand individual calibers, some of which have gone on to do many impressive things. It's a well known fact, for example, that each member of the so called 'Holy Trinity' has used a JLC calibre in its watches at some point. That's right, Patek Philippe, Vacheron Constantin and Audemars Piguet have all relied upon JLC calibers at one point or another. The most noteworthy example in my opinion would be the wildly successful Royal Oak Offshore from Audemars Piguet, which only as recently as 2014 started implementing AP in-house movements into its watches as noted by the visible movement on the backside.
But where does it all come from? All of these thousand-odd watch movements, and subsequently the watches they are placed in, don't just materialise out of thin air you know. So we decided, with a little bit of help, to do some investigating of our own. Of course, Jaeger-LeCoultre is a very prestigious company and doesn't offer trips around the manufacture very often, so along the way we made some new friends with the others who were also invited to tour the halls of this legendary company. We all enjoyed the trip immensely and learned a hell of a lot about the company and its history. We were lucky enough to be the first tour of journalists/enthusiasts to visit the newly finished museum hidden in the rafters of the manufacture. Jovan would also we made fools of ourselves a little bit, I pretended not to know what he was on about.
For Harlan it all started with a mad panic at 4AM on a Wednesday morning thanks in part to sleeping through all the various alarms he'd set. Luckily there was plenty of time and the next thing you know I'm waiting at the gate in Bristol Airport to head out. Due to the way things were organised, he was scheduled to meet with some of the others who were leaving from Amsterdam Schippol Airport. After arriving there and sitting around for a few hours eating an exceedingly expensive sandwich we eventually left the airport and were bound for Geneva. It was there that he met up with the representative, Ms Alexandra Schnellen, and the others who were to be touring with us, even getting to see an old Citroën DS Decapotable which was cool.

Before we toured the manufacture we went off up into the hills to visit the Château Le Rosey, which describes itself as a place "Where Wine and Architecture meet". Foremost is that it's a winery with it's own vineyards in the surrounding area which grow some thirteen different types of grape which are often blended to all sorts of different wine styles. Jovan arrived just in time to receive the mid-afternoon lunch minus the raw octopus on a couscous salad (something Harlan had never had before and probably never again), we then headed out around the grounds for a tour. Château Le Rosey is actually a place for hire as well, with the castle itself being available for use (and indeed was being used to prepare for a lovely young couple's wedding when we arrived, which was a bit awkward) There's also a total of four suites inside the castle as well as a hidden sauna room with a beautiful swimming pool and massage parlour upstairs. We eventually got to the wine tasting which was held in their cellar where the wines mature. It was an entirely new experience for Halan, but he got in touch with the industry of Swiss winemaking which something of pride for them, in fact, you can hardly find Swiss wine outside of Switzerland because they drink most of it themselveles.
It was already early evening by the time we arrived at the Hotel Royal Savoy in Lausanne, which was pretty incredible itself. We met for dinner when the last journalists arrived, and Mr. Stéphane Belmont, the Marketing & Creation Director at Jaeger joined us. A four course dinner was served to us along with more lovely Swiss wine. There were some excellent conversation topics all around and the variety of backgrounds to everyone present made it all the more interesting. A lot of people were interested in what Sweden was like, so after imbibing a strong amount of wine Jovan started talking, but he ended up laughing which everyone else thought was hilarious (one of the other guests told Harlan that it sounds like the laugh of a middle aged woman, who knew?). Some even asked about Brexit which was interesting to discuss with some of the Dutch whom are having similar thoughts about leaving as well, while there wasn't a full on debate about it the people from other countries remaining in the EU had a few things to say about it. Eventually we had to call it a night and retire to our lavish hotel rooms for some well deserved R&R, it's a hard life believe us.
After breakfast the following morning we departed only a tad late thanks to yours truly trying to check in for his flights back to the UK, something that Jovan brings up in conversation even now. It was a horribly rainy day, a pity considering it had been so nice the day before, but as Jovan pointed out Harlan was used to it as it apparently always rains constantly in the UK, so, y'know. The ride took us about an hour in total and saw us going up and down these extremely tall hills and through little villages. It even snowed at one point, which was interesting considering it was also raining at the same time. Most of the Swiss watchmaking scene is on the western side of the country, so it's in easy reach of Geneva and convenient to pop back and forth to as and when needed.
Eventually the lake (known as Lac De Joux) came into view and there were some stunning images of the scenery, our route took us from one end of the lake to Jaeger's manufacture which is near the other end, so we got to soak it all in along the way. About twenty minutes later we arrived at the front of the manufacture which has been styled to look similar in a way to their boutiques on the inside. Behind a screen was the entrance to the workshops themselves, but first we had to climb what felt like the stairway to heaven to get to a lounge with impressive views over the entire manufacture. You see, Jaeger-LeCoultre's manufacture itself is a triumph of design where old and new blend together. The place is built around a square courtyard in the centre with the first workshop building standing proudly in one corner while the rest of it sprawls outwards. Each building has the year it was completed inscribed onto it as well.
We started the tour of the manufacture visiting the metal workshops. This is where JLC takes rods of various alloys that are brought in, extrudes them, and then prepares them for use in wristwatches. All sorts of different metals are used, but the most common being stainless steel or gold that has been prepared off-site. It's then pressed, stamped and then cut by specialist machines that are operated by highly trained staff members who are responsible for ensuring the best materials are used. From here on in the metals are distributed around the manufacture according to their uses.
After some more walking about we find ourselves in the quiet laboratory like setting where the balances are prepared. We are given a full demonstration of how the JLC anchor balance works with the help of a model. As this is happening, the watchmaker behind us asks if we would like to observe as the pallet stones are attached to the anchor escapement.
Unlike other companies, Jaeger-LeCoultre still uses the traditional adhesive of choice for this task which is shellac, a substance secreted by insects commonly found in Asia. The reason for this is because it is easy to work with and is hard once allowed to set, but can be softened when heat is applied making it easier for them to service a watch. In order to take some of the shots that we do of staff working on things we have to get a little 'friendly' as it was described to us. Harlan rested the camera on Jovans shoulder to keep it steady which garnered us a few giggles, the things one does to take a decent shot.
Something else you probably didn't know that Jaeger does is make its own hairsprings. To put that into perspective, we can only think of one or two other manufactures that do that kind of work because of how enormously complicated and time consuming it is. It's usually left to companies like Nivarox which has a monopoly over the market, the only other company we can think of that does this is Bovet but their production numbers are nowhere near JLC's still. Also, Jaeger makes different types of hairsprings for different balances in different watches. Some springs are a very unique cylindrical design which have been coloured blue. Fun fact, only one person in the entire manufacture of over 1000 people knows how to make those hairspring shapes, it takes them a day to make one and when Harlan asked what they would do if she went sick the answer was something along the lines of "she wouldn't dare".
Next we are moved off into the bowels of the manufacture itself, up a few stairs and behind some doors. We are actually being led towards the assembly area of some of the most complicated watches that JLC makes. In the middle of this room is an area screened off by two thick layers of glass behind which is the workshop itself. We are lead to some seating where Jaeger's Veteran Master Watchmaker, Mr. Christian Laurant, is waiting with some horological marvels and a flat screen TV. During the presentation, he explains to us a lot about the different watches and their complications as well as some of the challenges they presented during the manufacturing process. Perhaps the best part of the demonstration was that all of these watches were passed around through us so we could all have a look, play around with and wear the watches, this was probably our favourite part and you can understand why, although it was quite nerve wracking as we were desperately trying to wear all this lovely timepieces and not drop them.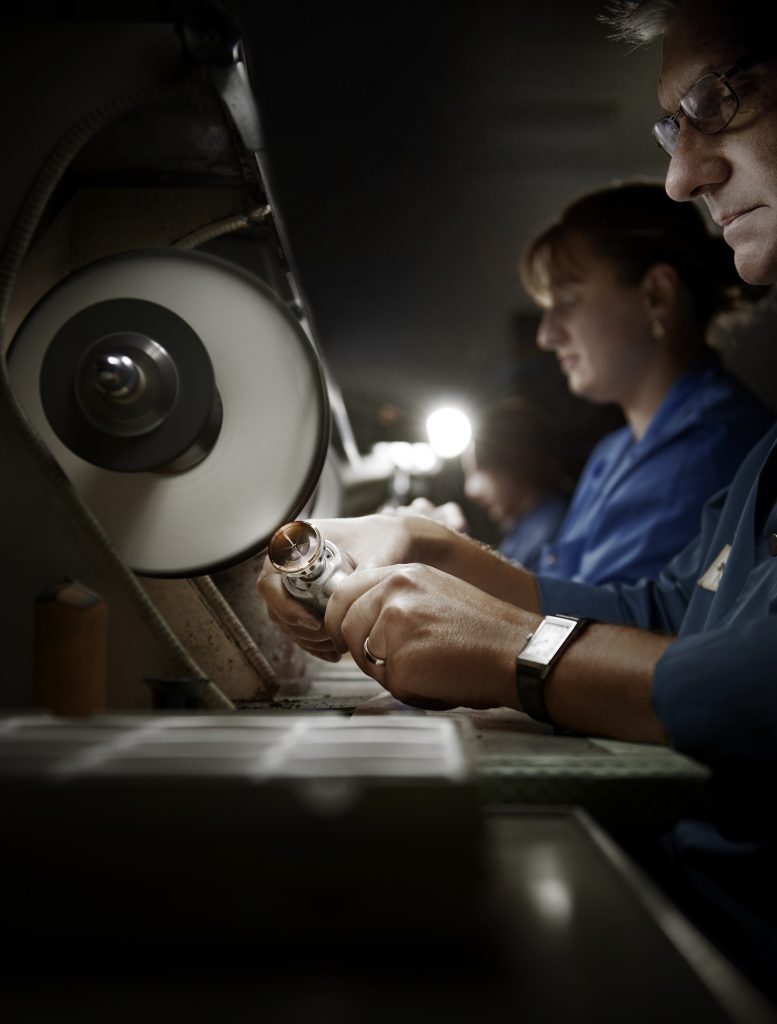 At this point it was close to lunch time, so we all wandered back through the maze of a factory to the bus where we met Mr. Stéphane Belmont once again and the Artistic Director, Janek Deleskiewicz, whom took us to a restaurant near the water. Apparently, a lot of the manufactures in the area bring their VIP guests here, as there are wall clocks from all the various companies nearby dotted about the place, with an Atmos clock sitting proudly above the bar. The food was amazing (Harlan especially enjoyed the take on good ol' British fish and chips using fish caught that morning from the lake) and the location ended up being pretty stunning once the clouds had gone away and the sun came out. After we all waited around for Jovan this time, we eventually made our way back to the manufacture now full up on Swiss food.
It was at this point that we discovered there was indeed a lift that would take us back up inside the manufacture, embarrassingly if Jovan and Harlan went in it then no one else could either or it would chime in and say there's too much mass in there. Next we were then taken to the Atmos workshop, a secretive place hidden away from the prying eyes of the world where they can work on any Atmos from any period. In fact, there were loads of them that were in for a service at the time, but due to security reasons we weren't allowed to photograph them. We were showed how the mechanism works and how the metals react to even the slightest changes in air temperature to keep the Atmos clocks running.
We visited the Metiers d'Art workshops next where we were shown the various techniques JLC performed on its watches for those customers who wanted a little bit extra from their watches. Engraving, enamel painting, gem setting and many other techniques are some of the things they do quite regularly there and we got a good closeup of what they were doing thanks to a projection of the live feed from the microscopes. We even got to witness some decoration done by only one master on a very old piece of equipment, JLC still uses the most traditional techniques to finish its watches after all. We were both amazed by all the patience and care shown by the people who work in this department, as they do a lot of practise work before the real show takes place, but they practice using the same methods as when they will create the final version, which if you are painting can take weeks at a time.
This leads us up to the finale of the tour where we got our own masterclass in engraving. All we had to do was simply put the line down the middle of the JL logo onto a small stainless steel keyring, but some of us got bored and added lines and letters and various other shapes, Harlan really enjoyed doing this and found that maybe with some more practise he thought he could be quite good at it if he ever desperately needed a job and that people didn't mind that he is quite possibly the clumsiest person alive. Some of us, such as Jovan here were very plain with their designs, mind you it looked like he'd hired a monkey or quite possibly a blind person to do his for him, so there. We got to keep the keyrings, which was nice.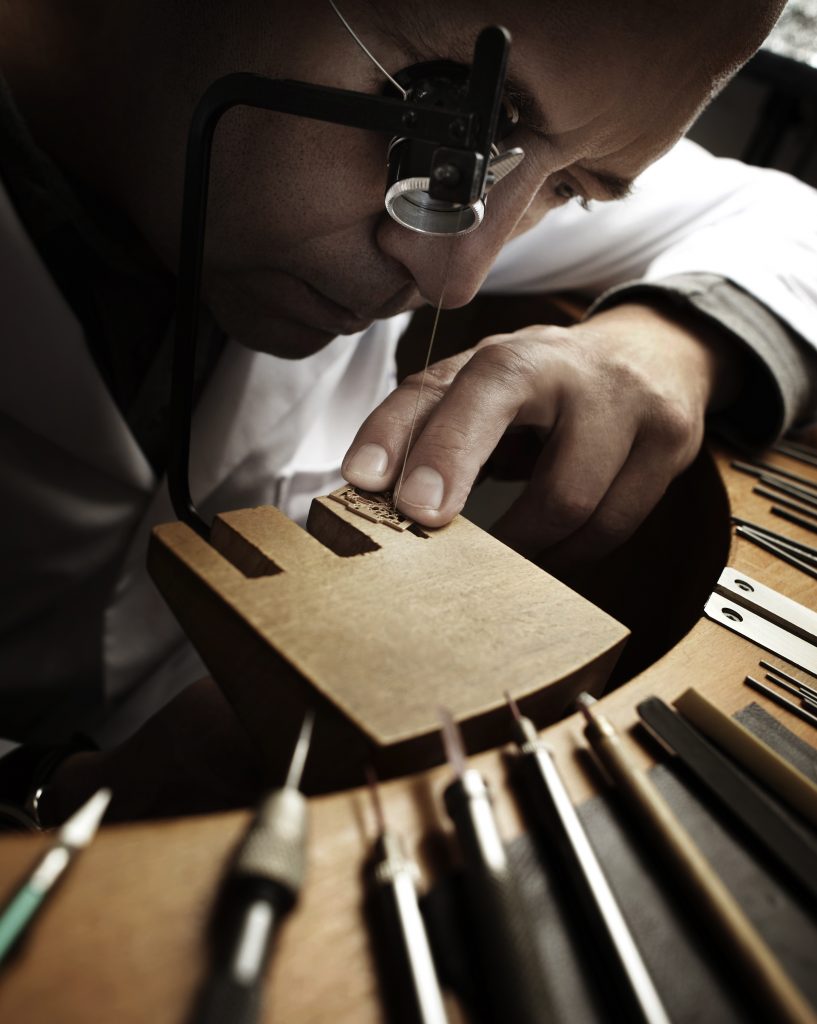 It was the end of the tour at this point, it was a shame to say goodbye to it all so soon but we know that we will return at some point to give our readers more detailed insights into the manufacture. The hour long drive back to Geneva was pretty uneventful except for someone's extremely loud snoring, in fact apart from Jovan's flight being cancelled and that he got an extra night in Geneva, there wasn't much else to say. So we shall lead out by saying thanks to everyone who was involved in organising the tour, we have learned so much about the manufacture that we simply cannot wait to share when the time is right. Also, thanks to everyone who was on the tour with us for the inspiring conversation and serious joshing that made the trip that much more exciting. Thank you to all. jaeger-lecoultre.com