While it's common to see watchmakers celebrating the anniversary of something or other, it's usually a 50th or 60th anniversary, maybe even 75th. What's not a common anniversary in these times is the 300th one, sure, Vacheron Constantin and Blancpain are getting close, but there's a way to go yet. Today we're looking at some new watches from Jaquet Droz, which is not celebrating its own 300th anniversary just yet; it was founded in 1738, but instead the birth of its namesake, Pierre Jaquet-Droz. Today, Jaquet Droz is one of the most highly regarded names in the Swatch Group, rubbing shoulders with Harry Winston and Blancpain in the group's hierarchy while sitting a little below Breguet. Pierre Jaquet-Droz made his name creating some of the finest automata around. Although the brand as it is today focuses more on the wristwatch side of things, it does make watches that feature an automaton in them.
Today's anniversary watches do not feature any oddities in that respect. They're based on one of the brand's most cherished models, the Grande Seconde, which was introduced in 2002 and has been surprisingly versatile for the brand. Given the number of complications the Grande Seconde has been able to support, I'd argue that it's the closest comparison to A.Lange & Söhne's Lange 1, which is also surprisingly adept at keeping its form while featuring complications.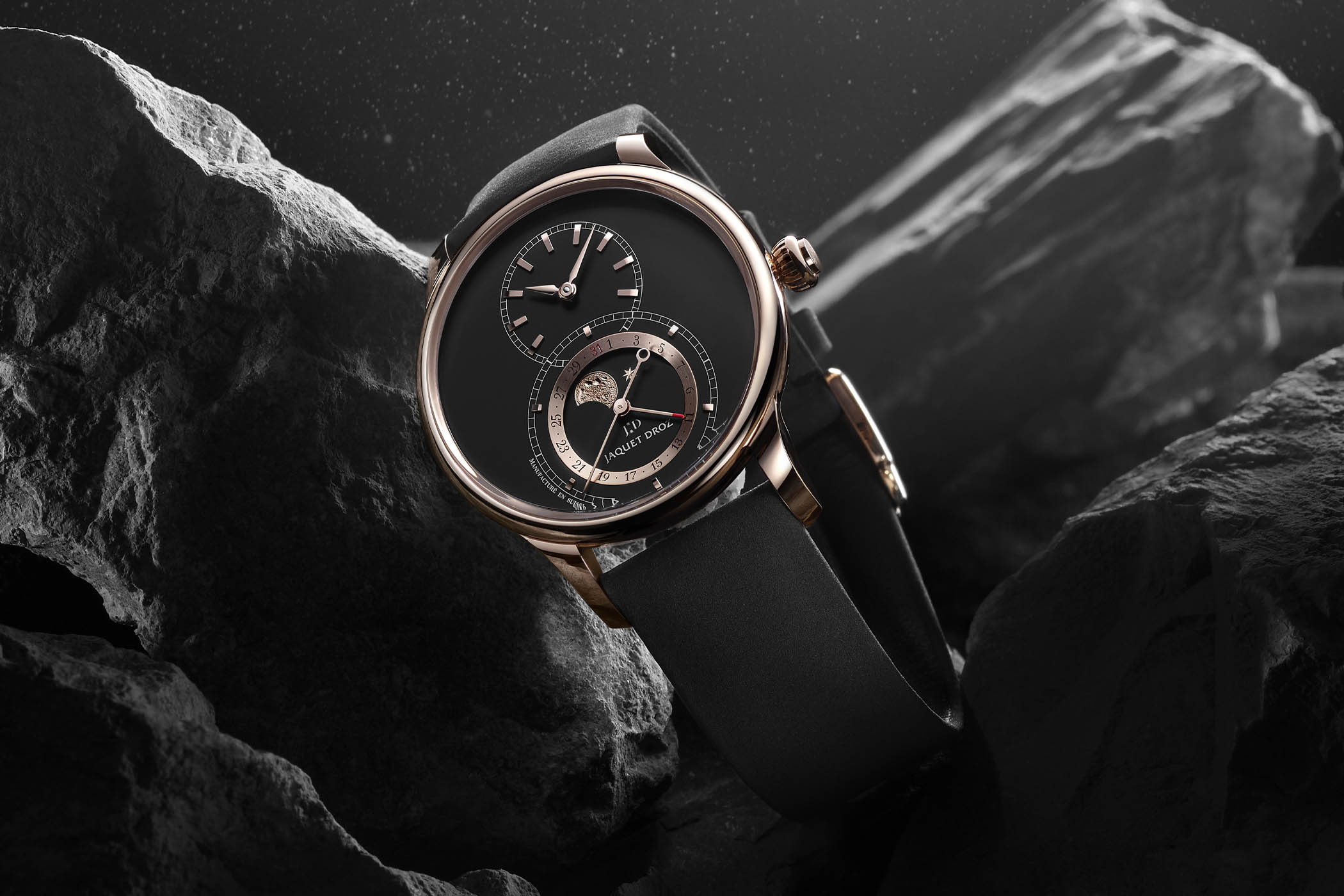 In 2017 Jaquet Droz introduced the Grande Seconde Moon, which used the enlarged seconds display to host a beautiful moonphase. Bizarrely, it was only available in 39mm and 43mm diameters, but for the 300th anniversary, Jaquet Droz has finally released the Goldilocks 41mm version. It comes with a case made of 18k red gold and a choice of two dials. You can either have an ivory-coloured enamel dial or a matte black dial. Personally, I think the ivory colour sets this watch apart from the crowd and would be the model I'd go with. Either way, you're getting a handcrafted watch with a hand-decorated moonphase complication.
Inside both watches is the calibre 2660QL4, an interesting calibre with automatic winding and high-tech silicone components. It also has a 4Hz beat rate, 68-hour power reserve and the moonphase will only need to be adjusted once every 122 years, assuming the watch is kept running constantly. Jaquet Droz occupies a strange position when it comes to movements. You'd expect a lesser-known brand like this to potentially use a bought-in movement and modify it so they can focus on other aspects like the dials, but no. Instead, they worked tirelessly to create this movement and decorate it to the same level as other high-end timepieces these days. The pricing isn't too bad either, the matte black version will cost CHF28,650, and the ivory dial will cost CHF29,700.
BUY YOUR JAQUET DROZ WATCH HERE