Written by Meor Amri Meor Ayob
When it comes to watch brands, due to the prolific manufacturing capacity of original equipment manufacturers (or OEM) in China, many new brands are born every year. I tend to disregard these upstarts until they have proven themselves with clever designs that tickle my fancy. However, one brand that shows promise is Lum-Tec which was established in 2008. An American based company, its call-to-fame is the use of 8 layer application of ultra bright glowing Super-Luminova photo-luminescent material which they have perfected.
In 2011, I decided on one to test the product. The model I chose was the 500M-2, a dive watch with 500 meter depth rating.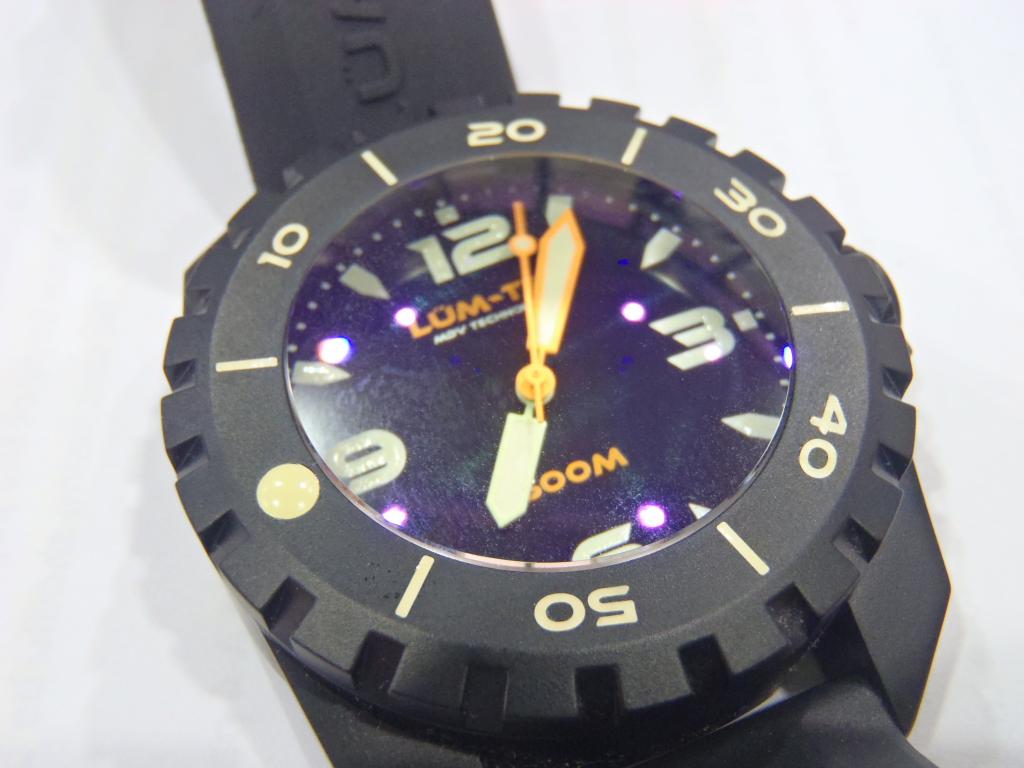 When it arrived, I was plesently surprised by the effort made by the brand to ensure the product plus all the ancillaries such as the package as well as the experience of opening the watch box for the first time was memorable.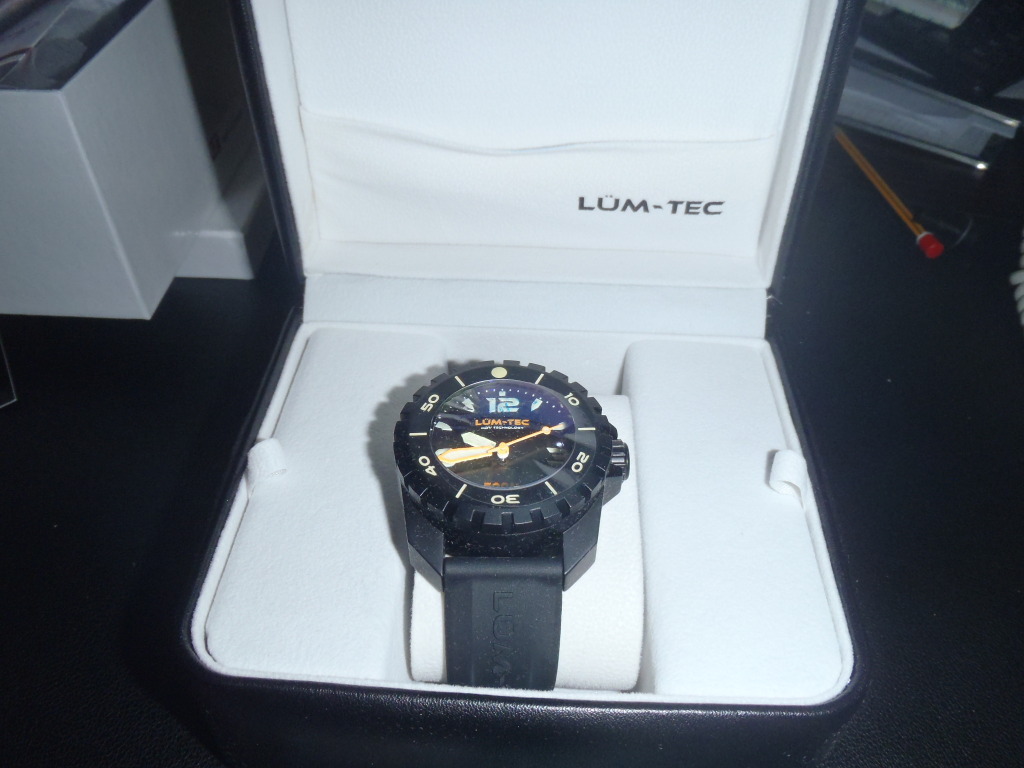 The presentation box was stitched artificial black leather box with well cushioned inside with a center pillow for the watch to rest. The documentations was also extensive but the namecard of the President/founder of Lum-Tec, Chris Wiegand was a very nice touch. The "Certificate of Authenticity" was another nice touch. Only a few watch brands make such effort to capture loyalty.
I have been using it for the last two years and these are my observations during this long-term hands-on-review of this watch.
The Lum-Tec 500M-2 is a bruiser.  With a case width of 44 mm, its hight was at a dizzying 18.5 mm. Its like wearing a brick. From the picture above, it looks about right for someone with a wrist cirumference of 7.5 inch. However, on a side profile, you can see how obvious this watch would be on one's wrist.
This watch is a divers watch and not designed to be used in all occasions. When I took this photo, I was in my formal office attire and you can clearly see it would not be able to slip under the cuffs.
This profile photo also visibly shows the standard rubber strap provided which has the brand logo embossed on it.  Meanwhile the lug width is 24 mm. The strap is also the same width.
The standard buckle is also stamped with the brand's name. After wearing for more than a year, I can conclude that this strap is very comfortable. Unlike rubber straps from Japanese dive watches, this particular piece does not pinch your skin at all. I believe the size or vast surface area helps in this regard as it spreads the weight more evenly over a larger area.
This is a very important aspect that should not be taken lightly. As this watch is heavy (190 gm with the bulk of it concentrated on the casing), it is important to keep the strap tight to the wrist. Otherwise, the watch tends to flap around and this can get uncomfortable after a while.
The lume of this watch is first class. The special lume technique used makes the digits, indexes and hands pop out brightly in the dark. Unfortunately, I don't have a picture to show but trust me, it is as close to having tritium powered vials in the watch.
This watch uses the Japan Sii NH15 automatic and hand winding mechanical movement. An old movement that has been superseded by the NH35 series but nonetheless, sufficient for this watch. Apart from the three hands, there are no other complications. Personally, I don't have much use for other complications such as day, date etc. Only one complication which I find very useful for mechanical watches is the power reserve indicator.
Anyway, throughout the time I've used this watch, it lost about 10 seconds a day which is quite acceptable in my book.
This watch is built like a tank. The sapphire crystal window is domed and is 5 mm thick. At an angle, you cannot see the dial due to the refractive effect of the crystal. I don't believe the crystal has any AR treatment and this is not an issue with me.
The bezel is standard uni-directional 60-click increments and it feels firm. However, a locking mechanism should be considered if it is ever up for redesigning. Because of the large notches designed into the bezel, there is a tendency of it snagging into something and shifting the bezel position.
The screw-down crown with triple diamond sealing system is sufficiently large to manipulate when wearing gloves.
Note the fine scratches on the PVD in the left of the crown. Owners of this watch must expect this. Because it is black PVD, any scratches becomes obvious. It is also very difficult trying to protect this watch from scratches because of it size – you do tend to knock it against things often. I am quite anal about this and I would prefer my watches to be forever "perfect". I always have to say to myself to accept it as is – a badge to signify that it is a workingman's watch. Another option is to get the stainless steel model, the 500M-1 instead.
The case-back looks out of place. I would expect the same over-engineering on this part but it looks plain with the brand logo sand-blasted without any unique logo (example the Tsunami graphic for Seiko's diver).
Overall, the package fulfills its design scope of a well balanced and affordable timepiece. Some may find issues with the choice of movement or the lack of even a date window or the lack of AR coating on the sapphire crystal. However, the bigger goal of creating a watch that can take on an extreme environment and within the means of the normal Joe has been achieved by a wide margin. After wearing this watch for more than a year, I can safely conclude that Lum-Tec has a bright future ahead.