The past few years have proven to be a hit for Longines in terms of their Heritage divers collection. They offer a very nicely detailed throwback divers watch but in modern materials under precise techniques and machinery. These have been talked about with lots of enthusiasm, both negative and positive, but no matter which side of the fence you stand on, one must admit that it is a fine watch for the money. Now at Baselworld in 2018, Longines has created an updated variation of the Heritage Diver that is coated in black PVD. There are sure to be strong opinions on this one, but let's take a closer look before we draw any conclusions.
Nearly identical to the existing Heritage divers in every way except for one loud choice that alters the rest of the way this watch is perceived. They chose to use PVD plating on this one to give it a deep black finish. This will, unfortunately, be subject to scratching and wearing of the finish itself over the wear and tear of owning it. It's a bit of a smart move too when considering that the only other choice for black finishing on a watch nowadays is the use of ceramic. Certainly, a ceramic diver isn't something anyone wishes to witness as it wouldn't make much sense. Longines did decide to pursue a black finished watch and this is the result.
The dial remains the same as the others, with its internal rotating bezel and extremely legible writing combined with Super Luminova coated hands, this is a winning feature we have seen before. Under the domed sapphire crystal, the date wheel is also black with white writing to further increase the ability to read this in almost any condition.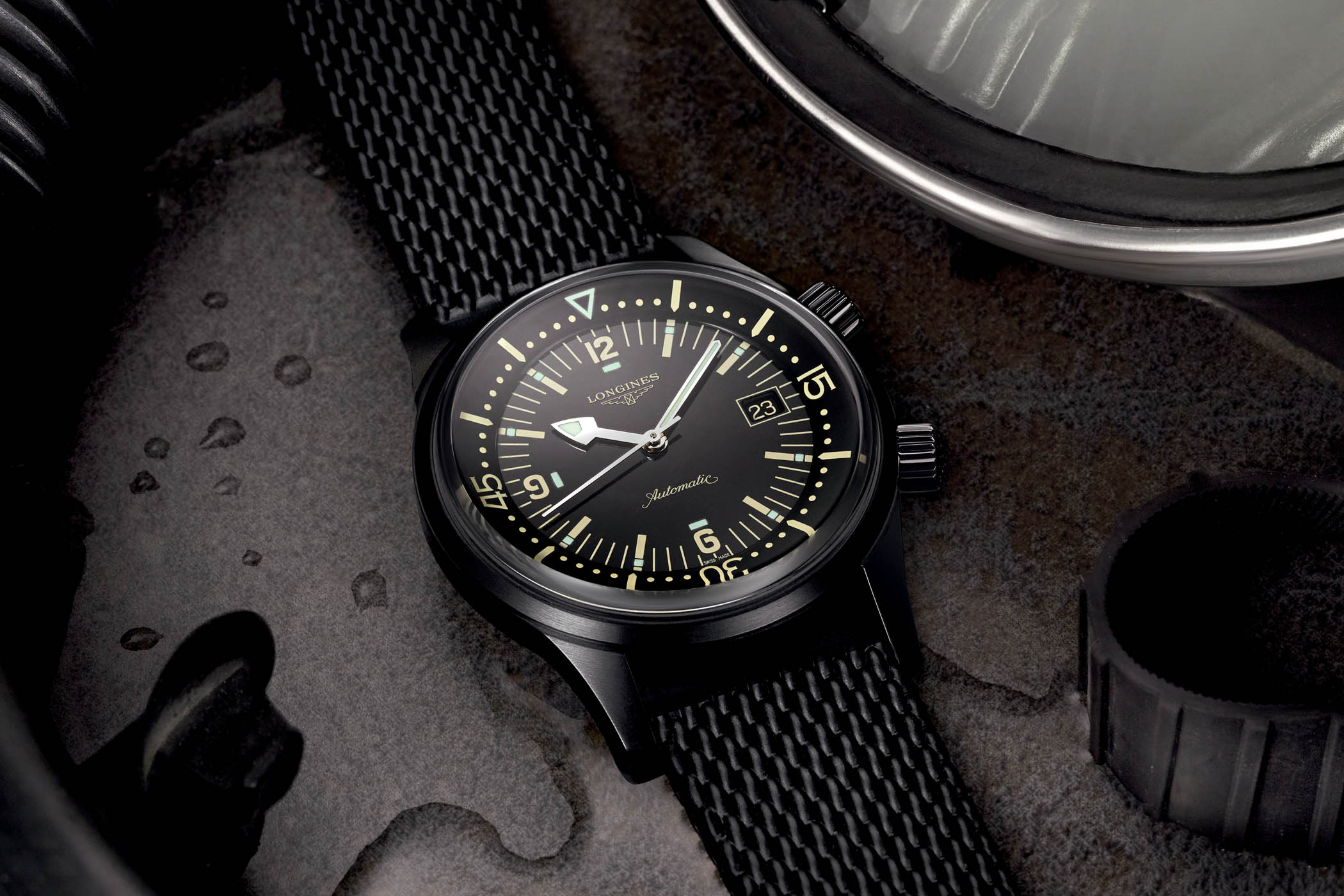 The strap is something that will make you take a second look; it's rubber in construction but resembles a mesh bracelet in design. While I am admittedly not a fan of rubber straps, I really think that this is a great way to make a rubber strap seem a little more tolerable for those of us who aren't inclined to use rubber straps.
Although black PVD coating isn't necessarily the only choice for this update, it was the only real viable choice for Longines to use in its updated Heritage Legend Diver. Some will be a fan while others won't. I rather enjoy the look, and the strap makes it all the sleeker. It's like looking at a vintage special military issue piece, and I can appreciate that. For more info, visit Longines online.