Baselworld is a strange place. Whilst SIHH is almost exclusively focused on Haute Horlogerie (with the exception of brands like Baume & Mercier), Baselworld caters to a huge array of brands across all price points. Searching #baselworld2018 on Instagram right now, the first watches I see are from Omega, Seiko, Casio, TAG Heuer and Urwerk Geneve. The vaulted ceilings of the Basel exhibition center are large enough to accommodate Samsung and Patek Philippe, or Calvin Klein and Carl F. Bucherer. What makes Bucherer's latest announcement, the Manero Tourbillon Double Peripheral, special isn't immediately obvious, though everything you need to know is in its name.
On the surface, it looks very similar to other luxury, flying tourbillon watches. The rose gold case, the dauphine hands, the flying tourbillon, all of these motifs have been used countless times before and frankly, the Manero is a tad dull to look at. However, the innovations that Carl F. Bucherer are touting are actually under the dial, as this is the first wristwatch to combine a peripheral automatic winder and a peripherally mounted tourbillon. (Don't worry, I wasn't entirely sure what either of those things meant at first either).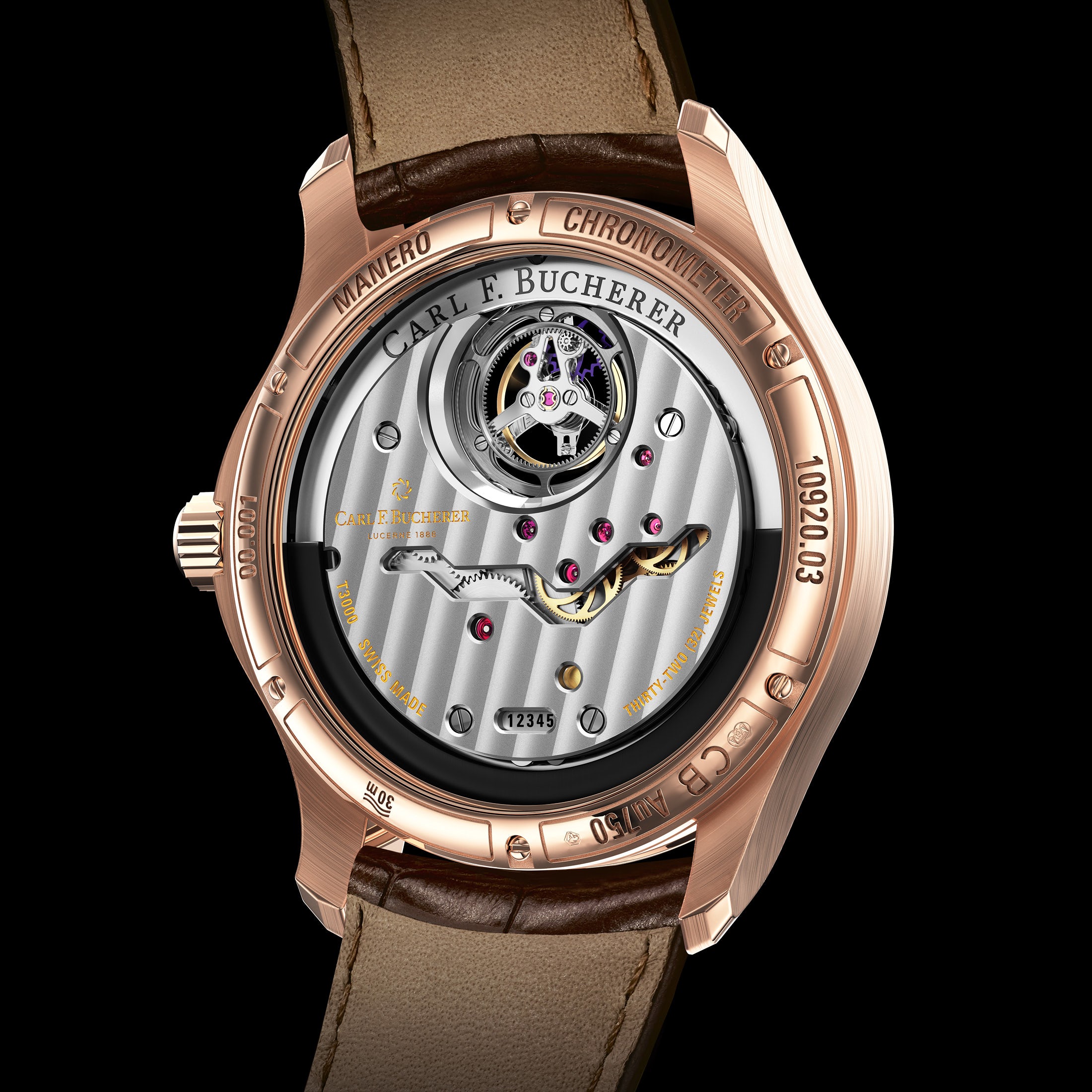 We all know what a standard automatic movement looks like, it's a flat semi-circle that rotates around a central mount to wind the mainspring. A micro-rotor is identical in design to a full-size rotor but is usually off to the side of a movement, rather than centrally mounted. On the other hand, a peripheral rotor is located… you guessed it..around the periphery of the movement and rotates around it, rather than on top of it. This type of rotor is one of the signatures of the Bucherer brand but this is the first time it has been paired with a peripherally mounted tourbillon.
A peripherally mounted tourbillon is mounted in a way where it doesn't connect to the movement's main plate or the overlying bridge. If you're being charitable, I guess you could describe it as floating if you ignored all the visible gears? The tourbillon also has a stop seconds mechanism, an addition to the complication that no-one has ever asked for in the history of the complication. At 43mm wide, it's far too large to pull off the sophisticated style that should accompany a watch with a flying tourbillon.
I'm sorry if I don't seem enamored with the Bucherer, but frankly it bores me. I'm sure creating the in-house Caliber CFB T3000 was a technical challenge worth of merit, but ultimately the Manero ends up looking like nothing more than a cookie-cutter tourbillon. If you're still interested then best start reaching behind the sofa cushions for spare change as its priced at $72,300. For more info, visit Carl F. Bucherer online.