Louis Moinet practically invented the chronograph so no doubt that the new AstroMoon is indeed an exclusive work of art. Oh yeah, they (Louis Moinet peeps) tout that the design of the AstroMoon would have been conceived by the great Louis Moinet. If you ask me, I don't doubt it considering the man's legacy who shares the limelight with the likes of Jules Verne. So aren't you just intrigued with the AstroMoon because I am.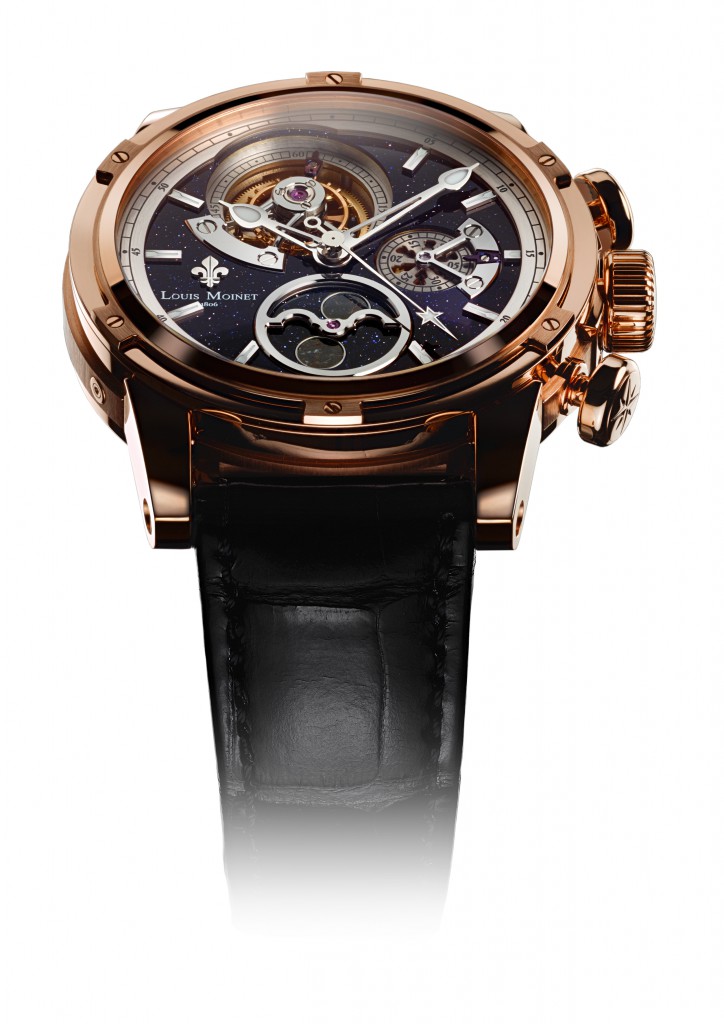 The AstroMoon was released for the 10th anniversary of the independent Ateliers. Basically they just opened the heavens for the AstroMoon which is kind of exciting if you're into that kind of stuff. This watch is a moon phase tourbillon chronograph featuring a pioneering aesthetic approach to complicated watches — talk about a wearable embodiment of poetry and precision. Nonetheless, the AstroMoon exhibits all the bells and whistles of the exclusive chronograph with the innovative approach to moon phase display. When they said they opened up the heavens, they literally did so by displaying the moon phase in full at the 6 o'clock. The general theme is of course space and fascinating geometry.
The 46.50mm case is an original Louis Moinet design containing 49 patented innovations. Plus, it's made of 18-carat rose or white gold and fitted with 7 individually engraved screws. As for the essential display, there are 2 non-reflective sapphire crystals on both front and back. However, the most valuable innovation probably goes to the impact resistance system. I mean, come'n who's crazy enough to even bump this masterpiece? Well, there you go, for lovers of tough investments, the AstroMoon just got you covered. The pushers, lugs, crown, and bezel all carry the Moinet signature. It's simply fascinating, worth some hot glares and envious stares.
Nonetheless, the dial is where all the fuss are mostly located. It looks like the original Moinet but the deep blue dial is richer since it's basically made of aventurine. If you love listening to the song "Starry Night," don't forget to look at the dial and start counting those starry inclusions. The highlight in the dial is no other than the moon phase chronograph at the 11 o'clock. It's huge and it's glorious and the classic appeal yet rugged feel is perfectly married. The same can be said with the chronograph subdails at the 3 and 11 o'clock positions. The hands are of course made of the dew-drop "Gouttes de Rosée" that even allow you to read time in the dark and as for the hour markers you also have the luminous diamond-cut design maximizing the space feel of the dial. After all, you really get to feel the excitement of carrying two fragments of lunar meteorite Dhofar 459 on your wrist. That ain't something anybody can do.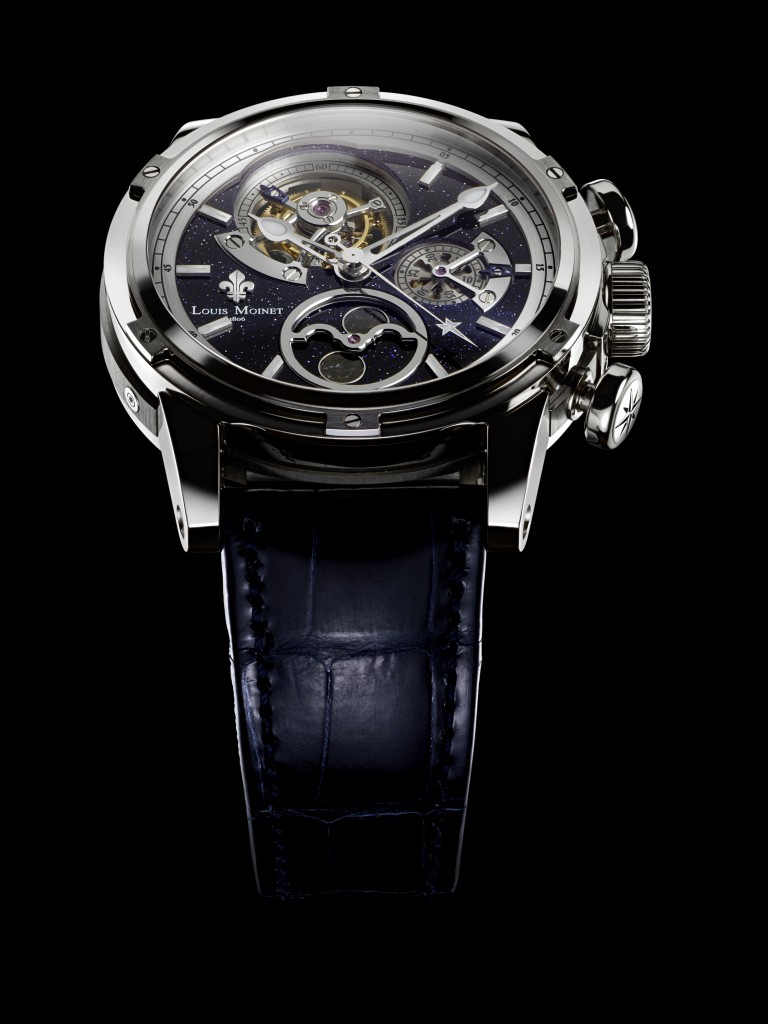 The AstroMoon uses Moinet's very own 373-part LM29 caliber inspired by a legendary caliber that served as the benchmark for all chronograph movements. It's hand wound featuring 50 hours of power reserve and kick-ass components. If you really want to see them in action, just turn the watch and observe the movement through the transparent exhibition caseback.
For the strap, you get a hand-sewn Louisiana alligator leather with alligator lining plus an insane buckle featuring an 18-carat gold folding clasp with fleur-de-lis motif. Oh and don't forget, the AstroMoon is limited to only 56 pieces.
For more info, please visit louismoinet.com
Technical Specifications
Features and functions
60-second tourbillon
Column-wheel chronograph
Moon phases
Hours & Minutes (central hands)
Seconds (displayed on tourbillon cage at 11 o'clock)
60-second chronograph (central hand)
30-minute chronograph counter (rotating disc at 3 o'clock)
Dial and hands
Luminous star-shaped chronograph hand, inspired by Mr Louis Moinet's design for the Julius Caesar clock (1825)
Dew-drop "Gouttes de Rosée"® hours and minutes hands with luminous coating
Luminous diamond-cut hour markers
Hand worked aventurine dial
Moon phase shown by an aventurine disc containing two fragments of lunar meteorite Dhofar 459
Fleur-de-lis applique
Movement and finish
Manual tourbillon movement with chronograph function and moon phase
373-part LM29 caliber, manufactured by Louis Moinet on the basis of a historic caliber
Winding: manual
Tourbillon cage: 1 rotation/minute
Oscillations: 21,600 vibrations per hour
Frequency: 3Hz
Balance wheel: Glucydur, chronometer quality
Lines: 13¾
Power reserve: 46 hours
Jewels: 28
Diameter: 31.30 mm
Height: 8.32 mm
Decoration: Hand-engraved tourbillon and chronograph bridges, polished bevelling, drawn rims, pearling, diamond-polished facets, circular gears with 2N colour finish and straight-line steel
Case and strap
Case: Original Louis Moinet® design comprising 49 different elements
Pusher: "Rose des vents" compass rose design
Material: 18-carat gold
Diameter: 46.50 mm
Thickness: 16.15 mm
Water resistance: 50 metres
Case back: Fitted with 7 screws, engraved with individual number and Louis Moinet symbols
Crystals: Two sapphire crystals with non-reflective coating on both faces
Crown protection: Patent pending
Distance between lugs: 24 mm
Strap: Hand-sewn Louisiana alligator leather with alligator lining
Buckle: 18-carat gold folding clasp with fleur-de-lis motif
Presentation box
Louis Moinet book
Limited editions
LM-29.50.AV 28 watches 5N 18-carat rose gold
LM-29.70.AV 28 watches PD150 18-carat white gold

JOVAN KRSTEVSKI – FOUNDER, PROPRIETOR & EXECUTIVE EDITOR
Watch collector, aficionado and an Event profile in the Swedish nightlife. He launched Watchgeek back in 2011, which is now known as WristReview and is one of the most widely read watch blogs on the Web. He quotes 'WristReview is a site to help people find, explore, discover and enjoy wristwatches.'  His passion jump started in his early teens, when he was given his first mid-range wristwatch which was an Omega Seamaster. Since then he has always been in love with wristwatches! Besides WristReview, he also writes for a number of publications. Read his articles here.