We here at WristReview take immense pleasure in unearthing hidden gems that embody craftsmanship, innovation, and timeless elegance. Today, we are thrilled to introduce the Patria Brigadier Tourbillon Subscription Edition—an exquisite timepiece that beautifully showcases the renaissance of the Patria brand. The rich history of Patria dates back to 1892, it has experienced a remarkable rebirth thanks to the dedicated efforts of co-founders Jolyon Lambert and Adam Stansfield. Driven by their deep love for the art of watchmaking, they made the conscious choice to revive a heritage brand rather than embark on uncharted paths. Their quest to become custodians of tradition led them to the discovery of Patria Watch Co, a fading gem on the verge of obscurity. With unwavering determination, Lambert and Stansfield embraced their calling, resulting in the triumphant revival of Patria in 2019.
Their newest watch, the Patria Brigadier Tourbillon Subscription Edition is a limited-edition timepiece that combines the brand's rich history with cutting-edge watchmaking technology. The Brigadier Tourbillon Subscription Edition has a 39.5mm stainless steel case with a 12mm thickness. The case is water resistant to 50 meters and features a box sapphire crystal on the front and a flat sapphire crystal on the back.
There's a captivating white enamel dial that graces the Brigadier Tourbillon Subscription Edition, adorned with meticulously hand-painted numerals by Frédéric Thierry and his team of experts in La Chaux de Fonds. What I find impressive about the dial is that it is crafted with an intricate design that is unique to this watch. The details are carefully engraved and the display is easy to read. The overall look is classic and timeless.
The dial is made of brass, baked with white enamel, and then printed and hand-painted with Old Radium Super-LumiNova, casting a mesmerizing green glow that adds an enchanting touch to the overall aesthetic. The Brigadier Tourbillon Subscription Edition has elegant flame-shaped hands made from steel that are finished using Patria's own special technique called "Flame Anglage." This technique involves heating the hands to a blue color while maintaining the angle, or angled edges, of the hands.
At the heart of the Brigadier Tourbillon Subscription Edition beats the Caliber PA-130, a proprietary Swiss Made tourbillon movement crafted exclusively for this timepiece and just so happens to be Patria's first proprietary movement. The movement is meticulously designed by master watchmaker Oliver Mory, who is renowned for his expertise in creating exceptional tourbillon movements. For the Brigadier Tourbillon, he showcases his craftsmanship as a core member of the Patria team. The timepiece showcases a mesmerizing open-face tourbillon cage at 6 o'clock, allowing the intricate mechanics of the movement to be admired in all their glory.
The tourbillon is mesmerizing to gaze upon and its unhurried and graceful rotation serves as a captivating expression of watchmaking expertise. It's delicately adorned with 19 jewels and this mechanical marvel pulsates with a vibrant rhythm of 21,600 vibrations per hour. This rate of oscillation allows for more precise timekeeping, resulting in the watch being less likely to deviate from accurate timekeeping standards. This extraordinary movement has a power reserve of 110 hours, meaning it can run for three days without needing to be wound. Known for his incredible Anglage, Philippe Narbel hand-finished the movement throughout, with beautiful anglage and polishing.
The Brigadier Tourbillon Subscription Edition comes with a choice of two Italian leather straps: caramel brown or midnight blue. Both straps are 22mm wide and taper to 20mm at the stainless steel buckle. The watch comes in a wooden lacquered box with a suede interior. Patria offers a 5-year warranty for these timepieces. The Brigadier Tourbillon Subscription Edition is limited to 40 pieces and is available for purchase directly from Patria for 18,000 Swiss francs.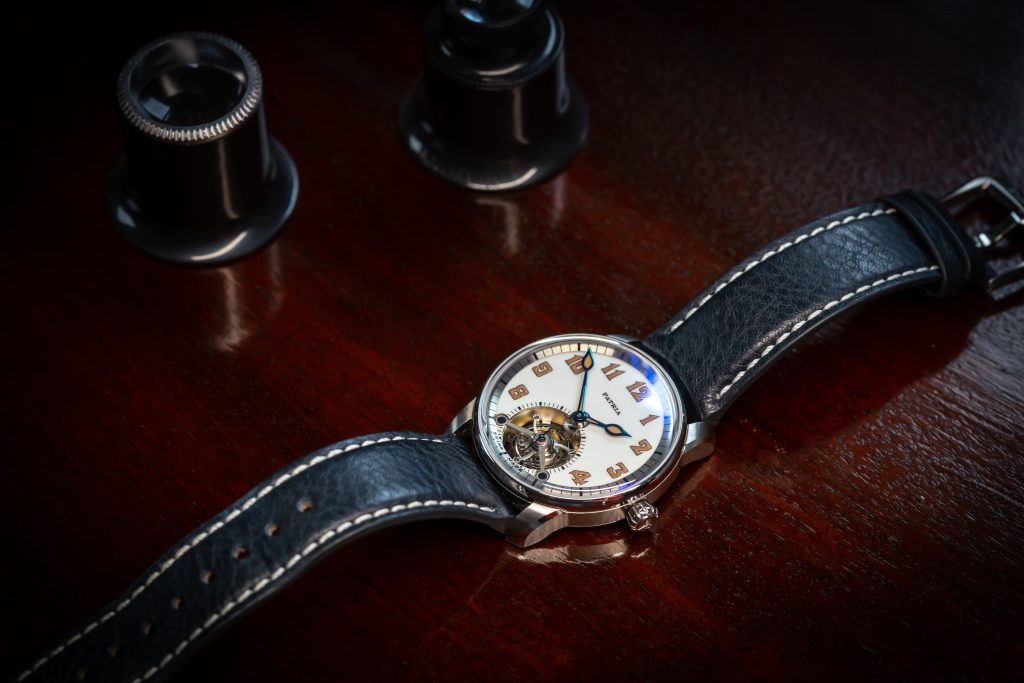 What I personally find interesting about the rich history of Patria and its subsequent revival is that the watch is made with the same traditional craftsmanship that was used in the past. This gives the watch a unique character and makes it a timeless piece of art. This watch is a nod to its past, with modern technological innovations introduced. It is a perfect balance between tradition and modernity and a unique way for Patria to tell its story. Factoring the fact that the watch pays homage to Patria's early 20th-century military watches, it makes it a collector's item that will appreciate in value over time. This makes it an investment worth considering.